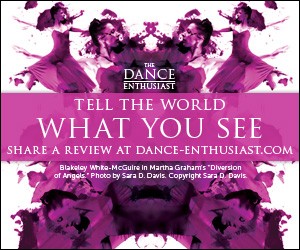 More Audience Reviews
AUDIENCE REVIEW: FJK Dance and Cross-Cultural Sensuality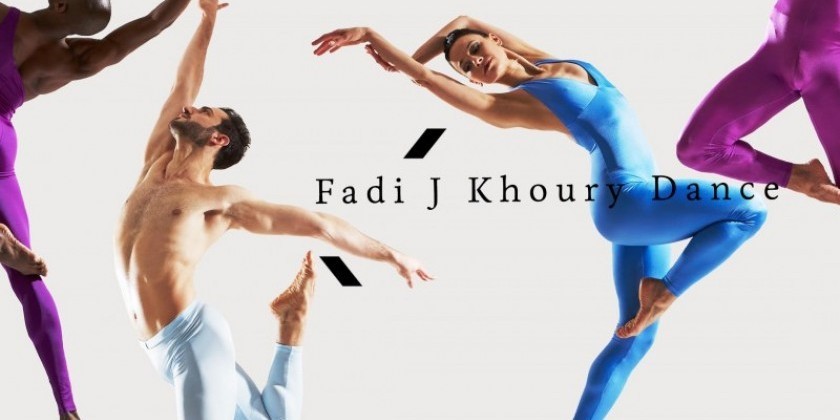 Company:
FJK Dance
Performance Date:
September 18th, 2018
Freeform Review:
FJK Dance, a multi-cultural company featuring dancers from around the world, took to the stage on September 13th, at the Gerald W. Lynch Theater in New York City.  Presenting "Season 2018," the company performed works created by Artistic Director Fadi Khoury and guest choreographers, showcasing styles ranging from ballet to Middle Eastern to jazz. Connecting them all was an underlying theme of exploring masculinity, femininity, and sensuality. 
The opening piece, "Echo," offered insight into traditional dance and probable gender roles in Middle Eastern culture.   Described in the program as inspired "by Dabke, a folkloric traditional Bedouin dance," Iraqi-born choreographer Fadi Khoury began alone on a dark stage, materializing through thick fog with a slow, deliberate opening of his arms, and the sound of a strong wind in the background.  Luxurious circling wrists and torso undulations soon gave way to larger more athletic movements, as the music by Shamou and Ihssan El Munzir grew to include vocalizations and Middle Eastern instruments.    
As if part of a mystical ritual, other dancers appeared until there were ten in total: five women and five men. Women donned black satin dresses and long, white veils; Men were bare-chested and wore black shorts overlaid with partial skirts.  There was a clear distinction between the genders, with most sections of the dance involving either only male or only female dancers, portraying a seeming separation in daily life. The men performed a great deal of floorwork and footwork, the women more sensual movements with added hip isolations.  Toward the end, all dancers finally came together in a line. Holding hands, they executed fast, celebratory footwork in unison, like Middle Eastern "Rockettes" of mixed gender. The piece ended abruptly with all dancers posed triumphantly, and I felt I had observed a genuine, joyful Middle Eastern ceremony.
The next dance, "Waltz," transported the audience into a picture-perfect royal ball, a vision of fairytale elegance choreographed by Gary Pierce.  To Franz Lehar's charming classical music, four couples embraced their partners and created seamless circular patterns on the floor, as if floating along an invisible conveyor belt.  Warm lights accented the ladies' long, reflective charmeuse skirts that were neither silver nor blue, with matching leotards and ballroom shoes. Gentlemen matched their ladies, in velvet blue tops and black jazz pants. Sprinkled in to the more vernacular choreography were moments of classical ballet: promenades in attitude or arabesque, twirling lifts with legs extended, all expertly executed. Though "Waltz" may have lacked a deep meaning, when the couples exited the stage in varied graceful lifts, my inner childhood princess was in awe.
 "Clockwork," was a short reminder of the power and sexuality of pure jazz dance when performed intelligently. Choreographed by Debbie Rosche to the music of Tom Fox, five women and two men moved with a clear, smart command of the technique.  Sharp arms stretched with speed at different angles and levels, sometimes in a canon, and often with stylized hands: flexed, bent at the wrist, or with fingers spread in a jazz hand.  Costumed in little black shorts and a variety of tiny black tops, the visibility of skin accentuated not only their precision in movement, formations, and timing, but also their toned physiques.  
The final piece and premier, "Untold," attempted to have dancers connect and interact with displays of "ancient Middle Eastern aesthetics" that were projected on both a lowered screen and cyc.  These slowly moving visuals were reminiscent of calligraphy, with beautifully rounded black ink increasingly layered to create something more complex. Choregraphed by Khoury with music by Hossam Ramzy and Phil Thornton, these curved graphics were transcribed onto dancers' bodies in a rather literal fashion.  Dancers did endless carnal body rolls, at one point in the aisles among the audience, moving like milk poured back and forth repeatedly between two glasses.   Perhaps revealing the meaning of the projected graphics themselves (if they were sexual in nature) would have given the piece more lucidity.
Throughout this vibrant performance, Artistic Director Fadi's Khoury's preference for passionate, sensual movement was evident.  Perhaps though, his greatest accomplishment was displaying how sensuality can be expressed through a variety of very dissimilar dance techniques, developed at different times and places, and the depth at which it saturates the human persona in general.
Author:
Rebeka Nodhturft
Photo Credit:
courtesy of the company