AUDIENCE REVIEW: Fall For Dance Festival Program 5 - 2019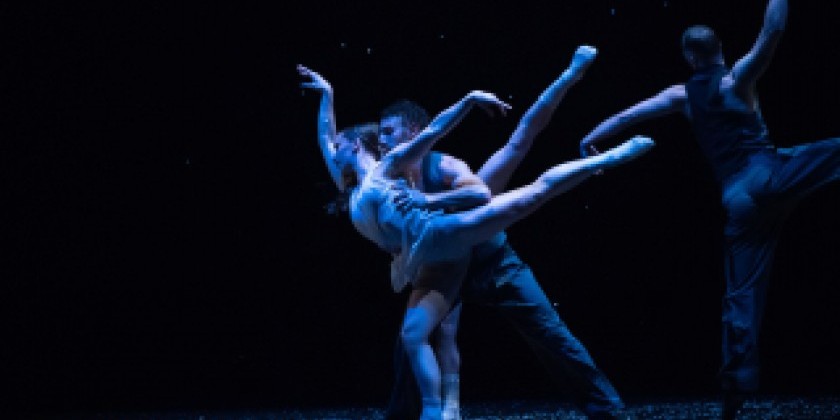 Company:
Fall For Dance Festival
Performance Date:
October 13, 2019
Freeform Review:

On October 13, 2019, City Center presented a jam-packed program of their world-renowned Fall For Dance Festival and I was lucky enough to have the chance to experience the spectacle. As for being my first experience viewing the festival, there could not have been a better first impression. I was exposed to works and companies I had never heard of or had never experienced live before, and that in itself is the beauty of this wonderful festival.
To start off the program, there was an adapted performance of Dance Me, choreographed by Ihsan Rustem and Adonis Foniadakis, performed by the mesmerizing Les Ballets Jazz de Montréal. To say the work was impressive is an understatement. The first section, "Suzanne," was on it's own a magical experience. A captivating duet between a man and a woman in which he lifted her in the air for the songs entirety. I'm sure I was not the only audience member who seemed to have had their jaw dropped over the fact that he maneuvered her in such a light and fluid way that it seemed as though her body never touched the floor. Engulfed in a single spotlight and surrounded by darkness, the two individuals were the perfect opening for an amazing work. The piece then went on to stun viewers by portraying a snowfall on stage during the second section entitled "Famous Blue Raincoat." In addition to the wonderful special effects, The piece created a dreamy landscape with contemporary ballet inspired movements along with some more of their marvelously intricate partnering. The final section, "Nevermind," was a perfect closure to the work, finishing it with a strong and empowered presence, combining contemporary and modern dance styles, adding a strong sense of athleticism with a few acrobatic elements, as well.
Next was a piece commissioned by City Center, choreographed by Kim Brandstrup, performed by Sara Mearns and Taylor Stanley. Entitled Blanc, the piece depicted Mearns as a type of damsel in distress as she mourns the passing of her lover, the motif complete with many motifs filled with longing, grieving looks, silences, and reaching for a bright light stand at the furthest point of downstage right. Then enters Stanley, portraying the soul or ghost of Mearns' lost lover. They then perform a form of a duet without ever actually physically interacting with one another, there are only moments where one could suspect they felt each others' presence, but contact was impossible. The piece itself was incredibly captivating with a true test of the performers' theatrical abilities.
Following Blanc was, in my opinion, one of the most inspiring and enjoyable pieces of the entire program. The Running Show choreographed and co-created by Monica Bill Barnes and Robbie Saenz De Viteri featured both dance performance along with a narration element that went on to describe the beauty of dance. In addition, they were joined by 25 dancers from hunter college, who each provided audio to be played during the performance describing why loved dance and being a dancer. In addition, there was audio played from a recreational recital the creative duo visited in boston that was played. The amazing narration done by Robbie telling the story of a young dancer's passion was beautifully done while creative yet athletic movement was performed by both Monica and the Hunter college dancers. Personally, my most memorable and favorite parts of this piece boiled down to two: Monica's attempt to complete over 110 rotations on stage along with the audio of a six-year-old at a dance recital explaining the reason she loves dance so much is because it's hard.
The program concluded with a performance of the classic work, Chronicle by the one and only Martha Graham Dance Company. Complete with an inspiring solo done by Leslie Andrea Williams who projected strength and empowerment while she menuevered an enormously beautiful skirt as though it were another limb attached to her body. In addition to Williams, the rest of the peace, complete with an empowering all female cast, was the perfect way to conclude this program by taking the audience back to the art of classic modern dance after experiencing such present work, and taking them back none other than a work by the iconic Martha Graham.
Overall, the program was definitely one to remember and is leaving me more than excited to hopefully experience the festival again next year.
Author:
Roxanne Potes
Photo Credit:
Paula Lobo