AUDIENCE REVIEW: From Concept to Production: An Evening with Alison Cook Beatty Dance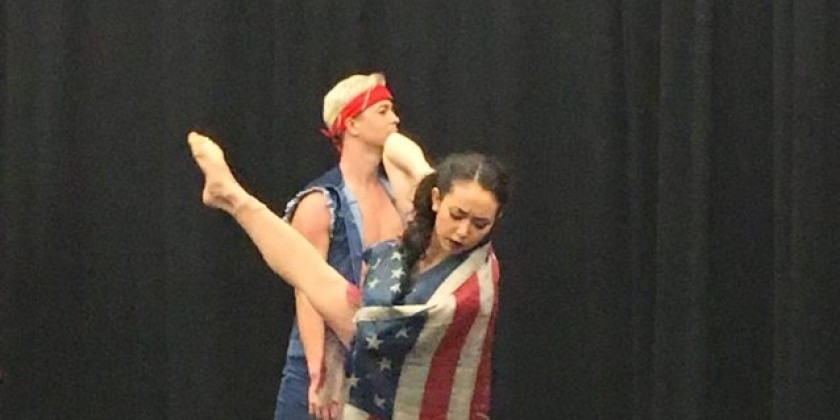 Company:
Alison Cook Beatty Dance
Performance Date:
November 3 + 4, 2017
Freeform Review:

On November 3 and 4, 2017, Alison Cook Beatty Dance Company presented a limited engagement performance From Concept to Production: An Evening with Alison Cook Beatty Dance at Ballet Hispánico. Bursting with raw intensity and shades of nostalgia, the showcase featured four pieces, three of which were world premieres. Bookending the performance, was an exhibition of artworks related to the choreographic process and a Q+A session with the company. From Hairography (Carolina Rivera!) to Hooteneannies, this showcase was not to be missed!
Inaugurating the performance was a two-part solo, Touched By Fire, passionately danced by the company's Artistic Director, Alison Cook Beatty. Originally choreographed two decades ago, the first section was created when she was an undergrad at the Boston Conservatory of Music at Berklee, set to the music of Bach's Cello Suite No. 1 in G, by YoYo Ma; while the second section was newly choreographed and set to Bach's Cello Suite No. 4 in E flat Major, by Julius Berger. Like twin flames that never meet, Cook Beatty takes us on an incendiary journey of her past and present selves, each burning brightly in their respective realms. Expansive choreography repeatedly launched Cook Beatty's limbs and torso into multiple planes of space, while an unsettled ground roiled beneath her. Quite dramatically, after a series of frantic head spins and overwrought contractions, she collapsed to the floor, breathless and writhing in between worlds.
The next piece, The Emotions Project, was the product of social media and collaborative choreography. As part of her research, Cook Beatty sought out her Facebook community to determine what they considered to be their most vulnerable emotion. Their responses were then charted onto a map with arrows that linked how one emotion connects and/or changes into another. Looking to the interactive map, Cook Beatty collaborated with members of her company to interpret a series of emotions into movements and phrases. The result was an extraordinary display of mental states that reverberated well beyond the stage. Set to neo-baroque music, the piece played out like a Fellini-esque dream sequence, confronting the viewer with an onslaught of emotional vignettes that endlessly synapsed throughout the night.
The final dance of the evening, Houston Street Hootenanny, was a powerful meditation on activism through the arts. Featuring all company dancers, including musical guest Marlon Cherry, the 20-minute piece delivered an inspiring and patriotic performance about the 1960s, American counterculture and the Vietnam War. From Simon and Garfunkel to Joan Baez to Bob Dylan, the soundscape reflected both highs and lows of a politically charged time, when the antiwar movement was at its peak. Highlights include Carolina Rivera's sultry solo to Plaisir d'Amour by Joan Baez, Fiona Oba's solemn sequence with a tattered American Flag, and the company's vibrant energy and stage presence for the duration of the epic program. Appropriately timed for Veteran's Day, From Concept to Production: An Evening with Alison Cook Beatty Dance was a night to remember.