AUDIENCE REVIEW: Jean & Terry: Your Guide Through the Dark, Light and Nebulous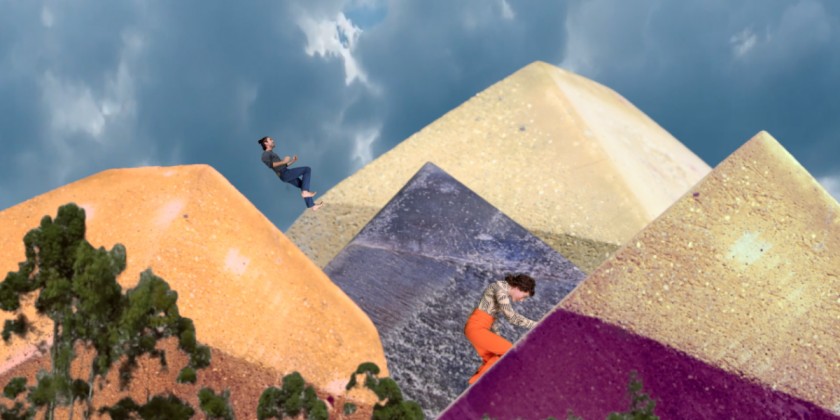 Company:
Melissa Krodman, Kelly Bond, Mark McCLoughan and Jaime Maseda
Performance Date:
November 17, 2016
Freeform Review:
The FringeArts Theater showed Philadelphia based artist Melissa Krodman and long time collaborator Kelly Bond team up to enter the mind's eye. They work together with Mark McCloughan and Jaime Maseda who lead one another onto the stage and into a funkadelic category of music from the 1960's. They discover and meditate upon the energy outside of the body. The four performers stand in front of a projection of a landscape, eyeballs, and clouds. An inverted image of the actors appears as Kelly Bond invites the audience members to look using mind's eye.
The light, dark, and the nebulous characters are showing an interconnectedness. The light is a pleasant neo 60's dance by McCloughan and Maseda, but at the same time Krodman is a motionless model reminiscing on the past.  We are torn between the two presences, and Kelly Bond acts as mediator. At one point the two jolly characters sweep across the stage and point at Krodman, and the two worlds are kept separate. She sits in the shadow appearing to fade into the darkness. McCloughan and Maseda show time passing, and the expressions on their face create a glowing persona. Their bodies becomes something apart from the energy. It is a mirror image of one another, both light and dark, sad and happy, and Bond is trying to bring us out of this vague reality.
That is a transformation towards which Bond guides us.  She encourages a positive energy in the interest of embodying the nebulous chaos happening around the stationary model. Smile, close your eyes, and look toward the mind's eye. It appeared that the meditation was on the seated figure. She is dressed completely in green and this ensemble sinks into the background. Bond's slow melodic voice assists the audience in an entrancing way.  It almost enables Krodman's mind to detach itself from the body.
The assisted meditation acts as a narration, and our thoughts are on this division between the body and the mind. A dreamscape is projected on the far wall, and clouds from a sunset seem to separate into mirror images on opposite ends. It is about the power of the mind, in the end the motionless actor physically moves, and it is like the actor has just arrived.