AUDIENCE REVIEW: KAMA at LaGuardia Performing Arts Center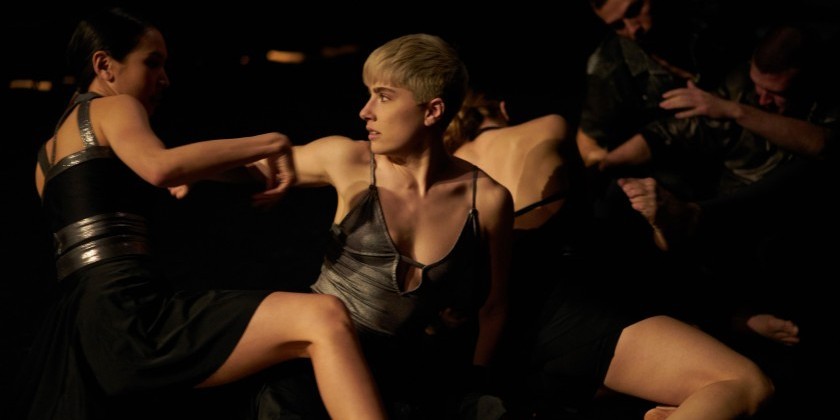 Company:
Rovaco Dance Company
Performance Date:
April 17, 2019
Freeform Review:

What does desire look like? How does it take up residence in the body, take over, take the stage? Physical polymath Rohan Bhargava offered some answers at the world premiere of KAMA. Choreographed by Bhargava in collaboration with the dancers of Rovaco Dance Company, KAMA showcased typical millennial fantasies and fears surrounding lust, love, and hookup culture. A five-person cast inhabited roles of domination, seduction, and submission while reckoning with the ever-present sixth character: isolation.
The moves were dense, rhythmical, minutely engineered to cog-and-piston accuracy; the dancers were skilled, smooth, and able to finesse the smallest gesture and the largest lift. Costumes by Barry Doss and lighting by Ted Boyce-Smith conjured an otherworldly yet familiar atmosphere. The performance featured the talents of Alden Henderson, Anna Pinault, Nico Gonzales, Jihyun Kim, and Elise Paciccio along with the musical stylings of Saul Guanipa to produce a rich tapestry of sound and movement. Despite technical difficulties, the cast persevered in delivering Bhargava's smoky dystopian vision of desire.
The title, KAMA, is a Sanskrit word for "desire, wish, longing." Bold and broad, it alludes to a messy swath of charged experiences that are at once highly personal and entirely universal. Bhargava makes it clear that his work unpacks questions about his own intimate interactions and thus cannot offer a blanket statement on all sexual encounters. He has finely tuned this piece to create, at first, a world populated by spasmodic slithering creatures engaged in exhausting rote vocabularies of lust, at once familiar and alien. He sees a dystopian porn set at an infinite club that blurs and bends into horizontal orgies. He sees mechanical desire, electric ecstasy, lithe melting embraces; in this hall of mirrors, icons and stereotyped attitudes of sex strut and pose, performatively orgasmic. The characters engage in spontaneous liaisons, unsure if they are executing their own plan of seduction or simply acting out a scene scripted by pheromones.
The first sections of the piece tackle the raw adventure and relentlessness of desire, suggesting that sexual encounters are savage, sudden, and all-consuming. However, Bhargava's vision goes beyond the surface-level commentary to deal with deeper emotions awakened by the chaos of the club. Voices float into the sound score, giving and revoking consent. Vignettes of startling violence—what looks like BDSM gone wrong—fade into moments of striking vulnerability. Characters are singled out and seen grappling with desire in individual ways. Alden and Anna perform a beautiful and heartrending duet wearing masks: they try to embrace and strive to kiss, longing for any kind of contact, but their faces are obscured and they cannot see each other. Alden performs a solo brimming with simmering existential tension: masked, writhing, he exhausts himself as he riffs on kinky cheesecake poses and stretches his body taut in postures that are at once pleasure and evisceration.
A blackout; a statement irrevocable, whispered, urgent: I love you. The next logical advancement of the convoluted contortions of lust. A plot twist that came suddenly, and was perhaps a simplistic solution to the dark desirous embraces. At any rate, on the other side of the pulsing club was a pastoral space, signified by another duet in a different mood. Two white-shirted men, Alden and Nico, caress each other with sincere, naturalistic gestures. Intimate, soft, and un-violent, the choreography invites the audience to behold desire in its quietest form. But this cannot last. Nico is abandoned and he performs a lyrical, delicately-inflected solo to "Visions of Gideon," the iconic track from the gay coming-of-age film Call Me By Your Name. This was a strong choice and a strident reference, but it worked in the rendering. The soloist made sensitive, poignant decisions; the solo closed the piece with a striking meditation on the all-consuming nature of desire.
Bhargava and his fierce crew of artists were fearless in their interrogation of sex in the city. Though some conclusions seemed hasty, Bhargava's questions remained pertinent and open to further consideration. After the lights turn on and the fantasy wafts away, he asks, where are we? Who are we beneath our masks? Who are we when we want something so badly it gets inside of us?
Author:
Dot Armstrong
Photo Credit:
Josh Pacheco Photography