AUDIENCE REVIEW: MARROW, DUET, GOLDWATER: An Evening of Poetry and Dance with Ian Spencer Bell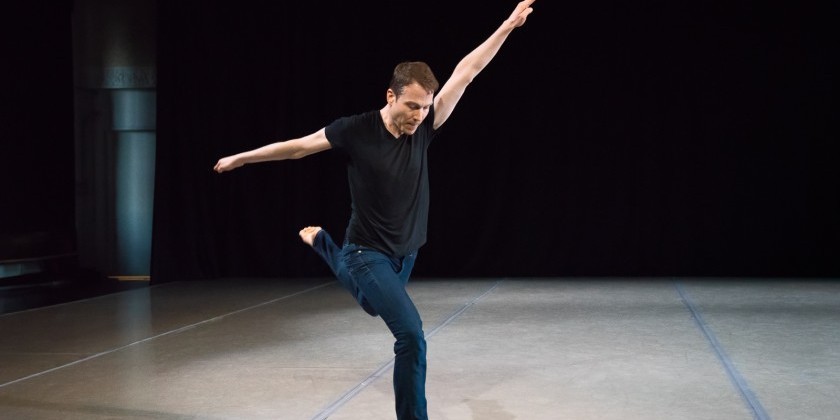 Performance Date:
May 9-10
Freeform Review:

From May 9-10, NYC-based choreographer and poet Ian Spencer Bell presented MARROW, DUET, GOLDWATER, an evening of dance and poetry at the historic Westbeth studios in the West Village. As the evening light illuminated through the Martha Graham studio windows, a peaceful energy filled the room as the audience waited for an introduction to what was to come. Refreshingly, the show immediately started and Bell's three dances introduced themselves.
DUET kicked off the evening, as three performers in dark shirts and jeans walked onto the stage to the rhythmic pulse of "Temptation" by New Order. Systematic, this dance rotated through cyclical walking patterns sustained by one dancer as the two others glided through movement phrases in unison. These vital roles casually shifted between dancers as the phrases changed. DUET progressed from this hypnotic choreographic sequence into a spatially linear accumulation of movements, a poetic solo by Bell describing a past love, and a lift-based section between Joshua Tuason and Gary Champi consisting of circular momentum and moving shapes. The consistent timing and repetition within both movement and structure allowed a sweeping sense of easeful monotony to circulate the piece.
Masked as part of the prior dance, Bell's solo MARROW began within the same tranquil tone. A blend of clear, line-thirsty, and tidy movements (reminiscent of those in DUET) layered on top of numerous poems recited by Bell. Again, even timing intriguingly persevered as Bell recited intimate first-person stories in a leveled manner. This blend of calm and nostalgia was further complicated as Bell continuously persisted through abstracted, full-bodied movement. Satisfyingly, his phrase work did not deviate from its dependable track when countered by his verbal rhythm.
In GOLDWATER, Bell's presence was replaced by dancers Gary Champi, Vanessa Knouse, Lexie Thrash, Joshua Tuason and poets Nadra Mabrouk, Francisco Marquez, Vanessa Moody, and Angelo Nikolopoulos. The four poets took turns speaking poems written by Coler-Goldwater Hospital residents during the 2016-17 Goldwater Writing Workshop. Scattered throughout the stage and wearing pedestrian clothing, the poets embodied a call and response relationship, as the words were recited towards the dancers. The movers waded through the space with crisp efficiency and wide physicality in solos, duets, trios, and quartets, switching between partnerships as the poems changed. Abstracted in movement, concrete in words, and lacking a narratively climatic and dynamic progression, GOLDWATER visually layered two art mediums and aesthetics into a pleasing and fluid piece.
Each dance in this evening program did not only compliment the others but heightened each work's context. The seamlessness within transitions deepened the rich underbelly within the glisteningly precise and vertical movement quality. The world shaped onstage colored the temperature felt within the space, as a calm and quiet support from the viewers persisted throughout the performance. Bell's pieces of interwoven poetry and dance together created the name, MARROW, DUET, GOLDWATER. Each dance's physicality equally paralleled this title in bold connectivity within a clean trajectory of precision, geometry, intimacy, and vulnerability.
Author:
Chloe London
Website:
http://chloelondondance.weebly.com/
Photo Credit:
Photo of Ian Spencer Bell by Kyle Froman