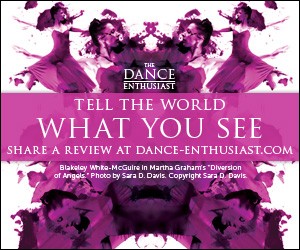 More Audience Reviews
AUDIENCE REVIEW: "Main Stage Event: Tap 'N Time 2015" Submitted By: Victoria Nauta
Company:
Jersey Tap Fest 2015
Performance Date:
August 15, 2015
Freeform Review:

New Jersey Tap Fest's main stage event, "Tap 'N Time", was performed at the Westminster Arts Center in Bloomfield, NJ on Saturday, August 15th. The show featured an entertaining evening of song, rhythmic dance and astounding tapping feet with short works by world-renowned tap dancers, Jason Samuels Smith (Bring In 'Da Noise, Bring In 'Da Funk), Caleb Teicher (Dorrance Dance) and Heather Cornell (Manhattan Tap) with performances by Boston Tap Company, MYTE and DynaMYTE, Capitol Tap and NJTAP2.
Directed by performer and producer Hillary-Marie and hosted by the charming Siobhan Cook, the evening focused on the history of tap dance, its percussive traditions and the talents of both the professionals and youth ensembles.
The evening opened with "Making Music Dance" performed by Heather Cornell and her group of musicians. Cornell engaged the audience with her sand-dancing and entrancing musical rhythms. The show continued with the student's repertoire piece "Blood on the Dance Floor, Michael Jackson" choreographed by the amazing Dormeshia Sumbry-Edwards. This group of young tappers reminds us that tap is an art that will continue to endure and there are some amazing performers rising up.
Next up, three pieces performed by Capitol Tap, a DC-based pre-professional youth company followed by the New York Times critically acclaimed body of work by Caleb Teicher, "Variations". Sharing the stage with Gabe Winns and Elizabeth Burke, Teicher completely stole the show. His choreography to Glenn Gould's recordings of Bach's "Goldberg Variations" was engaging, entertaining and brought such a fresh approach to interpretation through tap dance. The audience wanted more.
The second act featured performances by youth ensembles from Boston, New Jersey and DC. "Swing Kids", choreographed by Sean C. Fielder, was a fun, upbeat number. The Metro Youth Ensembles rounded it out with "Escape from Usual" and "Girls Day", proving you can blend hip hop and tap into a performance that is consistent with current dance culture.
Rounding out the evening, Jason Samuels Smith performed an Acapela solo in 17 and "Acasmellyah" alongside Logan Miller and Hillary-Marie. The fast, intricate and rhythmic sounds of these pieces show us why Samuels Smith is an established multi-talented leader in tap. His choreography is mesmerizing and his footwork is just brilliant.
In keeping with tradition, "Tap 'N Time" closed the show with an all-cast and student performance of the Shim Sham Shimmy, the tap dancer's dance. For more information on the New Jersey Tap Fest, visit their web site at www.jerseytapfest.com.