AUDIENCE REVIEW: NYCB Performance of Robbins' 'Dances at a Gathering' and Peck's 'Everywhere We Go'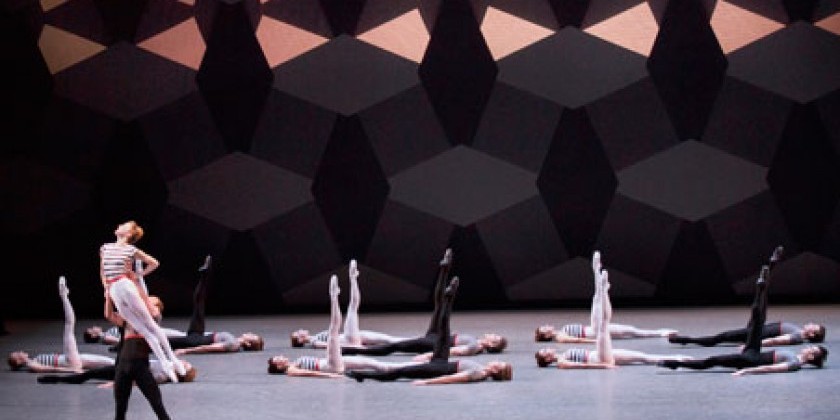 Company:
New York City Ballet
Performance Date:
10/11/19
Freeform Review:

This month I had the pleasure of viewing NYCB's program of Dances at a Gathering (1969) by Jerome Robbins and Justin Peck's Everywhere We Go (2014).
The first act was Robbins' Dances at a Gathering, which was a lively and pleasant beginning to the program. Inspired by the music of Chopin, the ballet is not one of drama and complexity. As Robbins himself stated, "[t]he ballet stays and exists in the time of the music and its work." It contains a series of solos, duets, small groups, and eventually culminates into a grand gathering of all 10 dancers. The opening mazurka, performed by Gonzalo Garcia, was one of simplicity and elegance. A somber mood emerged from the lilting melody, making the opening movement all the more entrancing. As the ballet continued, we saw an upswing in mood accompanied by jovial interactions between dancers and dashes of Robbins' comedic flair throughout. Simple and refined movement balanced by feats of athleticism were a common theme best demonstrated by Lauren Lovette, whose performance as the Pink Girl was inspiring to watch.
Dances at a Gathering was followed by Justin Peck's Everywhere We Go. An adventurous and fearless ballet choreographed to the music of Sufjan Stevens, Everywhere We Go was a welcome contrast to Robbins' more conservative work. Peck's concept was highly geometric, often focusing on large group arrangements with some solo and duet roles interspersed. I was very intrigued by the opposing themes of dazzling togetherness and melancholy (often characterized by the dancers crumbling dramatically to the floor). This combination of themes certainly provided a depth and complexity that set Everywhere apart from other traditional large ensemble ballets. The strength of the ensemble was indisputable; the precision of each formation was satisfying to watch, and the execution of Peck's sharp and angular movements contained little flaw. However, when they left the stage to reveal the principal trio, I felt that the energy that was building up had died. There was a tiredness and stoicism that so dramatically differed from the previous sections that I found myself wishing for the next movement to start. Once it did, I found the rest of the ballet thoroughly enjoyable. I was also pleasantly surprised by the long-limbed corps de ballet member Emily Kikta, who I found stunning to watch as a soloist. Her balance of control and high energy made her a stand-out in this piece.
As the curtain closed and my night with NYCB came to an end, I reflected on the two pieces I was a spectator to. It was truly inspiring to be able to witness, in just one performance, a small part of the evolution of ballet over the course of almost 50 years. From Robbins to Peck, the boundaries of ballet are constantly being reimagined.
Author:
Taylor Bergstraesser
Photo Credit:
Paul Kolnik