AUDIENCE REVIEW: NYCB's Performance of Jerome Robbins' "Dances at a Gathering" and Justin Peck's "Everywhere We Go"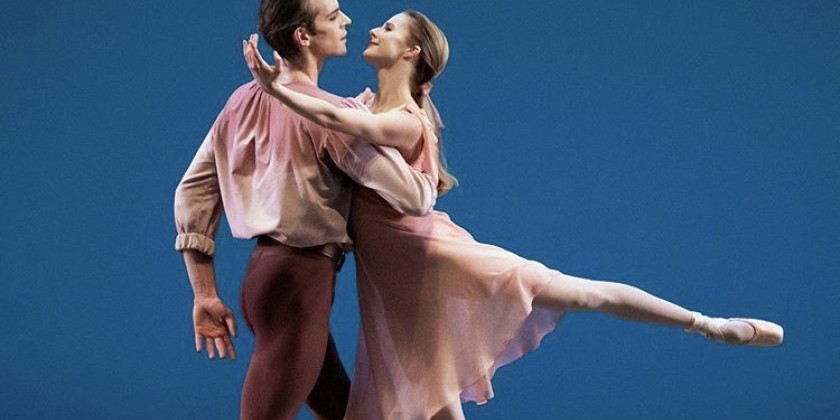 Company:
New York City Ballet
Performance Date:
October 11th, 2019
Freeform Review:

Going to the Ballet was simply incredible. It started as an experience well before the curtain went up. It was an evening of glitz and beauty. Crowds floated into the David H. Koch Theater on the cool Friday evening of October 11th to see NYCB's Jerome Robbins and Justin Peck performance. People peeled off their winter coats metamorphosing into a beautiful spectacle hopefully comparable to the one everyone came to see. Anticipation built and the entrance hall buzzed. The beauty and buzz felt like a fine champagne tickling your tongue. It was exciting and thrilling.
There were high hopes for the two pieces in the show, Jerome Robbins' Dances at a Gathering and Justin Peck's Everywhere We Go, to deliver beauty, technique and life. That was exactly what the show delivered. Dances at a Gathering was inviting and poetic. The dancers playfully and earnestly danced with each other. The effortlessness and willingness of the dancers to trade partners demonstrated Jerome Robin's brillance in choreography and gift of showing natural human interactions through dance. The second duet between Lauren Lovette and Russell Janzen was absolutely amazing technically and artistically. Lauren Lovette (pink) and Brittany Pollack (blue) were by far the most technically impressive girls on stage. Indiana Woodward (yellow) was thoroughly a joy to watch because she never lacks in artistry and energy. Her petite solo was incredibly fast and intricate but she made it look lighthearted and fun. Pianist Susan Walters was just as entrancing as the dancers. She was electric in her work, and her articulation was astounding. Her entire body trembled with the passion she put into playing Chopin.
Peck's Everywhere We Go was impressive with its quantity of transitions and formations that seemed never ending and never tiresome. His clever choreography was satisfying to watch especially with the technical precision of the dancers. The entire cast was on stage for many of the formations which was impressive but made the piece felt like a marathon. At points the entire cast being on stage was overwhelming because it was difficult to focus on what was happening. Some of the potentially awe inspiring steps were lost in the attempt to have so much choreography and formations transition on stage. However, one part where I loved the entire cast on stage was when some dancers would melt like they were falling to the ground in slow motion and another dancer would rush from the opposite side of the stage to catch the falling dancer and gently lower them to the ground. It was a grand image and truly moving.
Overall, it was a splendid time at the ballet. The music was phenomenal and the dancers were wonderful. Both pieces were grand experiences in their own right. They were testimonies in favor of beauty and innovation for the art form known and loved as ballet.

Author:
Lauren-Frances Wood
Photo Credit:
Erin Baiano