AUDIENCE REVIEW: New York City Ballet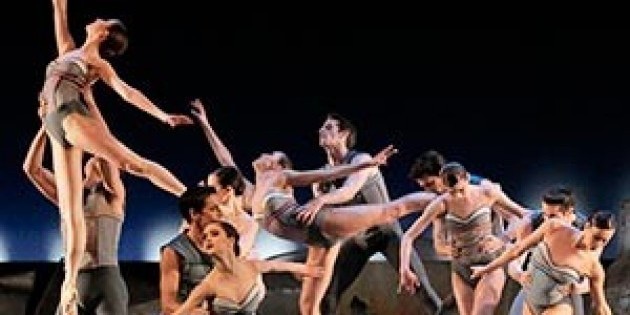 Company:
New York City Ballet
Performance Date:
2012
Company / Show / Event
New York City Ballet
Performance Date
2012
Venue / Location
David Koch Theater / Lincoln Center, NYC
A bit about you:
(your occupation, the last time you moved, your website, etc.)
Henning Rubsam - choreographer, www.sensedance.org
Freeform Review:
Reflections on a Winter season – New York City Ballet 2012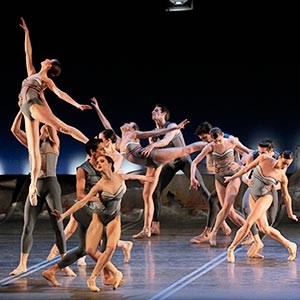 New York City Ballet in DGV:Danse à Grand Vitesse Photo by Paul Kolnik

New York City Ballet's recent winter season was mostly easy on the eyes and all too often a bit hard on the ears. As most people suspected, administration tried out different conductors to fill in for departing music director Faycal Karoui. His announcement at the end of the run that other commitments are indeed to keep him away from the company came as no surprise to anyone.
Although the performing seasons at City Ballet are shorter now that City Opera vacated the premises, the company has been adding a fall season in addition to its spring and winter stints that best of all allows for a break between "Nutcracker" and the winter repertoire. The dancers seemed to have been able to recharge their batteries within that time and attacked with glee. Even though much of the work offered has been seen many times before, the general quality of dancing makes revisiting the repertoire most often worth watching. One of the most anticipated events however was choreographer Christopher Wheeldon's first entire evening dedicated to his work. The new "Les Carillons" to Bizet did not investigate its movement themes, but the glittering "DGV: Danse à Grand Vitesse," created for the Royal Ballet in 2006 and seen in New York at City Center Theater during the Corella Ballet's (now Barcelona Ballet) previous visit, gives the strong dancers plenty of material to shine. The extra space - compared to the smaller City Center stage – lets this train steam full speed ahead without making local stops. A stop of the most heartbreaking kind was when long-time favorite principal Jennie Somogyi hobbled off the stage in Wheeldon's "Polyphonia." A torn Achilles tendon was the diagnosis. Let's hope she comes back again to continue her multi-colored and finely honed interpretations of the ballet canon. Somogyi's injury and Jenifer Ringer's maternity leave made room for other dancers, but the one dancer I had been most looking forward to seeing – Kaitlyn Gilliland – left the company. The press office did not comment on the reason for her departure.
---
One of the exciting things at City Ballet is when younger dancers try on roles for size. Opinions differ if it is always fair to an audience (paying top dollar) to be the witness of an ill - or "not quite yet" - fit. But since the company does not offer weekday matinees - where such experiments would be expected and necessary - one has to give an A for effort and applaud the worthy and give others a second chance.
During the season I had the pleasure to see different casts in many of the ballets and was able to catch a few debuts.
Soloist Sean Suozzi gave an interesting interpretation of the "Latin" sailor in Jerome Robbins' early masterwork "Fancy Free." Usually this is the guy who outshines the others with his charm and a larger than life personality and that is exactly what Amar Ramasar did the night it was his turn. Suozzi approached it differently. With desperate urgency in fear of losing the ladies to his mates, - he danced. The movement of his eyebrows did not have the lightness of self-mockery. The wave of his bottom did not syncopate in delight, yet his hips shook in thirsty need of a fleet week lay. Suozzi does not possess the sunny stage personality of Ramasar, but made the wise choice to let his smoldering flame light up the stage with a variant yet distinct fire. Andrew Veyette, who also gave a debut in the same part, did not yet find his own light and swing. The pants for this role are still a size too big for him and curiously this seems to be the case quite literally for all three casts. Seriously: Whatever happened to men's butts? Surely there must be a guy at City Ballet whose behind can fill out a pair of pants AND can dance the steps! Of course I am objectifying on purpose to get to you, dear reader, since the objectification of women – with the exception of the central pas de deux - in this particular Robbins work makes me squirm uncomfortably. The three different casts in the short guy role (first solo) were delightful for other reasons. Joaquin de Luz, Daniel Ulbricht and Adam Hendrickson all brought their own to the athletic tour de force and Robert Fairchild and Sterling Hyltin shone in that aforementioned central pas de deux. The two of them conveyed the sense of first attraction with gestures of momentary hesitation as if insecure whether the other would respond in kind or not. I was touched.
Fairchild and Hyltin made another part their own and breathed life into it. The second Aria in Balanchine's "Stravinsky Violin Concerto" had been somewhat anemic due to casting choices for many years and I had accepted the fact that it was the lesser of the two pas de deux or arias. Except of course that after you see the two of them you realize that this is not a fact at all. Detailed and purposefully uneven in their fine footwork, they reach for one another with tenderness. The course of their relationship is unpredictable and the dynamic shading of their dancing makes me listen. Ask la Cour and Janie Taylor are the alternate cast and their story too catches my attention, yet what I see is not always as assured.
---


The orchestra seemed to be most alive in this work under the baton of George Manahan. Nuanced playing and jazzy shifting rhythms made me forget the cacophony of other nights. These musicians can be masterful and Lydia Hong was a fine soloist.
"Violin Concerto" is a work with many images that ingrain themselves in one's memory. The four young men who fly through space and define the kingdom of dance by clearly cutting the corners of the stage come to join one of the principals downstage right in a diagonal formation that suggests a hopeful future, - and la Cour gives just the right regal look of a monarch with visionary plans. Amidst abstraction and form, the moment of a hand wave by principal couple Maria Kowroski and Amar Ramasar to greet the group before starting up to dance again lightens the mood. Ramasar is animated and sprightly throughout and his dynamic choices urge Kowroski to shed her mantle of serenity. In the other cast it is Rebecca Krohn who sets the accents. In fact, she does more: with each gesture she sculpts the space. When an angular arm gesture that frames her face becomes elongated, her upper torso seems to grow and glow, making the arm gesture relate to her core. A play of cause and effect in intelligently timed sequence. Sébastien Marcovici supports her, but is not light-footed enough to always keep up with the tempi. Krohn's movements matter in her stimulating debate with Stravinsky.
Krohn also renders an impressive portrait in her debut performance of Alexei Ratmansky's "Russian Seasons." In a part created by Wendy Whelan, she grows to know her responsibility to not only carry the ballet, but also - drum roll please -Russia. In a final wedding scene reminiscent of Nijinska's "Les Noces," she – as a young bride - accepts the burdens of the future. Although the work for six couples makes me think about the epic length of Russian winters, there are bursts of beauty. Strong explosive space-eating moments for the Woman in Red (fabulous Sara Mearns - and Georgina Pazcoguin in the alternate cast) and folk inflected movements that mirror Leonid Desyatnikov's song cycle sung by soprano Irina Rindzuner are juxtaposed by mime and lyrical passages. A sense of community holds the piece(s) together.
---
Having talked about Stravinsky and Russia and Ratmansky, I need to mention "The Firebird." The composer's early score received a glorious treatment by Michel Fokine at its premiere by the Ballets Russes in 1910 and has been used and abused by many since. John Taras' version for Dance Theatre of Harlem was another memorable one for mostly good reasons (and one hopes to see it again when that company makes its long-awaited return in the near future), but other than the impressive sets by painter Marc Chagall, I can find little to entice me in the Balanchine concoction that is presented at New York City Ballet these days. I am told that Balanchine changed his version over the years to suit different ballerinas, but none of the three casts I saw seemed to have a tailor made role. Fokine's fierce creature is lessened to a girl in pointe shoes in a red feathery costume. Whether athletic, tall or elegant (depending on the cast), Balanchine's birds are not – at least in this version - of the fire realm. Ratmansky has his bird aflame in the advertising campaign for his new production in American Ballet Theatre's upcoming season at the Metropolitan Opera House. Let's keep our fingers crossed that its wings let it take flight.
New York City Ballet's spring season opens today, Tuesday, May 1, 2012 at Lincoln Center. In the first week alone, Mearns, Hyltin, Krohn and others are giving debuts in principal roles in ballets choreographed by Balanchine and Robbins. Don't miss the train and jump on Christopher Wheeldon's exciting "DGV," which is also part of this week's offerings.

A Preview of NYCB Seasons..

New York City, May 1, 2012
Henning Rübsam