AUDIENCE REVIEW: Papaioannou's "The Great Tamer"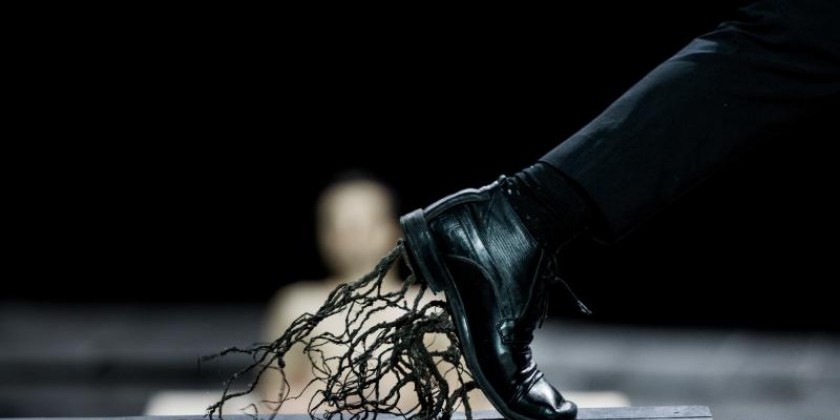 Performance Date:
15 November 2019
Freeform Review:

Those who had the opportunity to witness the work directed and conceived by Dimitris Papaioannou in its short four day run are lucky to say the least. The Great Tamer, which I hesitate to title a dance performance, ran at BAM's Howard Gilman Opera House from November 14-17.
A native of Athens, Greece, Papaioannou has a vast career in dance, theater, and performative art behind him. He is most known to the public as the choreographer of the Opening and Closing Ceremonies of the Athens 2004 Olympic Games. In total, he has created 25 unique productions. The Great Tamer, a co-commissioned work originally created in 2017, continues to travel internationally and serves arguably as one of Papaionannou's most accomplished works. My eyes and mind were delighted to witness the Friday night show, which left me with curiosity and a new appreciation for performative art.
Immediately after entering the theater, a performer is visible on the raked stage, which is comprised of dismal grey panels that the performers would later interact with. This set, which was designed by Tina Tzoka, performed just as extensively as the actual human artists in the production. The set went through a variety of stages as new panels were exposed, water was found under panels, holes were revealed, and even a small bath-like water moat appeared. If the audience did not enjoy the performative and interpretive art expressed by the artists, I am confident that most eyes in the theater feasted on the set design and its unexpected, intricate changes.
The man, located downstage center and dressed in a business-like suit, started the performance by walking stage left and taking off his clothing, one piece at a time. This act, which was repeated by other artists throughout, was done with such meticulous and careful consideration that I was immediately drawn in. The naked man then laid on top of a white panel. Another man entered and covered him with a white sheet, which is then blown off by a third man's push of a panel. This simple act conveyed an extremely prevalent theme in our society: the enforcement or judgment of another person's ideals. This idea, along with the ever-complicated themes of sex, love, desire, religion, and environmental issues, were nearly picked apart and somewhat reconstructed by the time the curtain closed an hour and forty minutes with no intermissions later. It is impossible to pinpoint one exact interpretation of Papaioannou's work and for that reason alone this work is worth seeing.
Though a simple review cannot do justice, there were a few moments of note that made this performance simultaneously understanding and thought-provoking. At one point, a body part on each person was exposed as the rest of their body was dressed in black. The detached body parts comically moved each other off of the set in movements designed to make the audience believe it was a true detachment. Next, there was a moment where artists pulled the guts out of a man and then seamlessly transitioned into a dinner table scene. The man's guts were definitely on the menu. This show also presents a pair of shoes with roots, an astronaut, a man balancing on spaghetti-like wheat spikes, and ten artists balancing on one small stool at once. While these ordinary things don't make sense together in words, they became extraordinary in Papaioannou's considerate order of events on stage.
The Great Tamer was and continues to be a well-thought out and well-rehearsed performative experience. However, the amount of moments left to chance forced me to believe that part of the work was improvisation. The artists were so completely indulged in their work, which explains why nothing went wrong when it was quite possible for everything to potentially fail. This level of improvisation made the experience not only genuine, but human. The Great Tamer produced more questions than answers and more fulfillment than disappointment. If you have the chance to check this one of a kind show out on the rest of its international tour, I hope this review gives you the extra boost. You will not regret it.
Author:
Gabrielle DiNizo