AUDIENCE REVIEW: Performance Meets Visual Art in "The Great Tamer"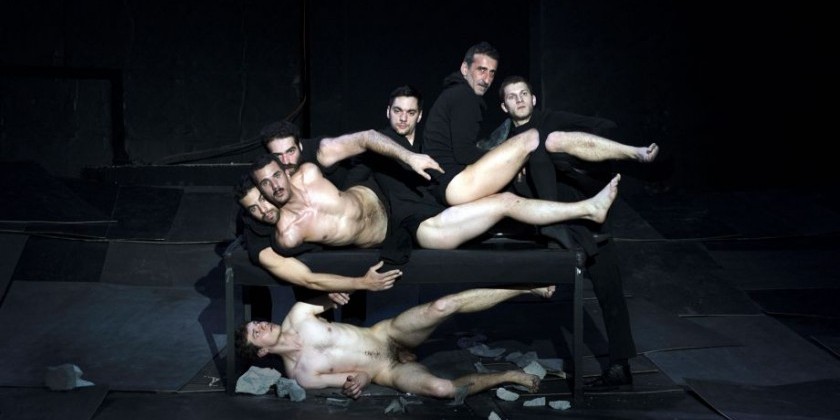 Company:
Dimitris Papaioannou
Performance Date:
11/15/2019
Freeform Review:

"The Great Tamer," now showing as part of BAM's 2019 Next Wave festival, is one of the most recent creations of Dimitris Papaioannou. Papaioannou, originally a painter, has been creating performance/dance productions since the 1980's. His more high-profile projects include the 2004 Athens Olympic closing ceremonies, the 2015 First European Games opening ceremonies, and a new piece titled "Since She" for Pina Bausch's Tanztheater Wuppertal. "The Great Tamer," set to Strauss's Blue Danube Waltz, has been been on international tour since 2018. It is an at times hilarious, at times frightening, and continuously intriguing commentary on the development and evolution of man. And I do mean of man specifically, as the women seem mainly to provide contextual support and flesh out the more central male characters.
The piece begins as soon as you enter the theater— a man in a suit stands downstage center as the audience takes their seats. He takes off his shoes one at time, very deliberately placing them in the exact position he had been standing in. He then walks up stage, undresses, and flips over one of the many dark floor panels to reveal its bright white underside. Lying down naked on the white side of the panel, he waits patiently. Seemingly nothing has happened, and already so much has been introduced— nudity, empty/filled shoes, use of the set—that will return in some more complicated form later in the piece. The set itself is a raised and sculptural stage, covered in dark panels which look like giant shingles. Many of the panels are freely movable. Some are white on the underside, some have other props attached, and almost all of them seem to cover secret compartments of one kind or another. Under these panels lie holes for people to disappear through, moon rocks to be dug up by astronauts, bodies and body parts, water, and even a human skeleton.
Papaioannou deals both in surrealism and whimsy. Similarly to others of his works (see a video of the First European Games ceremony here: https://vimeo.com/135839020) "The Great Tamer" seems especially concerned with man's relationship to the earth. In this piece men are pulled out of the earth whole, pieced together from buried limbs, shown "planting" something which resembles wheat, and captivated by goddesses who also appear and disappear through the paneled ground. Papaioannou's cyclical use of motifs establishes passage of time within the narrative, and involves the audience in a kind of game. Rather than observe passively, you unconsciously begin to look for things. Small details, patterns, or interactions you've seen before shift and resurface (often literally resurfacing from the floor) in a new context, giving the piece a sisyphean feeling. Though the abstractness of the images and narratives often leaves you wondering about their meaning, the images themselves are so visceral and captivating that understanding them almost seems unnecessary. Illusions and complex visual effects are balanced by the novelty Papaioannou reveals in very mundane events—the way a falling panel blows a piece of fabric away, a handshake between two people, or splashing water across the stage. Horrific scenes—a table of diners shoveling down human organs, dismembered limbs being pulled out of the earth— are saved from becoming a joke precisely by being framed as a joke to begin with. Humor not only tempers the more grotesque moments, but draws the serious ones— such as when a man methodically digs his hand into a naked woman's rib cage, pushing her slowly across the stage— into very sharp, often very uncomfortable, contrast.
If you wait for the dancing to begin, you'll wait a very long time, as there are only two or three brief moments of recognizable "dance" in the whole piece. But if the way moving bodies can create an image, and the way images can tell a story interests you, you'll be drawn in immediately. "The Great Tamer" made me laugh, squirm with discomfort, and appreciate the strange beauty in things I never imagined I'd see.
Author:
Miranda Runyon
Photo Credit:
https://www.festival-avignon.com/en/shows/2017/the-great-tamer