AUDIENCE REVIEW: Philadanco!'s Spring 2023 Performances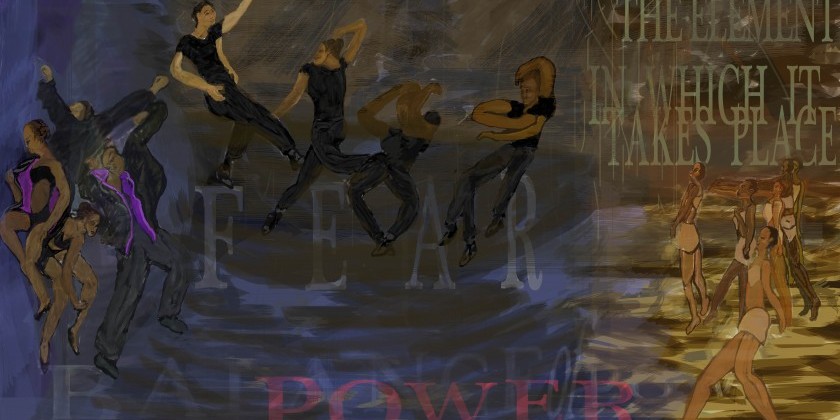 Company:
Philadanco!
Performance Date:
April 21, 2023
Freeform Review:
An evening with Philadanco! is taking in the relevancy of a critically acclaimed dance company in Philadelphia rooted in place-making for blacks in dance. The dancers are in top shape, and throughout the dance technique returns in new form. In the realm of transferring energy they create moments that question an innate competitive nature of human kind as a whole. Dancers become conscious in the work; they make structure for thought . With imagination and choreography, ideas develop into what Ray Mercer says, "is celebrating Dance for the sake of Dance," in the "Balance of Power."
The ideology developed by the artistic vision for the company within a narrative spread thinly, and heavily based in mysticism and universality.  This splintering effect places faith in the dancers for audiences to realize an ultimate end point like "Somewhere Between Heaven and Earth," was truly pleasing.
Starting with a contrast of schematic grounds, in Ray Mercer's, 'Balance of Power' an exchange of hierarchy from men to  women. In return, dotted lines of segregated listening appears to lead us to the streets with Rennie Harris's, "F-E-A-R," an acronym for False Events Appearing Real. Where Mercer leaves off, is where Harris picks up on the theme of appropriation in culture. From heels to sneakers, the episodes of demarcated periods of history appear in sync with a single wavelength. The delineation of the essence, and contemporary thought collectively working from inside-out, and essentially dedication tothe rearrangement of comparative history.
Welcoming a new artistic director to the stage, Kim Y. Bears-Bailey, with Joan Myers Brown around as honorary chairwomen of Philadanco! And their success was highlighted across the entire program.
Caught up in the buzz of Azure Barton's "Busk,"at City Center Alvin Ailley American Dance Theater 2022 Season, it was antecedent narrative for Mercer's choreography to drop down from a skylight. This sequence set in motion the whole program. It was intertwined with the unexpected; revealed in this transition was a Broadway cast of male show runners. Until, it happened to shift positions of power. We saw the women take the costume change seamlessly switching gears from them to suit the new hierarchical figure. When they put on this wardrobe for success, a rendition of breaking the glass ceiling dawned power. The stage is patterned by purple satin liners on the suits with the men in waistcoats.
If this moment brings back Ailey's, 'Rocka My Soul in the Bosom of Abraham' that is because it swaps out the southern belle's, golden gowns and sun hats for purple lined sports jackets. Mercer pins this expressively up for later. When 'Balance' opens in another fashion.  Rather than taking us to the gothic ritualistic chamber choir, and puppetry which was 'Busk,' we were greeted by more of an emphasis of showbiz. The posterity, the legacy, and conformity to the structure though, were undone instantaneously. The reimagined role of power, taken by heist, was  in the fashion of oversized tuxedo coats. There was this sense of grit that challenged a system under dominance and repressive securities. The stakes are made visibly, vogue in a designated dress code, replacing the scandalous for a flaunting success. 
In the next piece choreographer, Milton Myers, transcends a chronological framework, setting the stage for minimalistically, listening to the trance by unrecognizable tongues, "Koyaanisgatsi." All standardized conceptions of the world only flattens the globe. This objective transcendence distracts from the subjective plain speaking, of a deserted island. Clearing the stage and bringing forth a bright burnt sienna light formation by lighting designer Nick Kolin chargers the dancers movement with a new kind of signifier. Primitively, powerful and yet a battle of sexes continues as 'The Element In Which It Takes Place' the flirtatious nature descends upon everything under the sun- it's all been done before. Myers set directs each dancer's sight just beyond the here and now, in the sense of a mirage that is not here nor there, we dream up this place, desire stripped of all disguises. Leaving one, to wonder if this is the earth's cycle? And are we just visiting?
Returning from intermission with Rennie Harris's, 'F-E-A-R' addressing this fantasy differently. The introspective becomes more extraneous to that of feeling detached from the world around them. 'F-E-A-R' depicts three tap dancers all in black jeans, and black tops. Their street wear consciously teeters unapologetically to the stark, cold dreariness of the piece. Tap steps, triangular rhythm, and reinforced with this dusting of lighting. In fact, one of the dancers happened to be a student of Pamela Hetherington, of Sound Space Performance Studio, where they teach the art of tap under the umbrella of Jazz, and practice of body percussion. The physical presence of tap dance contrasts with the subjective weathering of modern dance in America, and especially in tendance with the lens of Jazz in America. Tap dance dares its viewer to be ever present in listening, in composition, and the performance as music by what Hetherington adds to its legacy, and to her students. The story of people irreplaceable, carries on only by passing down steps from one generation to the next. Their own struggles, familiar to some and untouchable to others, becomes a common sense for our bodies to connect with a musicality. Harris's understanding of the artform as it speaks to hip-hop introduces this ghost, and how the western gaze upon African American traditions have recontextualized it to assimilate  those to majority white socialites- he calls this, "F-E-A-R."
The stark emptiness we sensed was this ancestral being, ghostly present. It offered a bleak explanation, together hands up, don't shoot, as the dancers recollect in silence historical injustices of our modernity. Expression of dance, music, and traditions based on the lineage of African diasporic art forms tend to be displaced by reappropriation. The message is clear, tap dance central to the impermanence of dance is an ephemeral quality of Jazz which made accessible interracial and inclusive space for hip-hop, and rap, and R&B. The bold, dark, steel, and wrath of convoluted urbanized worlds point toward the universalism of Sun Ra: the spirit and soul that took place in our bodies are only a small part to this larger world around us.
This evening's duration of performance was a class in transcending fashion. The dancers like pagaentry, sets its motion on us, and the now learned viewer moves beyond forward. Consciousness transcends spiritually on its audience in this way. Tommie-Waheed Evan's 'Between Heaven and Earth', as explained by the choreographer after the performance was to indicate everything that is unspeakable, and that is indescribable, they belong in this zone "between Heaven and Earth." The profound excitement surrounding Afrofuturism is a lineage in an applied thoughtfullness. The spiritual, sufi, or mystic are joined culturally by this structure of thought. The universality of a multi-dimensional world lifted up by this dedication for the youth to move beyond forward.
Author:
Chuck Schultz
Website:
WHYSEEART.COM
Photo Credit:
Chuck Schultz