AUDIENCE REVIEW: Radway/Schmidt double bill at Triskelion Arts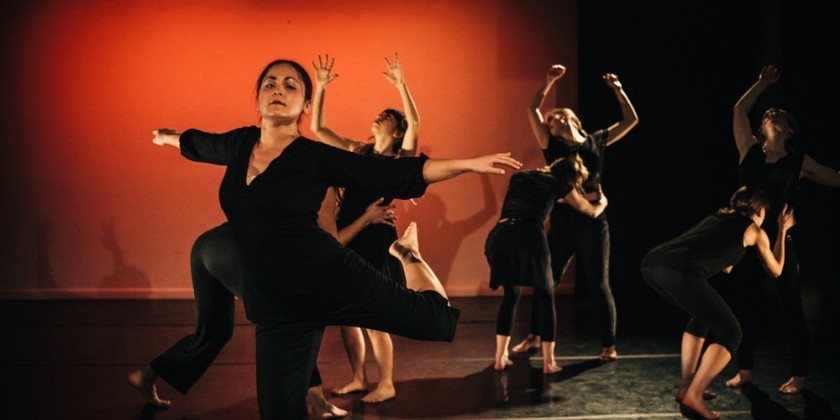 Company:
Becky Radway Dance Projects and Leanne Schmidt & Company
Performance Date:
September 19, 2015
Freeform Review:

I saw the double bill Becky Radway Dance Projects and Leanne Schmidt & Company at Triskelion Arts on September 19, 2015. The show was fantastically entertaining. There was much to be said for both companies in terms of being extremely well rehearsed. Strong and committed partnering sequences and dynamic personal expressions played on the intimacy of relationships in the small black box theater. I was sitting in the front row actually on the marley floor so I had an unobstructed view of everything- facial expressions and movement. All of the dancers had impeccable training. Their enjoyment of dance and working together shone through and made watching it easy on the psyche.
Radway's first piece, Nonetheless, featured a series of dances to the music of Elliott Smith. A duet between Meghan and Heather Seagraves blew me away- the entanglement of manipulation articulated through their movement. Meghan Schardt, the reason I was actually at the show, used to dance for my company, Octavia Cup Dance Theatre. She was one of the founding members and part of the "A-Team". We worked together for several years. I was so pleased to see her dance. Her honest face and hypermobile body are still breathtaking.
Becky Radway's use of the two doors in the back of the stage was notable. Dancers came and went, offering multiple realities. Another stand out piece used the wall in the back of the stage, which reminded me of my piece Bateau Ivre from L'Eau d'Europe. The wall was a partner, a piece of the stage and a support.
Wisp, a solo made by Becky Radway for Leanne Schmidt, was honest and engaging. It was nice to see Leanne, visibly pregnant move around and surprise us with her agility which included several slides under a bench- that might not be possible in one more month…
Leanne Schmidt's work gave good face- deadpan, defiant and definitely hilarious. Kim Goss opened Caught Up and her direct gaze- straight at the audience- combined with a minimalist hip-swinging dance hit hard on the funny bone. Becky Radway appeared in her element dancing for Leanne. Each dancer vamped and vied for attention in the diverse vignettes. Several sections really stuck out, there was a dance involving circling around one of the structural support columns that was very close to the wall, the dancer wedged themselves through and came into a new discovery of themselves and the audience each time they reappeared around the corner of the square column. In another dance the four dancers made a long chain by holding hands and dragged each other around the room. I really liked the rough and tumble push pull partnering within the group.
Both choreographers had a tender human grip on the depths of connection possible in dance. They made me feel happy to be a dancer myself.
Laura V. Ward