AUDIENCE REVIEW: "Raiz," a Flamenco show directed by Rafael Abolafia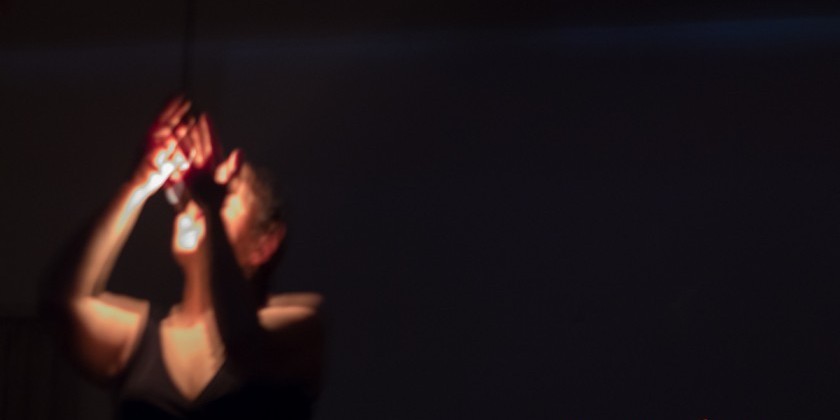 Company:
Rafael Abolafia
Performance Date:
June 18, 2017
Freeform Review:
A jagged sound sets us wondering at the beginning of Raiz, as performed 4 Sundays in June, in La Nacional. Is it the sound of a needle stuck at the end of a record playing in an empty room, a space vacated by someone long ago, or someone about to enter? This rhythm of things gone awry gnaws at us as we sit in the dark, two rows of 10 facing each other separated by a stream of props. The director of Raiz, Rafael Abolafia, repeatedly calls on the audience to fill in the blanks, of which there are many, along with strong imagery throughout a fifty minute ritual of revitalization.  
A woman buried in layers of black rags, played by Meira Goldberg, lies in a heap over the crate as Jose Moreno sings with the conviction of a healer. A single light behind the crate turned on its side throws shadows on the ceiling of what could be bars of a prison.  The crone splashes water on her face so long that the water becomes a fountain, creating a soothing soundscape to accompany the flamenco guitar played by Jose Moreno. Stripped down to a black shift, the grey haired woman leans into a single light bulb that sways face level, absorbing the heat of the light like food for the soul. Breaking her lethargy with a burst, the crone pulls a drawer out from the side of the stage, revealing another pocket of light.
Many of these props are iconic (a large stick, rose petals, black cloth), and many others used recently by contemporary flamenco artists (swaying light bulb by Olga Pericet) (dancing in a box by Rocio Molina), and the timing - sharp lighting changes cued by actions, most notably by Joaquin Cortes. For Raiz, this embrace of history and recent experimentations all serve as resources for one, beat and bent, to slowly rise to regale life with her soul mate in a classic flamenco closing, bulerias.
The two performers are both known for their dedication to flamenco, Goldberg for her life long scholarship of the history and her strong presence as a performer, and Moreno who was born into a gypsy family with multiple generations excelling in every facet: singing, dancing, and playing the guitar. Such a treat to see these two as joined by Abolafia to celebrate the truth that to be fully alive, one must take the time to fully absorb the simple elements of life: water, breath, light, and sound.