AUDIENCE REVIEW: Robbins' 'Dances at a Gathering', and Peck's 'Everywhere We Go'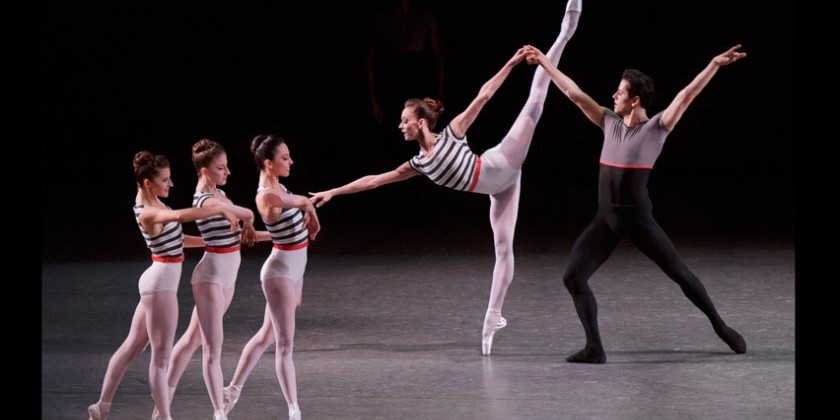 Company:
New York City Ballet
Performance Date:
October 11, 2019
Freeform Review:

Going to see the ballet on October 11th I was filled with anticipation for the program to come. I realized that this was going to be the first time I had ever seen the New York City Ballet live and to have both Jerome Robbins and Justin Peck works lined up for the evening I was ready to be blown away.
First off was Jerome Robbins' Dances at a Gathering, a piece choreographed in 1969 to a beautiful selection of music by Chopin. Getting to see this master work (On the creator's birthday no less!) was an inspiring experience. Beginning with Gonzalo Garcia dancing an almost melancholic solo to start the work, then a similarly meditative duet following, it took me until the next duet, performed by Lauren Lovette, to get hooked. For the remainder of the work it was nearly impossible to take my eyes off her, not wanting to miss any moment of her pure grace and the ease of her expansive movements. The duettes, solos, and gradually growing group movements that followed her duet were filled with flirtation, comedy, and stunning choreography in such satisfying combinations that it truly felt like it could only be a Robbins work. While enjoying this masterful choreography I also couldn't help but let my eyes gravitate towards the pianist Susan Walters. As the sole musician for the whole piece she filled the space with the stunning soundtrack, and seeing her graceful hands glide across the keys was almost as beautiful as the choreography.
Next in the program was Justin Peck's piece Everywhere We Go choreographed in 2014. His choreography clearly shows his more contemporary and theatrical approach to ballet movement. While it was a refreshing contrast to Robbins' work, his style along with all of the elements he utilized was almost too much dissonance for my eye to process. One element that I had difficulty reconciling was the costuming. The men were dressed in gray and black, which seemed to allude to a darker more pensive theme, then the women entered brightly clad in white striped leotards with a pop of red. In terms of how he moved dancers through space though, Peck succeeds in navigating a large cast masterfully. The geometry of the cast was mesmerizing, and it was satisfying to see how he resolved formations with stunning shapes and beautifully crafted transitions. His repetition of several duets and other themes at times felt pleasantly familiar, and at other times felt repetitive in that it seemed we were seeing the duet again with no purpose in the composition other than just to show it to us again. This is partially because I enjoy imagining a narrative element when I watch dance works and his choreographic choices don't allow for that narrative to develop, something that could be greatly enjoyed by other audience members.
Overall, this program was a fantastic introduction to the repertory of the New York City Ballet. To experience and contemplate such powerful masterworks was an immense treat, and left me looking forward to many more nights at the ballet.
Photo Credit:
Ramasar Kowroski