More Audience Reviews
Contribute
Your support helps us cover dance in New York City and beyond! Donate now.
AUDIENCE REVIEW: SOAKING WET: Catherine Tharin's "A Natural History"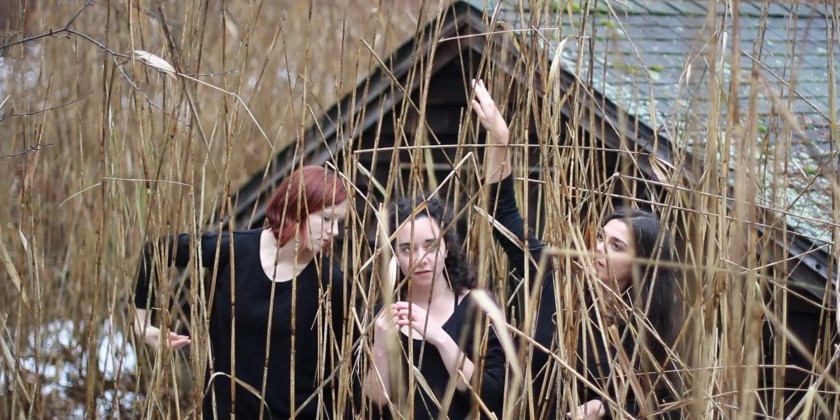 Performance Date:
February 5, 2015
Freeform Review:
SOAKING WET: Catherine Tharin's "A Natural History"
Reviewed by Diane Vivona
"A Natural History" an evening of dances created by choreographer Catherine Tharin was presented as part of Soaking Wet, a series curated and produced by David Parker and Jeffrey Kazin at the West End Theater, February 5-8. The evening consisted of four dances and a dance film, all interconnected through movement vocabulary and the overarching theme of intimacy – the raw bite of it as well as its ability to lull bodies to surrender and submit.
Tharin chose "The Stream Wet Earth" (a film) to set the stage, quite literally, with equipment and a screen, and to take the audience on a visual journey to summer in a distant land. Whether in 18th century period rooms or on the expanse of a grassy lakeside embankment or immersed in the artificial aqua of a chlorinated pool hit by mid-summer light, her dancers explore their sensuality, looking caged, buoyed or subsumed by their environment. A woman hops on one leg uncomfortably, seeming to bristle and fall in the confines of a darkly painted parlor. A trio of women moves as a coven of lustful temptresses, eyeing the camera and nuzzling each other like horses waiting for you to give them sugar cubes. The overall effect is disturbing, though beautiful, and as a viewer there is a feeling of complicit guilt, watching such intimate and, in many ways, unpresentable moments.
The opening dance, "Twice" is a duet for two women, dressed alike in short white dresses with a pattern of brown branches – a kind of camouflage that links them to the landscapes and forests of the earlier film. Dancers Racy Brand and Susan Rainey mirror each other, though not as a way to amplify each other's presence; rather, their efforts seem to take away from the other's being. Shoulder to shoulder, they step forward, staring at the audience as if we are the enemy. One pushes the other off, and there is an attempt to explore something without the other. Alone, they become awkward and inarticulate or swooping and fraught, leading them to continually come back together. United they are most comfortable, even if it proves itchy.
"Still Center" is a solo danced by Esm Boyce and presents movement that is both virginal and whoring in its exploration of female sexuality. Throughout there is a sense of longing, combining unrealized love and lust affected through explorations of the confined semi-circle of the West End Theater stage. Shoulders, arms and legs squiggle and expand, shifting rhythms from short and internal heartbeats to long, extended sweeps into the space. Boyce clearly enjoys this dance and what it allows her to experience as a performer.
The choreographer to dancer relationship shifts in "Veering Winds," with Boyce as dancemaker and Tharin as soloist. Dressed in a long, slim-fitting gown with her hair swept up in a French knot, Tharin appears as the epitome of grace and knowledge. She knows her body and what it can do. She also has the ability to make you watch her do it. Her attention to detail and complete absorption in the reach of an arm, a tilt of the head to the floor, attenuates the space and is as sharp as a lightning bolt. Boyce wasn't able to use Tharin's voice to its capacity, but the dance stayed in the tone of the evening's theme and, true to its title, Tharin appeared as a gentle wind, though she is clearly capable of whipping up a storm.
"A Natural History, North Star," a trio for Boyce, Brand and Rainey, was the weakest of the works. While there were many interesting passages, the accumulation of phrases wiped each section's intention away, as if starting over and over again. In full disclosure, having formerly danced for Tharin, my sense is that this piece will be reworked and revised.
Tharin's exploration of her own history and its relationship to and with human and animal rhythms is at the heart of her current explorations. It is a pleasure to see such a clearly expressed female perspective of what can be most mysterious: the struggle of being a woman and having profound relationships with others.
This edition of Soaking Wet was dedicated in memoriam to Valerie Gladstone. Gladstone curated two previous series at the West End Theater as part of Soaking Wet, a series that has supported many fine artists and emerging dance makers over the years.