More Audience Reviews
Contribute
Your support helps us cover dance in New York City and beyond! Donate now.
AUDIENCE REVIEW: The Chance of Happenstance: Rashaun Mitchell's PERFORMANCE in L.A.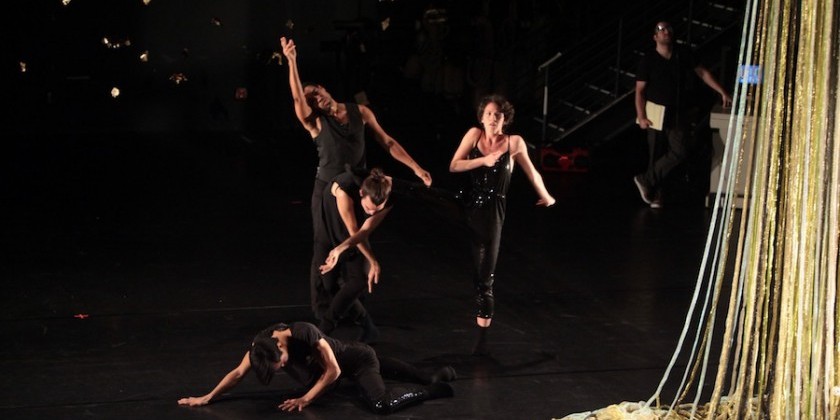 Company:
Rashaun Mitchell
Performance Date:
December 4, 2014
Freeform Review:
Clifford Eberly reviews PERFORMANCE by
Rashaun Mitchell, Stephin Merritt, Ali Naschke-Messing
At REDCAT on December 4, 2014.
During PERFORMANCE, a recent production at REDCAT by Rashaun Mitchell, Stephin Merritt, and Ali Naschke-Messing, the staging of chance,(or making chance look like happenstance) the mundane-ness of tasks as movement and the mechanizations of the theater as theater was a welcome but puzzling, nothing to hide behind subterfuge to overabundance, overproduction and over-stimulation in the contemporary 1st world. The effective and gradual lighting by Davison Scandrett heightened the audience's awareness to where and to when to pay attention whether or not we knew the subliminal light changes were happening. Even though the stage was stripped bare of backdrops and the few props of suspended, gold leaf papers, bars, and tentacle tall, glittering, lightweight ropes created a sparseness that you could see around, the minimalized simplicity of the hollowed out theater was quickly filled with the present tense of all participants'(including the audience's) subtle to drastic movements, musical stylings and even breathing.
I perceived PERFORMANCE as a series of anti-compulsive and authentic actions that pointed toward the reflexivity of dream and reality consciousness. Accompanied by a renowned musician, the frolicky choreography resisted interpretation. I didn't need to play detective to find meaning within the micro-operatic and gleeful production because it came across as a true minimalist art trope — what you see (and hear) is what you get — there is nothing else for which to inquire. Though there was felt such humor in sung words, mimicry and reduced circus-like acrobatics to induce laughter and to provoke immense smiles, PERFORMANCE is truly a paradigm shifter because the flow of episodes were never about anything other than performing to an audience with no story other than the oft metaphoric lyrics and melodies sung and strummed by Stephin Merritt. The minimal performance referring to itself may have been done in the past to great success and understanding. However, this was the first time I had witnessed and understood such intentions live and so immediately. But, since the dancers didn't seem to be acting out to the music and words didactically, there was a distinct schism—sometimes silent; which made either the music or the dance feel simultaneously auxiliary. Then, on the other hand, because the theater was so exposed to all its most bare nakedness, the space and perhaps our minds were available to become clean palettes to accept new movements, new sounds, original visuals with fervor and delight.
Some may have noticed a supposed delay in the start time of the piece. However, the purposefully hung, gropey, white, stringy curtains to the entrance of the theater signified that the performance actually began as the audience entered the space and continued with the custodial "workers" taking out the trash bins seen through the stage doors out to the loading dock beneath Disney Hall. With the opening up of the space as a whole, the theater site unfolded into a vessel of absolute visual, musical, theatrical, performance and dance potential. Entering from the distant loading dock, Mitchell made the most stunningly, scopic entrance to a stage I have ever witnessed. His cart-wheeling figure approached as his body spun around consistently until he reached us in an "I AM HERE!" crescendo.
True to Mitchell's connection to Merce Cunningham as a Fellow and "licensed stager of the repertory," a possession of the present is assumed and promoted by the dancers. Where Mitchell's choreography veers off from Cunningham's influence is in the more forceful co-mingling of the bodies with each other and the ground. Gravity becomes a powerful and necessary evil to Silas Riener's leaps and landings through the gold-flecked atmosphere. A more reactionary opposition to gravity was seen during the high kick sequence where the dancers' kicked-up toes met their extended fingers and then "THWA!"—their heads tilted skyward, projecting (in my view) psychic and physical energy that was not imagined but felt.
PERFORMANCE was inspired by Avedon's musing: "We all perform. It's what we do for each other all the time, deliberately or unintentionally. It's a way of telling about ourselves in the hope of being recognized as what we'd like to be."
My question is "When and where does the "telling about ourselves" become authentic or fictional?" "How does anyone know?" Perform is a tough word to define because I may NOT want to reveal anything to anyone at any given time about myself. However, not wanting to perform is also performing. Just like not wanting to make a political statement is a political statement.
No matter how hard we try to stay afloat, we are still bound to the earth as we are to each other. The joyousness of PERFORMANCE was not escapist from the violence we witness en vivo or in the media as I imagined. On the contrary the after effects of seeing and hearing PERFORMANCE has inspired me to take joy and sorrow at face value, weighing them out equally in my mind and actions.
December 9, 2014