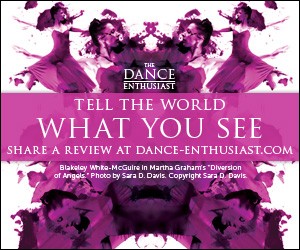 More Audience Reviews
AUDIENCE REVIEW: "The Eagle Has Landed" by Kristin Hatleberg
Company:
Kristin Hatleberg's Productions
Performance Date:
October, 3rd 2015
Freeform Review:
On October 3rd I saw Kristin Hatleberg's production, The Eagle has landed, at Liz Lerman's Dance Exchange, and the show has left an impression on me. I remember feeling light and excited as I left the theater -- the dance was full of hope!
To start the evening we were shown a short film, Merry Go Round, made by filmmaker Yuko Takebe. Quiet but fast, extreme close ups on the constant motion of a playground merry-go-round turning and on two people, who glide across the screen as they ride the merry-go-round's curving, cyclical path. Watching the film felt like meditating on a dream.
The second piece, The Eagle has landed, was a trio danced by Janet Aisawa, Cecilia Fontanesi, and Kristin Hatleberg. There were a lot of powerful visuals and moments of great intensity, and often the dancers seemed to be playing games. I got the feeling that we were all in it together. That sense was created for me at the very start of the show, when performer Cecilia Fontanesi poured a basket full of paper airplanes out onto the floor and proceeded to throw them back and forth with the audience. Her direct engagement with each and every audience member connected me to the show and I was impressed that she never rushed. The paper airplanes turned out to be an extra program that gave us an insider's view on some of the props and recordings used during the show.
Another surprise I enjoyed was the show's use of vocalization. I hadn't anticipated this and liked how the dancers found moments to read aloud, sing call and response songs, even pause and breathe deeply. This was pleasantly unexpected.
One moment I'll remember is watching Janet Aisawa as she tossed feathers in the air one by one and waited as each fluttered down. At the same time a swinging, elegant duet between Cecilia Fontanesi and Kristin Hatleberg was happening. It was fast and physical, in contrast to the waiting, and I liked the confidence the dancers had in their connection to each other. Eventually, the three dancers came together to balance on one another, like birds coasting on updrafts, while singing a call-and-response song together in Leni Lenape (according to my airplane program). A strong and united ensemble of dance artists, they expanded my boundaries between the space we can reach and the space we can dream of. I wished I could be watching them dance this show outside, under a huge expanse of sky.