More Audience Reviews
Contribute
Your support helps us cover dance in New York City and beyond! Donate now.
AUDIENCE REVIEW: The Moving Beauty Series presents DoubleTake Dance + Sunhwa Chung/Ko-Ryo Dance Theatre
Company:
DoubleTake Dance & Sunhwa Chung/Ko-Ryo Dance Theatre
Performance Date:
Friday, March 6th, 2015
Freeform Review: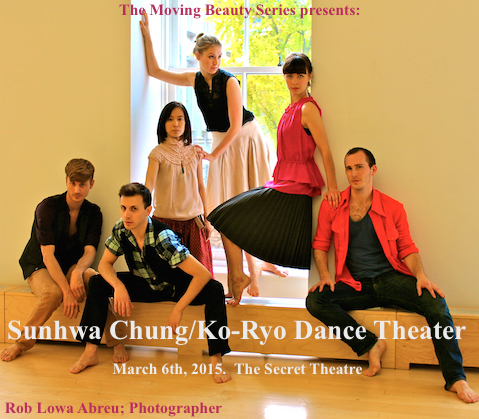 One of my favorite things to do as a professional dancer is to attend a concert where I know very little of the companies performing.  I don't have any friends performing or know the purpose/mission of the company.  I can look on the dancers, choreography, and performance with entirely unbiased eyes and let something new wash over me.  That being said, The Moving Beauty Series is one of the best series to attend for this purpose.  Not only is it well run and produced, but the dance companies are of a high caliber.
I attended the March 6th performance which included DoubleTake Dance and Sunhwa Chung/Ko-Ryo Dance Theatre.  And I thought it was an exquisite evening.  I left feeling rejuvinated in my own artistic inspirations as well as perfectly enthralled with the new companies I had been introduced.
DoubleTake Dance is an explosive, raw, and powerful company.  All women, (who you easily look at and would want for your dance teachers, personal trainers, pilates teachers, because of their strong bodies), they deftly move their strength in strong patterns and dynamic weavings so the strength is dynamic rather than static.  They use music that syncs well with the purposes of their pieces - not overpowering the dance but also not lacking in drive.  I would love to see this company in an even larger space because they appeared to have to hold back slightly and the dynamic nature of their movement is the essence of their company.
Sunhwa Chung/Ko-Ryo Dance Theatre presented a beautifully, well crafted, emotionally driven piece called "Life is Every Day II."  I was very impressed with the expressivity of the dancers - they were very well trained with beautiful technique and lines but more so, their timing and ability to make the phrasework "sing" was breathtaking.  There was a lot of repetition thoughout the piece that was thoroughly satifying.  Each time it reappeared you felt like you were gaining another small insight into the dancer's thoughts, emotions, and dreams.  The choreographer Sunhwa Chung crafted the piece so that each section felt new while still holding memories from past sections.  This is a choreographer I will keep a look out for future productions as I would love to see her work again.