AUDIENCE REVIEW: Thoughts On Martha Graham Dance Company at The Joyce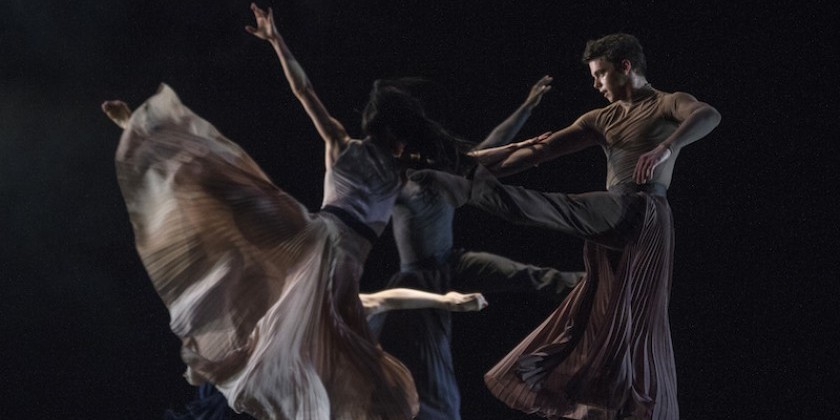 Company:
Martha Graham Dance Company 2015 -Shape and Design
Performance Date:
Sunday February 22nd at 8pm
Martha Graham Company at the Joyce, February 22, Program B ( photo of Echo by Andonis Foniadakis; photographer Mary John Frank)
Full disclosure in two parts: First off I'm no critic. What is that line in Almost Famous? "The enemy!" That's generally how I feel about critics across genres. This is therefore written and intended only as a response to a performance that moved me; like anything that moves your brain in new ways, questions are generated. Second full disclosure, tilting the scales even more toward subjectivity, I love Graham. Blood Memory is, somehow, and gracefully so, simultaneously one of the most self-centric and selfless autobiographies I've ever read. How is this possible? And regardless of your stance on Graham's work, her tireless, uncompromising dedication to it over her 70 year career as a dancemaker does demand a little respect. Consider briefly Graham's output in the 1940-49 years. Here are not only some of her finest works, but also most of the worlds' favorites- this is the decade that began with Letter to the World (1940), wound its way through Appalachian Spring (1944), Cave of the Heart (1946), Errand into the Maze (1947), and Night Journey (1947), and ended with Diversion of Angels (1948). Seriously what a decade. If you're not sold on that, consider next her musical collaborators, which helped elevate the profile of modern dance and made it increasingly relevant and respected as a form of artistic expression: Aaron Copland, Samuel Barber, William Schuman, Louis Horst. But okay! enough about dance history. Except wait, Night Journey is on hulu.
 
So Sunday night's Program B opened with a black & white film of Graham dancers by Peter Arnell, and once you understand that it's a film work comprised of thousands of stills, you begin to understand the depth that lies waiting beneath these images of highly focused, trained bodies. Super appropriate for his subject matter, this hidden depth- if I had to describe Graham's technique in a few words, those might be really good ones. Wondering, for myself: how long did this take to edit? And how did he edit it, like with what specifically?
The first live body we see onstage is placed downstage center, in the solo Deep Song. In keeping with Graham Company's season theme, Shape&Design, this piece is striking in both its costuming, a black and white dress reminiscent of flamenco, and directness from the performer, who manages to capture with honesty the anguish Graham intended. It's helpful to know that Deep Song was a response to the Spanish Civil War, like Picasso's Guernica, also created in 1937. Next up, Hymn to the Blessed Virgin, performed by Graham 2, which is comprised of advanced students of the Graham school, and also the stunning Miki Orihara. Dressed all in white, and framed in a multitude of ways by the younger and very capable women in blue, Ms. Orihara's graceful presence in this work perhaps serves to show that while the Graham technique can begin to take root in youth, it burns at its brightest on a body that's experienced.
The Lamentation Variations form the next grouping of works. It's a fantastic idea, conceived by Janet Eilber- invite a handful of choreographers to do a short variation on the famous Lamentation. The variations for Sunday were three, from Michelle Dorrance, Liz Gerring and Bulareyaung Pagarlava. Pagarlava's work, bold in its scope, finds a trio of Graham dancers utilized to their full explosive potential and range, with innovative and seamless partnering. It got me thinking what I'd come up with if tasked with creating a Lamentation variation? Maybe the whole company is moving inside of one giant tube dress thing, one skin. The grief of many, the grief of one, something like that? What would other artists' variations look like? I'm scrolling through in my mind, trying to figure that out.
Errand into the Maze is, a girl next to me says, the piece she's here to see. From the way the audience collectively sits up straighter when the curtain lifts, I'd say that's the sentiment felt around the room. And while I'm not sure I can add much to the conversation regarding this piece, I will say it lives up to everything you've heard/read. Blakely White-McGuire sublimely channels the spirit of Martha herself, no small feat!, and Tadej Brdnik pulses brilliantly as the minotaur. Architecturally daring in scope, athletic and dark in design, and staged impeccably. Noguchi set = amazing; Menotti score = amazing. What strikes me most though, when the curtain goes down, is how well this work has aged. It's 68 years old and it still reads relevant. It's hard to wrap the head around that- a dance work that has not only survived and endured, but has triumphed and sublimated for 68 years.
Fun fact: at intermission, I meet Wendy Whelan. I somehow manage to say out loud the one thing that doesn't scare people at all, which is that I follow her on instagram! (it's true, I do. She's really funny) Anyway I try to do that thing where you don't have a direct connection to a person, so you trace for them the indirect one- mine is, she performs Restless Creature with Brian Brooks, who was one of the four founders of the now-condo-ed WAX in Williamsburg, who presented my first NYC work in 2004. Anyhow she is super gracious and kind and luckily for me not weirded out by weirdos.
Post intermission, two new works set on the Graham company are performed, The Snow Falls in the Winter  and Echo. The first minutes of The Snow Falls in the Winter, from Annie-B Parson, immediately reminds me of Wes Anderson's film The Royal Tenenbaums- the definitive voice-over narration, provided by the dancers via microphones on stage, is layered on a song that waxes folksy; in Snow this is a manipulated version of Eagle's "Hotel California," in The Royal Tenebaums this is an instrumental version of "Hey Jude." Because of my irrational hatred for all things Eagles, I am relieved that this song is playing both backwards and distorted. Snow is a very cool work on a number of levels, which is rewarding if, like me, you're into layers. The dancers are speaking onstage throughout, and they do so with a skill that seems to come completely naturally. These vocalizations are a step outside the standard Graham vocabulary, but totally in keeping with the Graham spirit of high drama. The images of the young pupil character fanning the professor character are highly charged and very effective; so too is the ending note, a humorous musing on how to write a thank you card. Seeing the Graham performers challenged in the context of Snow- both physically and conceptually- is an unexpected highlight for me. Echo, the closing piece by Andonis Foniadakis, offers what might be the most physical daring of the night, and definitely the most striking lighting, designed by Clifton Taylor. There's a cinematic reeling that begins from the first moment and carries through to the very last, and this feeling is capitalized on with fog and a dramatic omega-looking gobo that covers the floor. The power in this work is concentrated in a fierce trio, all wearing skirts that flare to accentuate their sky-high technicality; the incredibly gifted PeiJu Chien-Pott seems to literally own the space with her prowess, and Lloyd Knight and Lloyd Mayor astound as a pair both combative and tender.
On my way home, as a million and one things go wrong with the Sunday night trains, I'm thinking of Martha Graham, and her personal history, and all her time spent in NYC, and her legacy, and what exactly a legacy is. No definitive anything on this, just thoughts- maybe a legacy isn't only about preserving what was, but also about finding ways to make what was relevant for now? Is it possible to bring in something that's totally new and remain true to the guts and bones of the original thing? Is the original thing a fixed point in time, or is it changing, always changing, based on perception/reception? Both? Yes?
Marisa Gruneberg, Director
whiteroaddancemedia.com