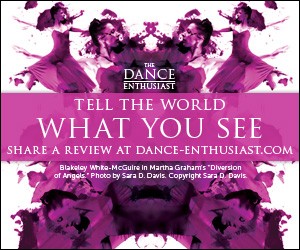 More Audience Reviews
AUDIENCE REVIEW: Threshold
Company:
Y.A.K. Collective (Cecilia Fontanesi, Laura Colomban, Kristin Hatleberg)
Performance Date:
October 15, 2015
Freeform Review:
Y.A.K. Collective (Cecilia Fontanesi, Laura Colomban, Kristin Hatleberg) Performance :October 15, 2015 at Collaborations in Dance Festival-- Triskelion Arts, Brooklyn
Surprise, intimacy, and amusement are the focus of this curiously captivating performance. Laura Colomban dances with sensitivity in a sound-generating costume that is the springboard for a visceral journey through internal and external storms. Cecilia Fontanesi and Kristin Hatleberg master layers of movement and visual imagery with a duet of progressive, irrepressible and humorous gravitation toward each other, partnered with astounding physical tricks that hold the audience spellbound. 
We are carried through a landscape of mysterious details, of objects and sounds unfamiliar to us. Film projection, detritus, and strewn wires set the scene and the dancers guide the way to follow the lines, literally, to find our resonant throughline. As the dance unfolds we constantly wonder, what will come next? New interpretations arise, wiping it clean of prior associations. A baffling and whimsical world in which to explore the scale of our own perceptions -- This show was playful and smart.