AUDIENCE REVIEW: Alison Cook Beatty Dance spreads hope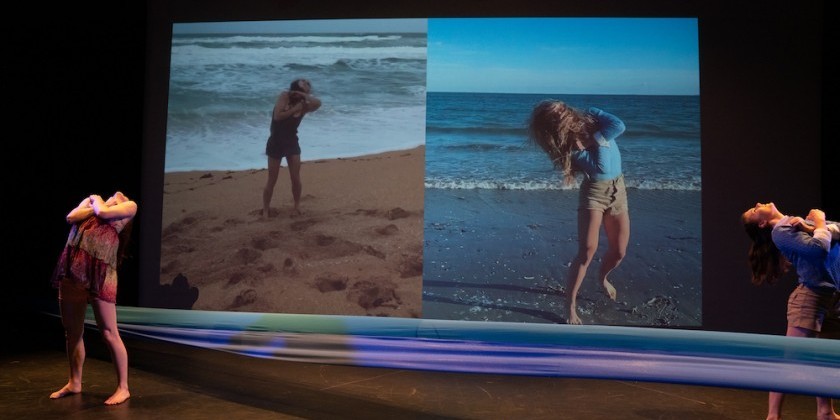 Company:
Alison Cook Beatty Dance
Performance Date:
2/7/22
Freeform Review:
On screen, a dancer hurls a green bottle containing the scrawled message, "don't give up," into the surf. On stage, another dancer, Maddie Burnett, sends an invisible force into billowing blue fabric, separating her from fellow duet partner, Madeline Kuhlk.
"Hope Ashore," from New York-based contemporary company, Alison Cook Beatty Dance, explores the idea of connection, telling the story of two people on either coast.
"I wanted to send a message of hope," said director and choreographer, Cook-Beatty. "Since the beginning of the Pandemic to now, [and] with [the] Russians' criminal invasion of Ukraine, people need hope more than ever."
The original piece, set on Nika Antuanette and Sasha Rydlizky, was choreographed during quarantine for the screen. It was later adapted for the stage.
"I love how Alison expresses globally shared sentiments in her work," said Burnett. "This one I can particularly relate to, having been stuck a border away from my life as a performer and my NYC home for over a year."
While both dancers move independently and never make contact, they each perform with an awareness of the other. The effect is one of universality, drawing parallels between the experiences of two individuals seemingly disconnected.
"Hope Ashore speaks a message of unity even despite the struggle of separation," said Burnett.
Perhaps land, sea, and difference in experience do not divide us after all.
"Hope Ashore" was shown February 7th, 2022 at Dixon Place as part of the SoloDuo Dance Festival.
Author:
Sabrina Karlin