AUDIENCE REVIEW: Arch Ballet Brings Grit and Grace in Premiere of REM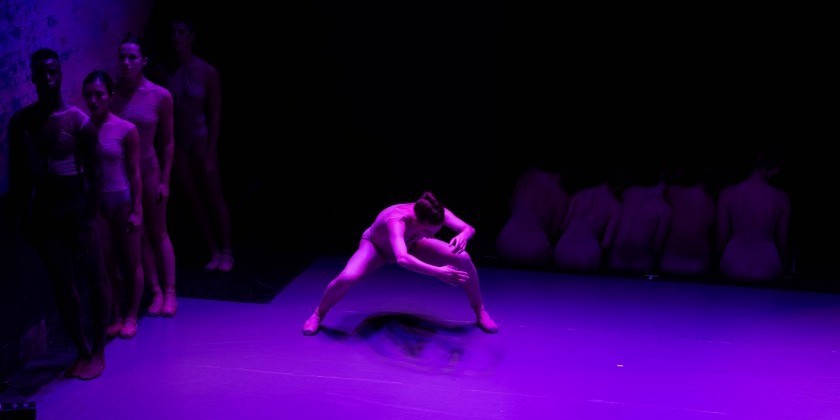 Company:
Arch Ballet
Performance Date:
Aug 15, 2018
Freeform Review:
Most contemporary ballet works leave applause for the end naturally. But last week in a double-bill performed August 13-15 at the off-broadway Davenport Theatre, Arch Ballet brought raw physicality and exquisite artistry that had me trying to fit in my adulations throughout their premiere of Sheena Annalise's latest creation REM. They also performed Two Steps Backward.
The stage had its proscenium removed, brick and lighting grid exposed, and curtains unhung. The dancers were adorned in bare skin leotards and neutral stage makeup, it felt like a clean blank slate waiting to begin.
A metronome starts the evening and picturesque bodily art flashing before our eyes. The painted scene using their bodies as the canvas and the brush, started with three dancers in parallel position facing forward. A black flash embraces the stage and suddenly there are three couples – women and men, women and women, in an interesting lift where one dancer is in a fetal position wrapped around the other's neck. Another black flash brings another scene, one dancer in center stage. Next flash is a whopping stage of dancers covering the floor. Furthermore, the entire stage was covered in coupled dancers in the fetal position lift but they start to pivot in this position like a protractor. They disappear and Aoi Ohno reappears on stage, in the next flash they all appear again facing straight at the audience. It is arresting, engaging, curious and you can never underestimate the choreographic power of a still moment. All of the dancers fall to the floor in a quickly as if they were taken out from under themselves. It revealed revealed Tori Hey who remains standing in the upstage corner.
REM brought a new body movement style for Annalise. As a strong critic of her work, I have seen quite a few of her repertoire pieces. REM was very distinct with themed phrase work and a harmonious blend of grit and grace much like the space that housed it. Rich spiral movement was untamed yet controlled with out-of-this-world extensions reaching far and wide. Quick tantalizing isolations were paired with wavy enveloppés featured in every limb and joint in the body of the dancers.
About 15 dancers lined the walls of the stage like an encasing much like a time capsule full of treasured phrase work. A few minutes into a philosophic solo by Hey, a handful of the dancers moved to the upstage wall and sat down with their heads leaning on one another where they then remained through the rest of the work.
The impeccable lighting design by Alexandra Christie, gave the audience an illusion of moving from one dimension to the next. Layers of blackouts and warm colors of red, amethyst, and white light flooded each scene.
Tori Hey took the lead in this work and the gentle migration of her body towards her counterparts was entrancing flowing from solo works to pas de deuxs and trios throughout. A soprano singer, Eugenia Forteza, followed Hey's whims with a euphoric non-translatable song adding to the multi-dimensional dream like state of the ballet. Her voice went in and out through the piece as if it were Hey's body speaking, unclear if speaking to herself, the audience, or surrounding dancers it was left to the audience to determine.
Ohno and Eileen Durma held their own in a gender neutral pas de deux with partnered turns, lifts, and phrasework. In one moment Ohno slides across the stage in the arms of Durma, where she was then left to balance alone. Her control of her heel coming down from pointe was an applause worthy moment some of us tried to fit in, which occured in multiple phrases of the work.Their connection throughout the pas de deux was maintained with no indication of stopping. 
Durma was joined by a new-comer, Wilson Mayo, for a sultry pas de deux. A penche was entangled between Mayo's arms that led into a promenade where my head twisted with Durma trying to figure out how they reached that position. A signature of Annalise are these entanglements of limbs and this particular section was smooth, creamy, and melted like butter on a fresh baked idea.
My eyes were snatched away by a ladies trio in perfect unity. They seemed to be exploring a series of delicate isolations of the body and legs that proved unrestrained by body anatomy. The whole section felt fleshy and raw in the best ways.
Towards the end, the encasing of dancers moved inwards and appeared on the stage coming from the themed lighting black out into a new dimension of light. The work became increasingly complex, progressing from looking within one's self through the solo works into pas de deux and trios that offered moments of tender soft contact. The corps dancers carve the space around the main company with gestural phrases with business-like precision. The mix of hot and cold personalities was stimulating and clever.
In the end, corpse dancers end in a collapsed fashion around Hey. REM which by definition "a kind of sleep that occurs at intervals during the night and is characterized by rapid eye movements, more dreaming and bodily movement, and faster pulse and breathing" (Merriam-Webster Dictionary) seemed to be the inspiration of the work. A nightmare or a dream I couldn't tell but it felt overwhelming at times as if the whole world was crashing around Hey, which as an audience we can all relate to.
The overwhelming of stress through expectations of society today placed on individuals, students, and families are much higher than ever before studies are proving, IE. article here on Psychologytoday.  I got a sense of reaction of this notion from watching the work and the end of Hey alone reaching upward  to the sky with Forteza raising her voice higher and higher felt as if it were a call to step back and re-evaluate yourself through these stresses. What matters today will it matter in a year?
Annalise is ahead of her time and is spearheading relevant ideas through skillful and crisp choreography, REM is a great addition to her collection of thoughts about the world today.
Author:
James Martin
Photo Credit:
Demetrius Green