AUDIENCE REVIEW: FlyByNight Dance Theatre in "Where Shall I Send My Joys?"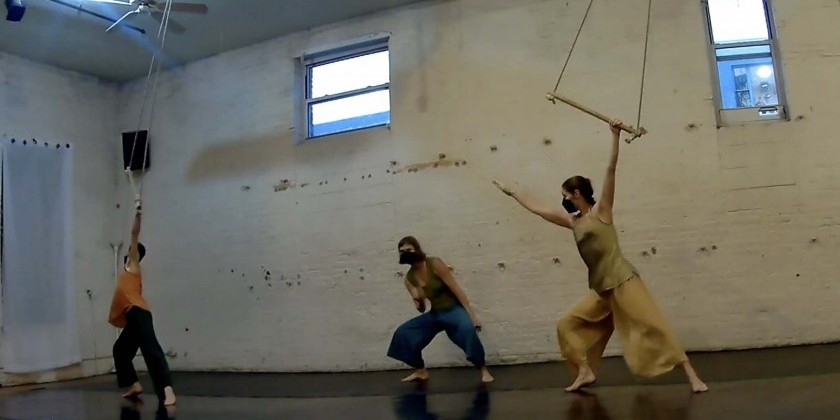 Company:
FlyByNight Dance Theatre
Performance Date:
Ocober 30, 2021
Title: Where Shall I Send My Joys?
Company: FlyByNight Dance Theatre
Performance Date: October 30, 2021
Conceived and Directed by: Julie Ludwick
In collaboration with Dancers: Cecilia Fontanesi, Julie Ludwick, Maia Ramnath
Composer and musician: Paul Uhry Newman
Cinematographer: Cristobal Vivar
Freeform Review:
Where Shall I Send My Joys kicks off the FlyByNight Dance Theater's return to live performances. The show integrates a combination of narrative, ground-based dance, and aerial work. The show was conceived and directed by FlyByNight's artistic director Julie Ludwick. She frames the show with an opening monologue about her sister's request during the last stages of life. The request: Send me your joys. The show explores finding and sharing one's joy in the everyday.
 The multimedia show then shifts to a short film by Cristobal Vivar that merges hand gestures with nature (plants and trees). These images intertwine, intermingle, touch, grasp, release—the joy of giving in and returning to nature. Throughout the show, a live musical score composed by Paul Uhry Newman adds a powerful and visceral element to the performance. 
The core of the show is created in collaboration with two members of the company, dancers Cecilia Fontanesi and Maia Ramnath. This marks both dancers' second collaboration with FlyByNight. The ensemble of Ludwick, Fontanesi, Ramnath launch into exploring the theme of joy through aerial dance. 
Fontanesi and Ramnath share their moments of joy as short monologues and then movement scores they inspired. Fontanesi shares the joy of the physical energy of play, the effervescence we recognize in children. Ramnath shares the joy was fireflies in Tompkins Square Park on a summer's night.
Fontanesi's movement score captures the sense of carefree play as she spins, playfully stomps, extends her arms as though they could float away from her body, and leaps across the space with both power and ease. Ramnath floats, flicks, spreads, and arches through space as if light is emanating from her. The power of each piece is on full display when the ensemble comes together to explore each other's joys, working on subtle variations and returning home to the score.
Most magnificently, the piece ignites when the aerial work is integrated, and all three dancers flow, contract, expand, swing, and integrate work on the floor with the trapeze work. Joy flies out to the audience, creating a synergy of lightness and weight, grief and release, taking flight and landing. The combination of aerial and ground-based work constantly changes the audience's relationship to gravity and joy. Through the aerial work, joy enters one body (or consciousness) through an unexpected portal, allowing joy to be released in fresh and embodied ways, creating a more inclusive inner landscape.
Searching for joy as a method to move through grief at a personal level is timely in how it also connects to moving forward and emerging from the devastation of a pandemic. The piece explores this question with a double move that is set up in the show's opening monologue: Listening to the needs/request of the other (which can also mean the world around us) and creating a personal response that is healing. This makes grieving relational. Often grief is looked at as a solo journey (albeit with their support group around), but not transversed as a relational dialogue. The ensemble work embodies this. 
The show ends with Ludwick's joy: leaps and running, inspired by William Wordsworth's poem, My Heart Leaps Up ("My heart leaps up when I behold A rainbow in the sky") The dancers, run, leap and swing, as a sense of relational joy is shared and given back throughout the space, returning to Ludwick's question, which resonates as one leaves the performance space: Where shall I send my joys?
Kurt Brungardt's work has been featured in Vanity Fair, The New York Times, The Wall Street Journal, The Los Angeles Times, and Men's Health.
Author:
Kurt Brungardt