AUDIENCE REVIEW: Jhalak Dance Company Shifts Physical Awareness in "What is Revealed"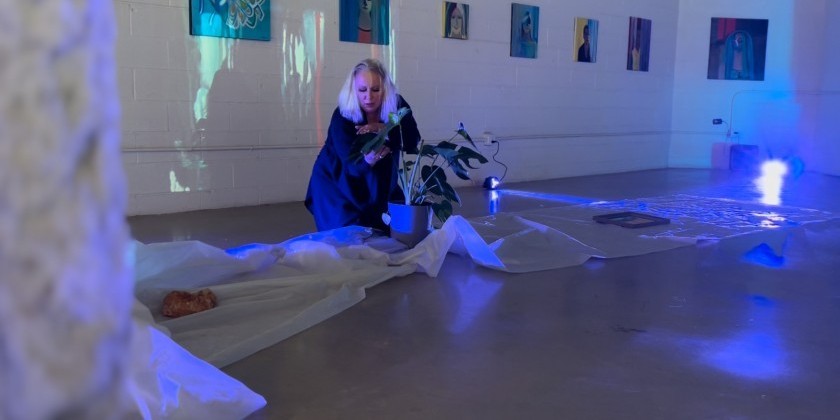 Company:
Jhalak Dance Company
Performance Date:
June 9 and 10, 2022
Freeform Review:

Jhalak Dance Company Shifts Physical Awareness in "What is Revealed"
Dance Audience Review by R. S. Jewel
"What is Revealed" is the title of a new work by choreographer and director Kara Jhalak Miller. The performance installation was presented by visual artist Alberte Bernier, writer and actress Jannie Wolff, and Miller at the ChaShaMa pop up gallery space on 6th Avenue and 44th street in Manhattan on June 9 and 10, 2022. The dance installation is a multi-faceted diamond that features an inventive and serious reflection on Bernier's painting series and exhibit "LEAK" alongside new poetry "The Flower and the Flame" written and performed by Wolff.
Miller, who danced in New York City in the 1990s and early 2000s and is now based in Hawai'i, has been a choreographer of note for several years now. Her dance works have been commissioned and presented around the world and her new company, Jhalak Dance, came into being in Honolulu.
Miller created the installation to respond to Bernier's visual art. The project first emerged in 2017 in Bernier's ChaShaMa art studio in Brooklyn. ChaShaMa is an organization that helps create a more diverse, equitable, and inclusive world by partnering with property owners to transform unused real estate. These spaces are used for artists, small businesses, and for free community-centric art classes throughout New York City. According to Bernier, "LEAK" is the largest group of paintings in a style she uses to illustrate the dripping of life's conflicts and emotions. In the same series this dripping technique highlights women who are powerless over circumstances they can't control. With the depth of its tones and the flow of its lines, "LEAK" transcends people's perception of art.
Bernier's "LEAK" paintings were on exhibit in the gallery and projected on the wall behind the dancers creating poetic and imaginative layers of meaning as they were illuminated in the choreography, movement, props, and costumes. Through movement storytelling, Jhalak Dance Company shifts narratives through how they creatively and collaboratively engage the artwork and audience.
Sami Akuna and Miller are both riveting performers. A poignant moment was Miller's solo performance with newspaper and plastic. With equipoise Miller seemingly appeared as a witch clearing the gallery with ruffles of newspaper swirling in her hands and mouth portraying an ancestral presence. Then she regally placed a fifty foot painter's plastic on her body while pulling the weight of a heavy concrete object and live plant throughout the gallery. Her performance brought other worlds into the forefront from dimensions that were hidden in the visual art and deeply connected to the forms in the paintings. Akuna evocatively glided into the room and touched important visibility for trans women. Shaking uncontrollably at the end, Akuna physically spoke of trauma and loss that is not always visible and the freedom of openness and vulnerability. The physicality of the solo was mirrored by Miller's very slow movement transition forward shifting from one foot to the other throughout the entire dance, while viewing Bernier's largest painting on the wall. The two were performing a duet of remembrance while Akuna moved with force across the gallery and Miller held space for the dance to unfold.
The entire company maturely delves into deep issues of womanhood. They utilized a portable set made of garment racks, coat hangers, clothing, and newspapers with paint drippings that engaged Bernier's visual art sensibility and allowed for changes of costume. Choreographic invention played with the architecture of the room in an ensemble dance performed by Miller's excellent company dancers Tina Chan, Cy Higashi, Lance Sabado, Terry Slaughter, and Katelyn Wyatt with moving red and black paint video projection behind them. The dancers created a movement sculpture in the 6th avenue windows with audience viewers watching from inside and outside the gallery. Each dancer performed a solo with a textural black mesh extension of their bodies seemingly reflecting individual portraits on Bernier's canvases. Notable was Higashi's exquisitely fluid approach to dancing with a feather pen as a movement painter, Sabado's expressive presence in performance, and Slaughter's whimsical and organic dramatic gestures. The props included random objects such as plates, ferns, and cyclical round objects staging the paintings in living form. Chan and Wyatt portrayed refined technical virtuosity in a dance duet that was doubled by a video projection of Bernier's painting and a fascinating zoom green screen rendition of themselves embedded within the artwork. Throughout the installation, Larry Asakawa was deftly moving around the installation filming the dances for a movement based media art film about the gallery collaboration.
Dancers are often viewed through lenses of age, gender, race, and become politicized bodies. This genius gallery event embraces a mix of multi-generational and diverse performers. The performance installation created a location of transmission and transformation that transcended and linked time and space through meaningful reflection on important women's stories. The line and form of the artists paint gracefully united with the devised choreographic and improvisational choices of the director and performers. Miller's directing style cultivates new understanding and knowledge that gleams forth through bodily awareness and wisdom.
Jhalak Dance Company brings a fresh glimpse and creative process for engaging audiences in New York City. The exhibit "LEAK" and the performance installation "What is Revealed" are worthy of being presented at the Guggenheim or MoMA. This is the strongest performance this audience reviewer has experienced this year. Support for this project is a sign of upliftment and change soaring to new heights for performance art in mid-town Manhattan.
More Info:
"Leak" Art Exhibit and "What is Revealed" Live Dance Performance Installation
https://chashama.org/event/leak-x-what-is-revealed/
Author:
R. S. Jewel