AUDIENCE REVIEW: Maria Caruso's "Metamorphosis": An emotionally intense evolution through dance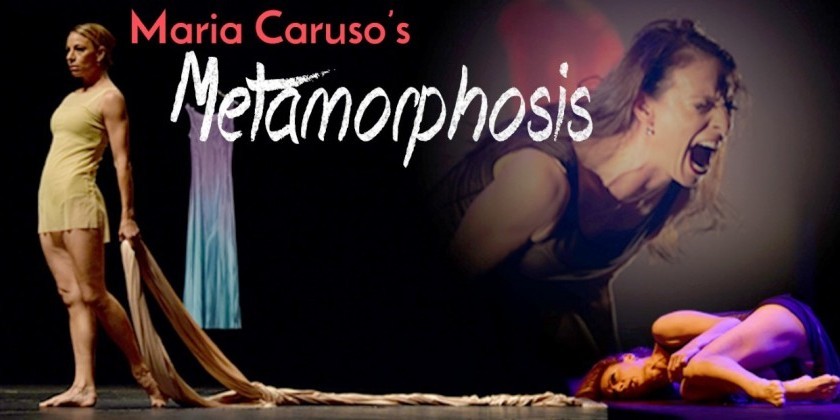 Company:
Maria Caruso
Performance Date:
2/18/2023
Freeform Review:

Broadway on Demand's streaming of Maria Caruso's "Metamorphosis" offers an intimate view of this emotionally intense one-woman dance show. Originally staged in Pittsburgh, and later performed both on Broadway and in London's West End, the streaming version was filmed at the Lyric Theatre in the West End. Caruso both choreographed and performed the hour-long composition.
As the show opens, Caruso is lying on the stage, draped in flesh toned fabric. She slowly stretches and arises, as though awakening from sleep, or perhaps a cocoon. The minimalist stage is decorated only with four dresses – black, blue, green, and red – hung on hangers, equally spaced across the back of the stage. Over the course of the show, one by one Caruso will don and doff each of the sheer fabric dresses over a flesh toned leotard to evoke different emotional states, or perhaps life phases or seasons.
The show blends ballet and modern choreography and incorporates intricate hand and arm gestures that serve as a form of non-verbal communication. At points throughout the show, her gestures are reminiscent of the movement of a butterfly's wings, which frame her face.
"Metamorphosis" is highly symbolic in its storytelling while adhering to formal dance training and technique.
As she rises from the floor, Caruso is clad in a nude tone dress. She reaches and contracts her body beneath the flesh toned sheet, both revealing and concealing herself. Throughout the show, the fabric drape acts as a coverlet, cape, and symbolic dance partner as she billows, waves and wraps the undulating fabric around herself. The fabric also appears to be her source of comfort as she returns to it between each phase of the dance.
The tempo of the show ranges from stillness and silence to slow, controlled movement, to explosive energy and emotion. Original music from Nils Frahm, Kevin Keller, and Garth Stevenson incorporate both subtle and bolder themes. Throughout, Caruso's beautiful extensions and technique thread the phases together. She is absolutely immersed in character, and carries the audience along on her intense journey.
Director Matthew Titterton does a superb job of capturing the show. The up-close video of Caruso's face is riveting. Her gaze is at times steely, and her facial expressions range from anguish, to fury, to curiosity and joy. While the dance has no spoken words, there are verbalizations in the form of weeping and screaming. Caruso's ability to embody a character is evident throughout. As a dancer and choreographer, she has incredible stamina and range. While Caruso's intensity is palpable both to in-person and virtual audience members, the video provides up-close intimacy, as though every viewer has a front row seat..
There are moments of the show that are difficult to watch, such as when Caruso appears to literally be uncomfortable in her own skin. She scratches herself violently as though she is in terrible pain, and trembles with seizure-like movement. She seems to be fighting against forces both within and without her. Later, her gestures indicate a feeling of being trapped, walled into a space that she can't escape.
However, each time she removes a dress, one phase ends and she prepares to enter the next phase with the donning of a new dress. She moves forward with a determination to explore new dimensions of life, including desire and fulfillment. Ultimately, the show is optimistic in tone, showing Caruso at peace, having transcended her earlier phases.
Author:
Susan Jablow
Website:
https://www.broadwayondemand.com/rentals/f4f45ebd-84e1-4428-9847-4aba5b1e89ec