A Dance Enthusiast's A to Z: N is for Lynn Neuman and Lisa Niedermeyer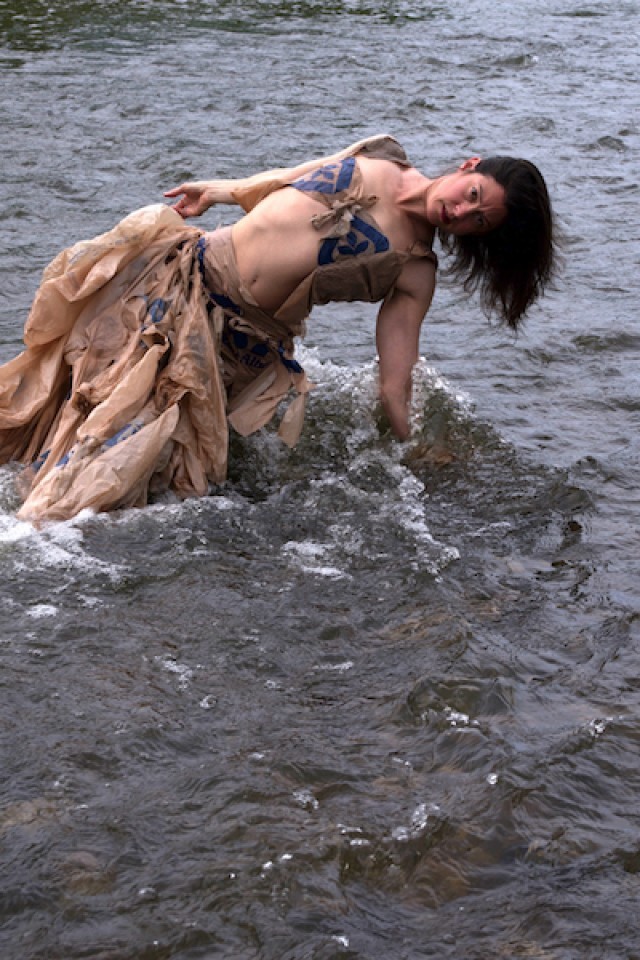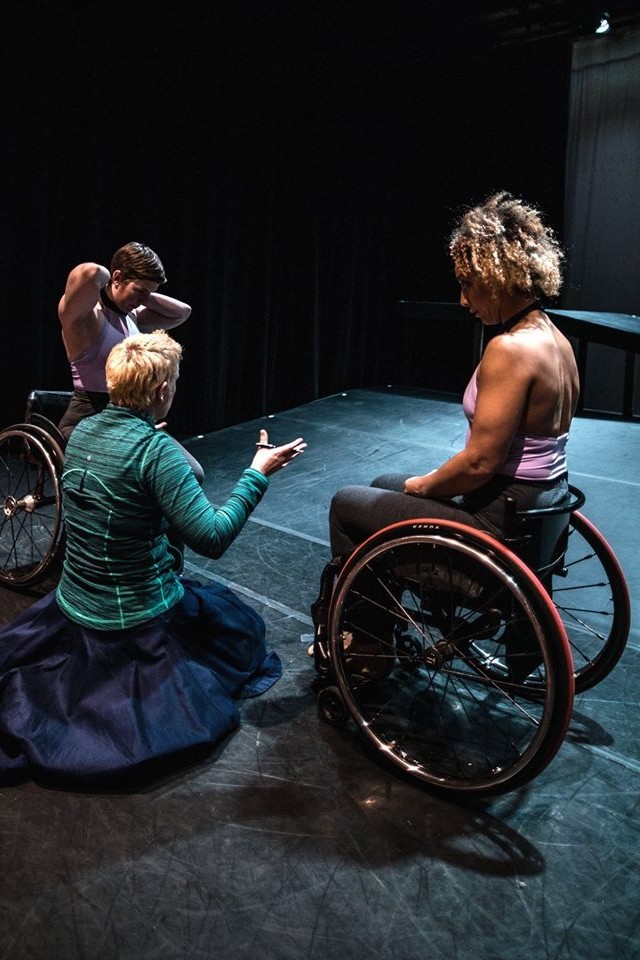 Lynn Neuman
Biography
Lynn Neuman is Artistic Director of Artichoke Dance Company, an eco-arts action organization that specializes in performances in public spaces that bring light to environmental issues. Her work has been presented across the United States and internationally and is designed to engage communities with local concerns while enthralling diverse audiences and spurring their joyful curiosity. She is widely known for her multi-year program to mitigate plastic pollution on Brooklyn beaches. Lynn is an Association of Performing Arts Professionals Leadership Fellow, was honored with a Marion International Fellowship for the Visual and Performing Arts, and is currently Guest Artist at Rider University. She serves on 350Brooklyn's Steering Committee and is an American Littoral Society Coastal Clean Up Coordinator. 
Headshot courtesy of artist; Dancing shot by John Priola
Lisa Niedermeyer
Biography
Lisa Niedermeyer spent her first ten years after university achieving her dream of dancing professionally in New York City. Highlights include creating original works with Guggenheim Fellow cross-disciplinary dance artist Jane Comfort, touring with the Bessie-award winning cast of Fräulein Maria, and dancing in Julie Taymor's feature film homage to the Beatles, Across the Universe.
After retiring from performance and pivoting to technology, Niedermeyer spent the next ten years working as a technology project manager. Highlights include the launch of Dance Interactive, an online engagement platform for the video archives of the longest running international dance festival on the planet, Jacob's Pillow; and leading the expansion of SpaceFinder, an online market place for underutilized space, to more than a dozen cities working at the non-profit tech company Fractured Atlas. She has been a mentor at NEW INC, the first museum-led incubator at the New Museum, Hacking Arts at MIT, and for National Arts Strategies Community Fellows.
Currently Niedermeyer is one year into an entirely different phase of career working alongside the artist and activist Alice Sheppard to launch art experiences at the intersection of disability + tech + design. She is thrilled to be making dance history and dance future at the same time.
Headshot by Flash Rosenberg; Pictured above: Lisa (in teal) in rehearsal with dancers
1
My earliest memory of dancing : _______________
Neuman:
I was known for putting on shows in my basement well before I ever took a dance class. I would create lighting environments and make a dramatic entrance through the beaded curtain that hung over the doorway. 
Niedermeyer :
Rough housing and wrestling with my older brothers fully embodied in our improvised physical play.
2
What was the light bulb moment when you realized you were going to be a dancer?
Neuman:
There wasn't one aha moment, but a gradual realization that dance as a career was actually a possibility. I grew up in a small town in the Midwest in a family of musicians and educators. So I did see one way of having a career in the arts. But it took me awhile to find dance, and then dance that made sense to me. At 16, I found my first ballet teacher, Ross McDowell, who was serious about dance as an art form. Around this time I was also beginning to research colleges and discovered that dance existed there. When I announced that this was what I wanted to apply for, my parents had the foresight to send me to Interlochen Arts Academy to experience more intense training, thinking this would either confirm or negate my desire. Confirmed, I majored in dance, moved to New York, and have been finding ways of making dance, and now a broader spectrum of the arts, my career. 
Niedermeyer :
I had aspirations to be a dancer from a very young age. The light bulb moment when I realized it was going to happen for me came at the end of my summer internship at Jacob's Pillow in 1999 as I was returning to finish my undergrad at Texas Woman's University. I was exposed to such a vast spectrum of ways of moving and being that magical summer that it made logical sense that there was space for me as a professional somewhere, there just had to be. And if there wasn't, well I would just have to be like one of the dozens of artists who biographies I read that summer who made space for themselves by making something entirely new.
Neuman:
The dancers I work with, my collaborators and communities I engage with give me energy. Also the physical expression of dance, and moving in general, is energy producing. If I don't move in any given day, I feel like I don't quite wake up. 
Niedermeyer :
A thought partner.
4
A perfect day includes____________
Neuman:
A cup of coffee in bed, a swim, some research, some creation, some conversation, and someone writing a large check. 
Niedermeyer :
Kisses and tail wags from a canine creature.
5
What event (dance-related or not) has transformed you?
Neuman:
There have been several. Adopting a dog transformed my life and work in ways that I couldn't have ever imagined. I won't tell the story here but you can watch a video on the Mission page of Artichoke Dance's website. Also Hurricane Sandy, as it made very real the environmental direction my work was already headed. 
Niedermeyer :
Seeing my body as volume using a 3D scanner transformed my understanding of my form in a really positive way, something photography had never been able to do for me. That initial 3D scanning experiment also led to my creative practice as a portrait artist.
6
What is/are your favorite dance move(s)?
Neuman:
The tendu is endlessly fascinating. Part of what's interesting is the combination of activation and tactile sensation. 
Niedermeyer :
Falling and flying with absolute abandon, into a partner or into the floor.
7
The most expressive part of the body is _________
Neuman:
I've been studying with Irene Dowd for eight years. She said at one point that most audience members only watch your face. At that moment I had a shift of perspective and thought, why have I been working so hard to lift my legs all these years? It reminded me of when I studied in Bali; the dancers there had the same question for me. 
Niedermeyer :
breath. It is the key to expression everywhere else.
8
What do you consider your greatest achievement thus far?
Neuman:
Having the courage to shift the direction of my work, and not know how to describe it. 
Niedermeyer :
That is for other folks to determine.
9
What is your life's motto?
Neuman:
I adopt a new one every four-five years. "Perfect is boring" was good when I needed to take bigger risks. "It's not my problem" really helped after I got into environmentally driven work and felt a responsibility to try to take on everything. Even though I could only say it in a joking way, it helped me let go of that burden I had placed on myself. 
Niedermeyer :
Never assume.
10
What is your most treasured possession?
Neuman:
A needlepoint a dear friend made for me. It's delicate, handmade, and contains three cuss words. I love the contradiction. It sits on my desk, and it reminds me to not take things so seriously. 
Niedermeyer :
I treasure people and experiences, not possessions. I got to spend time with a group of Tibetan Nuns back when I was doing videography work and those women really changed how I feel about treasuring possessions. Watching them build an intricate mandala one grain of colored sand at a time for over a month of sacred labor, and then simply sweeping it up and pouring it into the river, I finally understood detachment as a beautiful practice.
11
What is your favorite post-performance meal?
Neuman:
Arugula salad and steak (the vegans are going to hate me). There's something about contradictions in there too.
Niedermeyer :
Shepherd's Pie using the recipe from Chef Deborah Stanton (mashed potatoes, ground turkey, black beans, loads of cheese, swap corn for the green beans, chilulah on top).
12
If you could travel anywhere in the world where would you like to go?
Neuman:
I've been wanting to sail to the gyre in the Pacific Ocean, known as the trash patch, for some years. I met the person who "discovered" the trash patch about six years ago. He makes a trip every other year to document its growth and take samples. It's a significant commitment of time, and I think it would really piss me off to see it. But I still want to go. 
Niedermeyer :
Space to experience zero gravity and see what it does to my imagination of movement possibilities.
Neuman:
why I do what I do, and its validity every few years. 
Niedermeyer :
The default, anything.
14
_____________ is overrated.
Neuman:
Consumerism is overrated. So is convenience. A question I've been asking is, 'At what point does what has been convenient become not so convenient anymore?'
Niedermeyer :
Virtual Reality, which is why I teach workshops on how to make it truly meaningful.
15
My greatest influence(s) is/are______.
Neuman:
those around me. Right now, that's a lot of folks working on climate change, with a focus of water in particular. My dad, however, is the person who has made the biggest impact in my life overall. He sees and has worked on this his whole life: the value of the arts in people's lives and in society.
Niedermeyer :
Whatever space I'm physically in has an enormous influence on my thinking, feeling, and doing.
16
If I could switch careers I would be a _______.
Neuman:
the CEO of Coca-Cola. I met Muhtar Kent, the former CEO, a few years ago. He was touting their corporate responsibility program of setting women in third world countries up with pop-up kiosks that sell Coke's products. From his perspective, Coca-Cola was creating entrepreneurs. He didn't have a good answer to my question about the afterlife of the products and the waste they created in places where there was often little or no infrastructure to deal with the waste. Large corporations are in a position to influence and change an entire industry that significantly contributes to, in this case, plastic pollution. There are solutions, but it takes a commitment to altering production facilities, and taking responsibility for the entire life cycle of what is produced.  
Niedermeyer :
An investor.
17
I would like to learn to ____________.
Neuman:
play the guitar. I recently started working on this. It's been in my mind for about 15 years. 
Niedermeyer :
American Sign Language.
18
One of the jobs/projects I most enjoyed was _______ because______.
Neuman:
I'm really enjoying the river project I'm currently working on. It's multifaceted and involves diverse factions of a community. And it changes with each iteration so I'm learning a lot. In addition to what gets created, I'm experimenting with how the arts can function as an equalizer and space to devise cooperative working methods. 
Niedermeyer :
Touring with the Fraulein Maria cast and Doug Elkins because there was always massive silliness and irreverence while doing our work at a very respected and professional level.
19
One of my favorite artists (dead or alive) dance or otherwise is ________
Neuman:
Bill Viola. His work is haunting and powerful. 
20
I am looking forward to ________
Neuman:
getting my dog. I have a dog-share situation. When I'm without her for too long, I get dog sick. It's like being homesick.  
Niedermeyer :
Laurel Lawson and Alice Sheppard are creating a whole new experience of audio description for Blind people to listen to live dance performances. I'm looking forward to the audience feedback when we launch our app, as well as discovering which other choreographers and curators start to get interested in the possibilities of listening to dance.
The Dance Enthusiast's A to Z Celebrates 11 Years of Dance Enthusiasm by Highlighting People Who Power The Dance World.
Stay Tuned for More Installments!
Share YOUR Power with the Dance Enthusiast's Audience. Here's How.
 
Share Your Insight on Performance by Submitting an #AudienceReview

Support Dance Writing in New York! 

Place an Ad on The Dance Enthusiast! Take a look at the specs and prices  here and contact info@dance-enthusiast.com for further information.

 
Related Features
More from this Author