In Reply to Lightsey Darst, National Endowment For The Arts Fellow
Choose a partner for LOVE, not for money to dance.
A Dancer's Retort.
In Reply to Lightsey Darst, National Endowment Arts Fellow
Brittany Beyer for The Dance Enthusiast
June 25th, 2012
---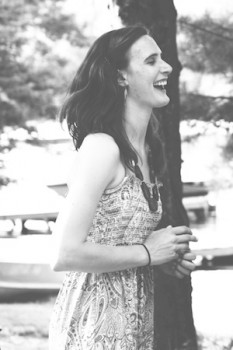 Brittany Beyer, Associate Editor of The Dance Enthusiast
and Professional Dancer with The Equus Projects
National Endowment for the Arts Fellow, Lightsey Darst,
recently wrote a series of blog entries about dance and income for The Huffington Post
. Her pieces highlight what is already common knowledge for those of us in the dance field: dancers make very little money. Darst went so far as to suggest we should sleep with wealthy people to make up for the lack of funds, and sadly her attention grabbing solution wasn't presented with much humor.
Yes, being a dancer is very difficult financially, and it has been this way for a very long time.
Isadora Duncan
, the mother of modern Dance (born 1877- died 1927), was at times virtually penniless, depending on the kindness of patrons or on her lovers' generosity. It is not a radical idea or even taboo for dance artists to depend on their parents, lovers, or spouses for funds to support their work. This has been happening for centuries. Was it taboo when the- artist-formerly-called-Prince donated
money to the American Ballet Theater
, because he
fell head over heels for the ballerina Misty Copeland
?  Without families and others who love us and appreciate the meaning of our work, many of our dance careers would not be possible. But can dance in the United States sustain the lives of its dancers? Do dance professionals need to forever ask mom and dad, lovers and spouses to support our us because our career cannot?
Today economies are weakened, jobs aren't secure, food prices are higher than they used to be, student debt is on the rise, wealthy patrons are less well-heeled and we, moving artists, continue to dance for little or no pay. It is imperative that arts professionals, students (and fellows) come together to discuss "real" solutions to our dire problems.
---
Even though I was still in my physical and artistic prime, I refused to dance for anyone for free or for less than a livable wage.

I started to call myself a "dancer on strike." It was painful, but I was more interested in finding a solution to the wage issue than contributing my talents to a problematic system.
My professional dance career changed completely after I suffered an injury waiting tables - hurt in the pursuit of making money to support my art. The frustration was unbearable as I had to quickly rehabilitate myself to be part of my final performance. That was the last straw. Even though I was still in my physical and artistic prime, I refused to dance for anyone for free or for less than a livable wage. I started to call myself a "dancer on strike." It was painful, but I was more interested in finding a solution to the wage issue than contributing my talents to a problematic system.
Since that time, I have thought a great deal about sustainability in dance, asking questions about what is "working" and "not working."
One important issue is the dance artist's attitude towards money. Many of us have been brought up with the idea that our field is beyond a job - to be an artist is almost a sacred calling. If you have ever danced you will understand. We love our art form and have the conviction that it does others good. With integrity and passion we put our bodies- our very selves- on the line to create. Our work is beyond a job description; in many ways it is a life's practice or a life's mission. How does one monetize that?

What has emerged because of our "calling" premise is a system that supports work not adequately funded. We pay staff what we can and often expect people to work for free while we wait for funding that often never arrives. While some could consider this noble -and perhaps it is to some degree- by working in this manner the dance market's pay scale is continually suppressed.  While in the short-term, sacrifice enables many to perform, in the long-term, companies and artists that work in this way suffer. They are financially unequipped to market their fine pieces of artistic work to a larger audience. The dirty truth is that many times the musicians, costume designers, stage crew and support staff get paid more than the dancers who are the main event on stage. It has become acceptable to pay a non-unionized dancer very little or nothing. Dancers will dance for the love of it.
---
Brittany Beyer in performance for johannes wieland ; Photo © Sebastian Lamm
The dancing life may look dismal in its current state, but I think there are solutions. One involves rethinking our choices of organizational structure to favor repertory dance companies instead of single choreographer companies. Larger institutions are beginning to see the wisdom of this, including Linda Shelton Executive Director of the Joyce Theater Foundation. She was highlighted in a recent
Los Angeles TImes
article
saying "We've been studying how theater is made... You have a producer, or a director, putting together a collaborative team; you have many, many opportunities to say it's not working out... In dance, work is usually made in isolation without feedback in the process... It's unrealistic to assume one choreographer can do that year in and year out."
Ticket sales have been the dance company's standard way to generate income, yet many choreographers only have one or two short production cycles per year -which usually put a company in the red. By creating choreographic co-operatives and repertory companies, more pieces generating more performances and attracting larger audiences could produce greater income opportunities.
Other practices that could influence a healthier dance economy:
*Dance companies can take a page from the recording artist world where members of a forming group sign a
band contract
that clarifies each individual's duties. These contracts could employ dancers as administrators in addition to their artistic practice. Company members would benefit by receiving income from multiple jobs under one roof. Companies' benefit by keeping their dance talent in house.
*The benefits of technology have not been fully tapped by our field. Finding a way to create experiences watching dance content online (paying per view, subscription, etc) will also create income and a wider audience for our work. In Seattle,
On The Boards
has created an innovative system working with artists producing high quality dance-on-film work housed online for a larger audience to view.
TenduTV
is creating avenues to high quality dance programming on iTunes, Hulu, Amazon and many more. 
*Co-operative organizations that advocate for the arts, like
Fourth Arts Block
in New York City, work with individuals and other creative groups to barter goods and services needed by artists -helping us to help each other.
*Dancers should stand up for them selves and not dance for less than a fair wage. Just as with other labor issues, a line has to be drawn. It may feel selfish at times, but truly this is a very kind thing to do for each of us and for the next generation of dancers.
*At every opportunity we artists need to tell our non-dancing friends about our work what we do, why we do it, why it is important to us and how it is relevant to them. We have been concerned about craft and perfection in the studio for a long time. We have been non-verbal. We need to speak up and tell our fellow countrymen why this art form of the body matters. Why our art form matters.
Dance can only be respected when it is seen as something worthy of being financed for its own sake. The sooner we reinvent how we operate within our art form the more fulfilling it will be.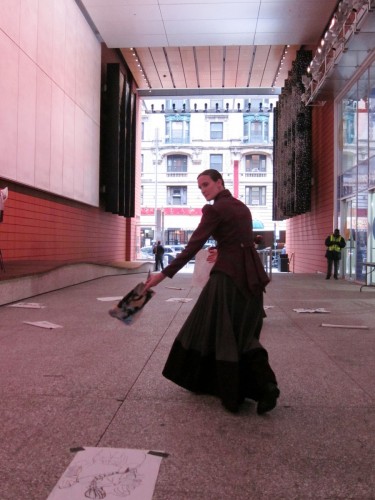 Brittany Beyer, dancing (for a livable hourly wage) in The Equus Projects' site specific Draw Me performances in New York City ; Photo ©Tanya Braganti. 
---
The Dance Enthusiast Enthusiast shares opinions, observations, and calls to action from our editors and special guests in BAREFOOTNOTES. For more BAREFOOTNOTES click here.
Interested in writing a guest editorial? For consideration, contact info@dance-enthusiast.com.
---
The Dance Enthusiast - News, Reviews, Interviews and an Open Invitation for YOU to join the Dance Conversation.