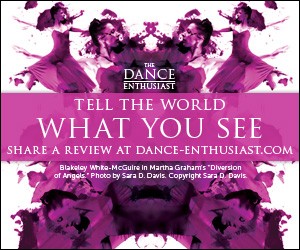 Related Features
Together Is How We Move Forward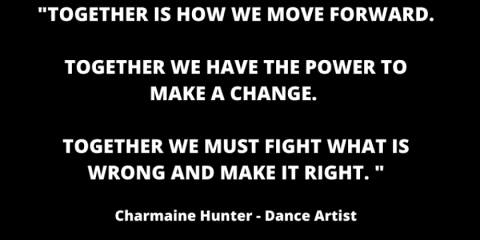 This morning as I opened up my computer and jumped on to Facebook, Charmaine Hunter's words, which are featured at the top of this piece, peered up at me.
In light of the senseless killing of George Floyd, the turmoil in our nation and around the world, and my extreme sadness at it all admist a world wide pandemic, the only thing I feel slightly enthusiastic to publish on The Dance Enthusiast this week are words of peace and love along with dance pieces that feature Black men in particular. 
The Dance Enthusiast is taking this next week off to recharge and reflect, in the meantime, "Thank you Charmaine for your incredible dance artistry, humanity, and encouragement. --Christine Jowers Editor-in-Chief, The Dance Enthusiast
Charmaine Hunter
Charmaine Hunter -Dance Artist
Charmaine Hunter is known as an astute dance educator, choreographer, director, manager, dancer and producer. Career highlights are command performances for European royalty and historic engagement at London's Royal Opera House.
She performed for luminaries such as Quincy Jones, Oprah Winfrey, Nelson Mandela, Cicely Tyson, President and Mrs. Clinton, President and Mrs. Bush, Mr. and Mrs. Colin Powell, just to name a few.
In January 2001, Ms. Hunter transitioned into management when invited by the producers of Disney and Mirvish Productions the Toronto based Production Company to direct the resident show Disney's The Lion King at the Princess of Wales Theatre.

In 2004, Ms. Hunter relocated to Las Vegas, worked in Casting at Cirque du Soleil. She served as the talent scout as well as teacher for the artists in the productions on the Strip. She was then invited to teach on the production of Celine Dion's A New Day at the Coliseum in Caesars Palace. She then accepted a Senior Management position with Venetian Macau in China in Entertainment.

Ms. Hunter also served as teaching artist with Wolftrap early childhood education through the arts and Disney Musicals in Schools with The Smith Center and Kennedy Center.

Most recently, Charmaine has returned to the professional concert dance world and served as Upper School Principal and Professional Division at Texas Ballet Theater under the guidance and leadership of Ben Stevenson O.B.E. Artistic Director of Texas Ballet Theater.
After two years with Texas Ballet Theater, Charmaine accepted the position of Education Outreach Coordinator with Orlando Ballet under artistic director Robert Hill. In this position, Charmaine can effectively implements arts education programs throughout the community and bridge the divide when it comes to diversity and inclusion.