Dance News: 52 Emerging NYC Artists Selected for The Shed's Inaugural "Open Call" Program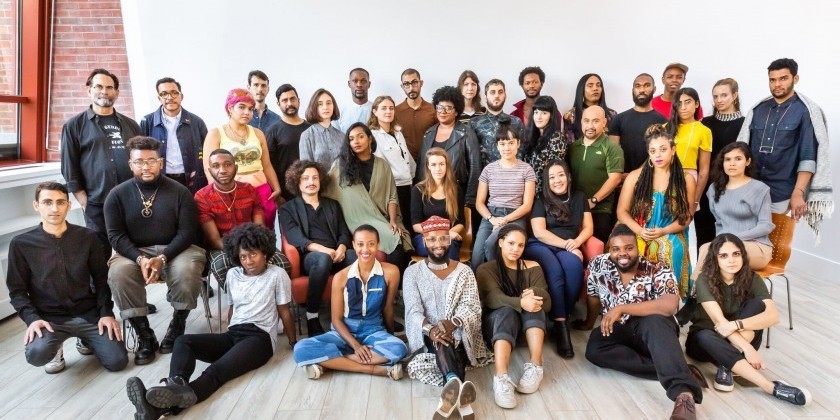 Working Across Multiple Disciplines, They Will Create and Present New Work in 2019 and Beyond
Alex Poots, Artistic Director and CEO of The Shed, announced that 52 emerging artists and collectives living or working in New York City have been commissioned to create new work as part of The Shed's inaugural Open Call program. Developed specifically for New York City artists who have not yet had opportunities to create new work with full support from a large cultural institution, Open Call is integral to The Shed's vision: to develop and present the full spectrum of performing arts, visual arts, and pop culture, under one roof, for all audiences. Open Call debuts in The Shed's 2019 season, with works continuing to be presented into 2020.
Working across multiple disciplines, the following artists and collectives have been selected to participate in the inaugural season of Open Call, which is co-organized by The Shed's Senior Curator Emma Enderby and Chief Civic Program Officer Tamara McCaw:
Saint Abdullah
Tariq Al-Sabir
Justin Allen
Troy Anthony
Haley Elizabeth Anderson
Caitlin Blanchfield and Farzin Lotfi-Jam
Kim Brandt
Maia Chao
Daniel Chew and Micaela Durand
Onyedika Chuke
Gabriela María Corretjer-Contreras
nicHi douglas
The Extrapolation Factory
Avram Finkelstein
Fana Fraser
Moko Fukuyama
Ebony Noelle Golden
Yulan Grant
Hugh Hayden
Vicente Hansen and
Mat Muntz 
Prince Harvey
Madeline Hollander
Maryam Hoseini and Phoebe d'Heurle
It's Showtime NYC!
The Illustrious Blacks
Ayesha Jordan
Tahir Carl Karmali
Sam Lavigne
Maya Lee-Parritz
Richard Kennedy
Kyle Marshall
Asif Mian
Troy Michie
#MIPSTERZ
Tyler Mitchell
Neil Padukone
Kelsey Pyro
daaPo reo
Farideh Sakhaeifar
Rachika Samarth
Richard Sears, Clara Cullen, Yael Ginosar, and Ethan Braun
Alice Sheppard and Kinetic Light 
Harold "Fyütch" Simmons
Analisa Teachworth
Christopher Udemezue (Neon Christina)
Mariana Valencia
Jon Wang
Julia Weist
Kiyan Williams
Nia O. Witherspoon
Thanushka Yakupitiyage
Yatta Zoker (YATTA)
More information and artist biographies are available here.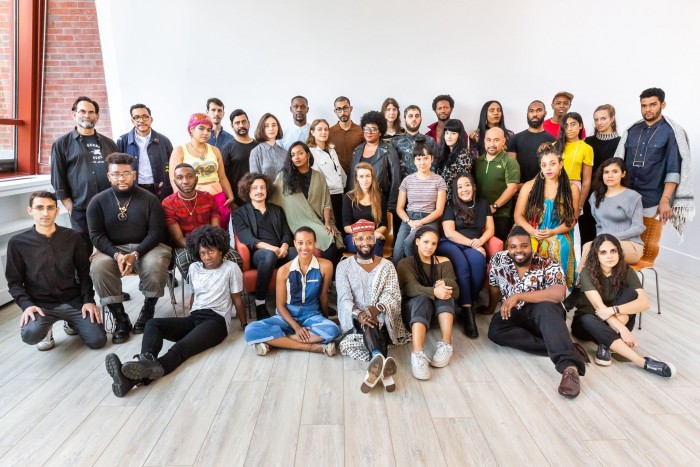 Photo © Scott Rudd Events. See below for full list of names.
Each artist will receive a stipend between $7,000 and $15,000, depending on the scope of the proposed project, in addition to support and resources to develop their work.
Work commissioned for Open Call will be presented in The Shed's black-box Theater, the 12,500-square-foot column-free Gallery I, and the 17,000 square-foot open-air plaza in front of the building (configured when The Shed's movable shell is nested over the base building). Three programs will be presented consecutively beginning in late spring 2019, with a fourth program in 2020. All programs will be free and open to the public (ticketing details to be announced).
"Our programs are built on the belief that there is parity across all forms of art and human creativity," said Alex Poots, Artistic Director and CEO of The Shed. "Open Call is The Shed's way of offering support and valuable resources to artists in New York City who are working at pivotal stages in their careers."
The Shed as seen from the High Line, October 2018. Photo: Brett Beyer.
 
"All aspects of producing commissioned work, from financial and organizational resources to personal attention, will be provided to Open Call artists," said Emma Enderby, Senior Curator at The Shed. "We will work closely with all of them over the course of the season to hone their original proposals and realize them at The Shed."
"We launched Open Call with the intent of creating a meaningful opportunity for emerging artists to make new work," said Tamara McCaw, Chief Civic Program Officer at The Shed. "A fundamental part of our mission is to engage our local communities and support New York City's diversity of talent. Open Call provides the resources local artists need to fully explore their ideas, as well as the platform for reaching higher levels of visibility with new audiences."
The Shed's request for proposals encouraged projects that push the boundaries into multidisciplinary or collaborative realms across six creative disciplines: design, visual arts, music, performing arts, literary arts, and cinema.
More than 900 applications for Open Call were received over a three-month period. Through a rigorous selection process, all were vetted by a committee of curatorial and producing staff with a collective eye toward identifying synergies between artists' projects and The Shed's mission and core institutional values. The panels specifically sought out inventive, thought-provoking, risk-taking, timely, culturally sensitive work that provides sustained impact and value for diverse audiences and viewers.
Hero Image: Thirty-two Open Call Participants, with Shed Staff. Top Row, L to R: Avram Finkelstein, Troy Michie, Gabriela María Corretjer-Contreras, Richard Sears, Asif Mian, Phoebe d'Heurle, Onyedika Chuke, Emma Enderby (The Shed), Mohammad (Saint Abdullah), Tamara McCaw (The Shed), Julia Weist, Jesse Bandler Firestone (The Shed), Kyle Marshall, Alessandra Gomez (The Shed), Kiyan Williams, Art Domantay (The Shed), Justin Allen, Hugh Hayden, Rachika Samarth, Maya Lee-Parritz, Tahir Carl Karmali. Middle Row, L to R: Mehdi (Saint Abdullah), Tariq Al-Sabir, Christopher Udemezue (Neon Christina), Farzin Lotfi-Jam, Thanushka Yakupitiyage, Caitlin Blanchfield, Maia Chao, Moko Fukuyama, Nia O. Witherspoon, Analisa Teachworth. Seated On Floor, L to R: nicHi douglas, Fana Fraser, Monstah Black (The Illustrious Blacks), Haley Elizabeth Anderson, Harold "Fyütch" Simmons, Farideh Sakhaeifar. Photo: Scott Rudd Events
---
The Dance Enthusiast Shares News From The Dance World And Creates Conversation!
For more FROM THE PRESS pieces, click here.
If you have important news to share, please send an announcement or press release to info@dance-enthusiast.com!