Dance News: Bryant Park Presents Dance Party Beginning May 3 through June 9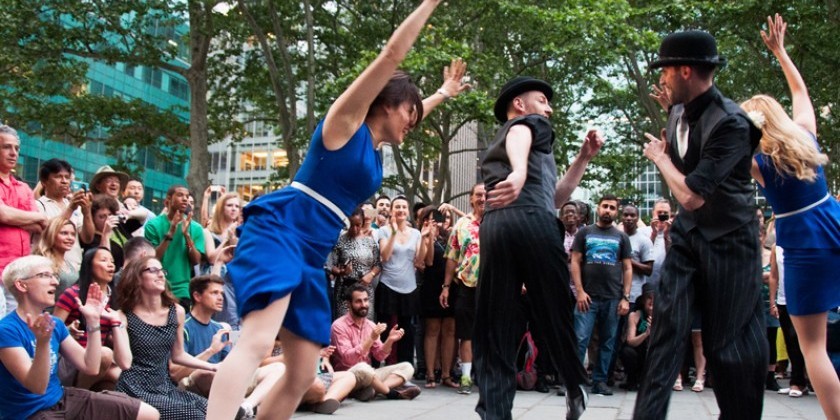 Weekly Instruction and Music with Swing, Polka, Salsa, Disco, Bachata, Merengue and More
Bryant Park Presents announces the full lineup for the 2017 weekly Dance Party! Hosted and produced by Talia Castro-Pozo, Dance Party includes superb bands and expert dance instruction for extraordinary dancing experiences each Wednesday evening. Every Wednesday from May 3 to June 7, learn basic steps with expert instructors from 6 to 7pm by the fountain at Bryant Park and then test out your new moves with live music performed by some of the New York City's best dance bands from 7pm to 8pm.
Talia Castro-Pozo, hostess and producer of Bryant Park's Dance Party.
The Dance Party series celebrates some of the most popular music and dance genres, from easy-to-learn favorites like salsa, disco and old-time swing, to Mexican dance and polka. The cast of instructors and dance hosts is incredible, all steeped in the traditions of their upbringing around the world, including Argentina, Colombia, Costa Rica, France, Germany, Mexico, Poland, Russia, and several are actively competing throughout the US and internationally. Don't miss the grand finale on June 9 from 5pm to 10pm for a one-night-only Latin Festival, featuring bachata, merengue, and salsa dancing with live sets from the Melvin Elias Band and Willie Alvarez and his All-Star Band featuring Ray Bayona.

All shows are free and open to the public; no waiting and no lines ever.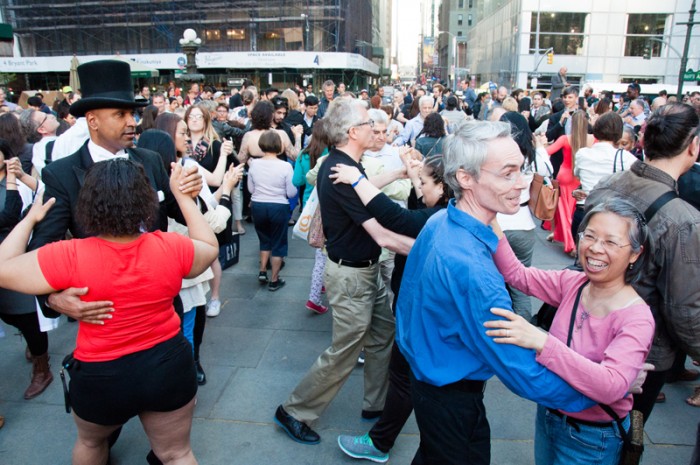 Photo © Bryant Park Presents.
Wednesday, May 3, 6pm: Swing - George Gee Swing Orchestra
With over thirty years of swing experience, the George Gee Swing Orchestra has earned its reputation as one of the swingingest big bands in New York City and has developed a special bond with lindy hoppers all around the world.

Wednesday, May 10, 6pm: Salsa - Williamsburg Salsa Orchestra
Williamsburg Salsa Orchestra is a stunning band that forgoes the standard repertoire of vintage salsa covers and sound-alike originals and instead plays dynamic arrangements of tunes they love! No bananas in their hair -- this is innovative, astonishing salsa with a new, vibrant aesthetic.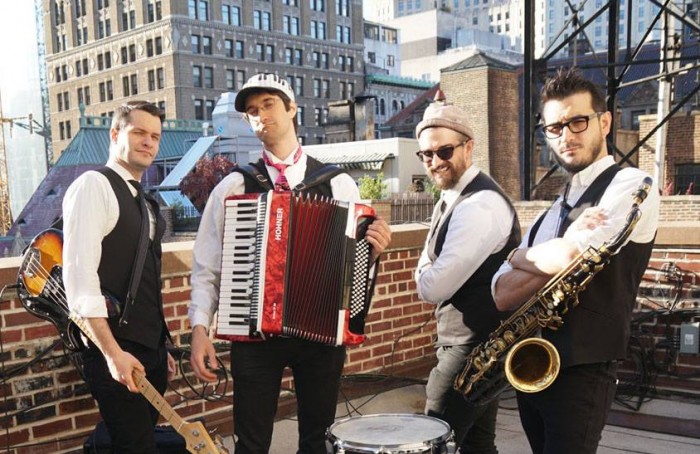 Photo courtesy of The Polka Brothers.
Wednesday, May 17, 6pm: Polka - The Polka Brothers
The Polka Brothers are a four man band of young polka lovers, out to spread the joy of polka, one wild party at a time. They're a well-oiled polka machine, boasting a fearless repertoire that includes classic polka favorites, pop and rock gone polka, and unforgettable originals.

Wednesday, May 24, 6pm: Cumbia - cumbia de LaMar
An electrifying guitarist with a powerful stage presence and a busy international career, Nilko Andreas Guarin has formed this captivating band as a collaboration with some of the city's best players of cumbia music.

Wednesday, May 31, 6pm: Disco - Deverne and The Vintagesoul featuring Carol Williams
Deverne & The Vintagesoul plays hits from the 70s, 80s, 90s, and up through today's Hip Hop, R&B, Rock, Jazz and Soul, joined by guest singer Carol Williams, best known for her disco hits "More," "Come Back," and "Love Is You."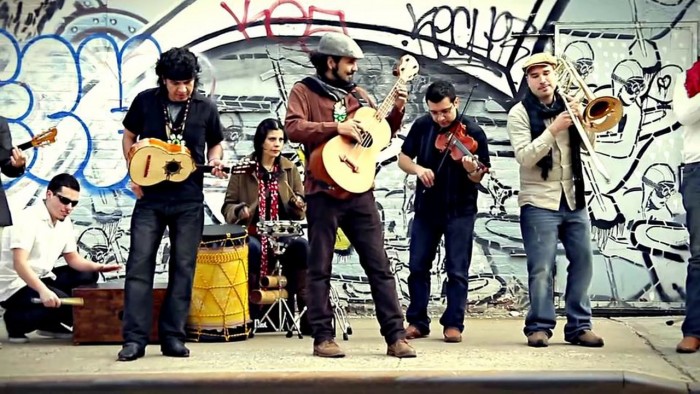 Photo courtesy of Jarana Beat.
Wednesday, June 7, 6pm: Mexican - Jarana Beat
With the sounds of Afro-Amerindian Mexico, Jarana Beat offers a new interpretation that blends the regional sounds of son jarocho from the Gulf Coast, son guerrerense from the Southern Pacific Coast, son huasteco from the Central & North-Eastern region, mexika from the Central, and norteña from the North, all converging into a truly unique New York City sound.
Friday, June 9, 5pm: Latin Festival: Bachata, Merengue, and Salsa - Melvin Elias, Willie Alvarez and his All Star Band featuring Ray Bayona
Raised in both the Dominican Republic and New York City, singer-songwriter and guitarist Melvin Elias is one of the city's most exciting bachata stars, performing original works and the traditional to modern bachata music. Celebrating the world of Puerto Rican salsa, the incredible Willie Alvarez All-Stars featuring Ray Bayona includes music legends that accompanied the iconic Hector Lavoe during the era of "El Cantante De Los Cantantes."
Photo © Bryan Park Presents.
---
The Dance Enthusiast Shares News From The Dance World And Creates Conversation!  For more FROM THE PRESS pieces, click here.
If you have important news  to share, please send an announcement or press release to info@dance-enthusiast.com!