Related Features
Contribute
Your support helps us cover dance in New York City and beyond! Donate now.
Dance News: Danspace Project To Present The U.S. Premiere of Joan Jonas's Immersive Lecture-Performance "Moving Off the Land" This June 14-16
The Performance Draws From Literature, Mythology, And The Artist's Collections Of Sketches And Notes On The Sea
"Along with a very few fellow artists, Joan Jonas invented performance art. And again, along with a few others, Joan Jonas invented video art. Joan Jonas alone invented the hybrid video-performance art." -- Douglas Crimp (Remarks from Danspace Project's 2016 Gala honoring Joan Jonas and Yvonne Rainer)
 
Groundbreaking artist Joan Jonas was last on the Danspace Project stage in 1977 with The Juniper Tree, based on the Brothers Grimm fairytale. After 41 years, on the heels of an extensive, highly-regarded career survey at the Tate Modern, Jonas returns to the sanctuary at St. Mark's Church with Moving Off the Land. Danspace Project is pleased to present the United States premiere of this immersive lecture-performance drawing from literature, mythology, and the artist's collections of sketches and notes on the sea.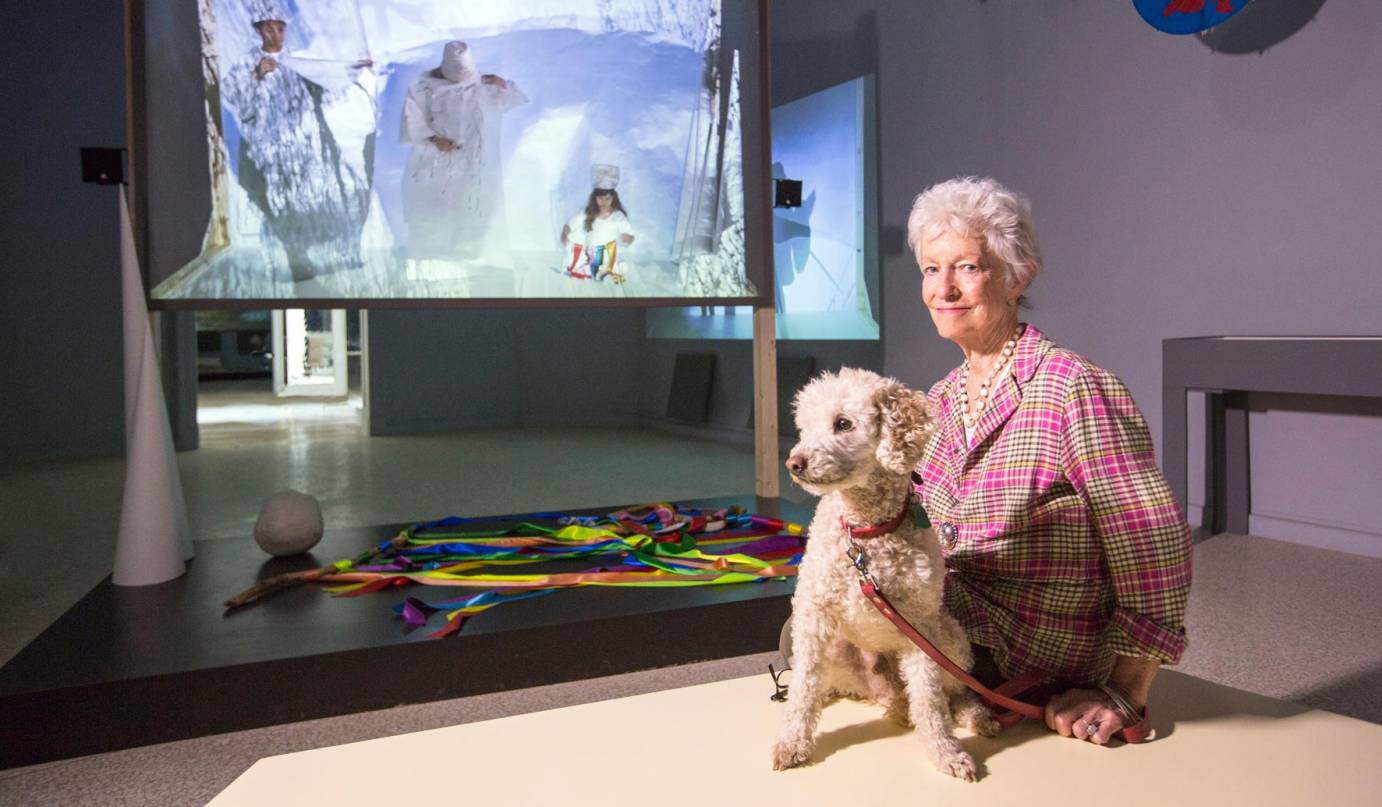 The artist Joan Jonas. Photo by Moira Ricci
Jonas's video, performance, and installation works often exist in transit, and are translated and restaged into other mediums. Her practice simultaneously expands and folds back on itself over time.
 
"[Jonas] has consistently undercut our assumptions about the image: its putative transparency, its ostensible integrity and transmissibility across time and space, its capacity to be fully present, to offer itself in totality to the viewer's perceptions," wrote Pamela M. Lee in Artforum. "She deploys her materials and narratives, repurposing and recycling them without conforming to the meansends imperatives of communications media."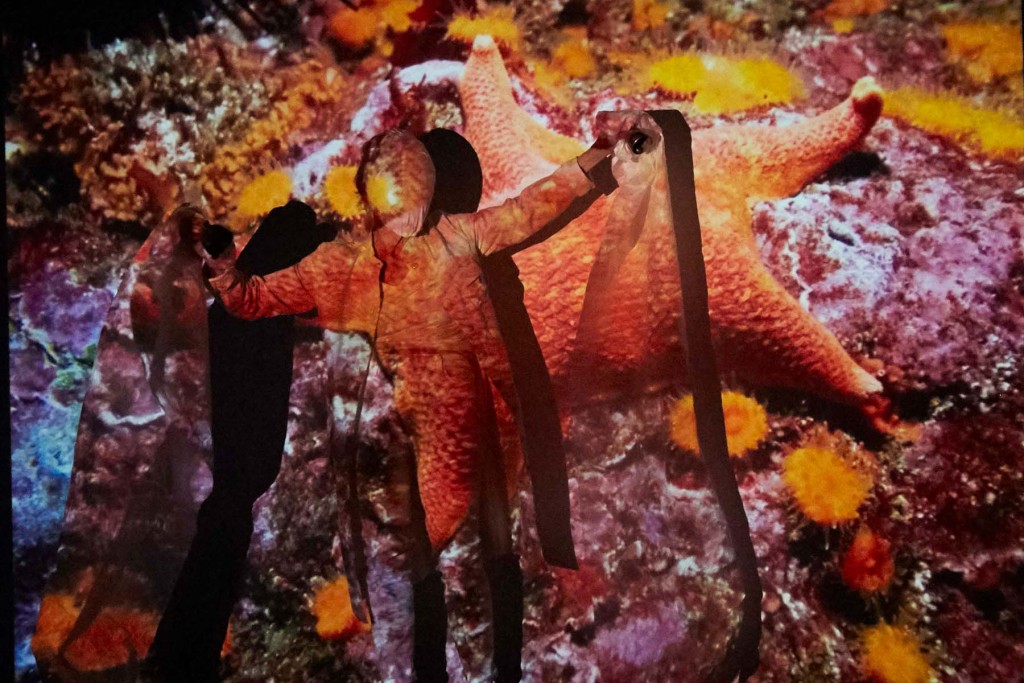 Photo: Elísabet Davíðsdóttir. Courtesy Joan Jonas and Gavin Brown's Enterprise, New York/Rome.
 
Moving Off the Land explores "the ocean as a poetic, totemic, and natural entity, as a life source and home to a universe of beings," as she says. Clothed all in white, Jonas uses herself as both screen and surface. Video footage of underwater scenes from science filmmaker Jean Painlevé's enthralling black-and-white reels of sea creatures to shots of aquariums is intersected with excerpts from Herman Melville's Moby Dick, Sy Montgomery's memoir Soul of an Octopus, and the writings of Anne Carson. This is an ongoing project that has been presented in various versions in Kochi, India, Vienna, and Reykjavík, Iceland.
 
Oceans and the rapidly changing world humans and other creatures share are continuing subjects in Jonas's recent works. For the United States Pavilion at the 56th Venice Biennale, she presented They Come to Us without a Word, which addressed the spiritual aspects of nature through video, drawings, objects. She was awarded a special citation from the jury at the Biennale's Awards.
 
Performance Details:
Moving Off the Land
Created and performed by: Joan Jonas
Music composed and performed by: Ikue Mori
Lighting design by: Jan Kroeze
Video technician: David Sherman
Additional underwater footage: David Gruber
Commissioned by: TBA21-Academy, London.
Advance tickets are priced at $22 General and $15 for Danspace members, and can be purchased by visiting
danspaceproject.org
or by calling (866) 811.4111. When available, tickets can be purchased at the door on the night of the performance for $25 (cash or check only).
---
The Dance Enthusiast Shares News From The Dance World And Creates Conversation!
For more FROM THE PRESS pieces, click here.
If you have important news to share, please send an announcement or press release to info@dance-enthusiast.com!