Dance News: Shobana Jeyasingh's "Staging Schiele" Premieres In London On November 4-5, 2019
A Choreographic Treatment Of Painter Egon Schiele And His Intense Depictions Of The Human Body
This November, choreographer Shobana Jeyasingh brings her latest work Staging Schiele to Southbank Centre where Shobana Jeyasingh Dance, now in its 30th year, is an Associate Company.

In Staging Schiele, Jeyasingh, who has a reputation for using contemporary dance to investigate the world around her, turns her gaze upon the work of Egon Schiele to scrutinise the relationships he had with his models and all the important females in his life.
Self-portrait grimacing (1910) by Egon Schiele

Schiele is known for his twisted body shapes, searing self-portraits and unflinching nudes. Four dancers - Sunbee Han, Dane Hurst, Estela Merlos and Caterina Carvalho - inhabit his highly-charged world of colour, expressive lines and unusual perspective where the human body is on visceral display. Jeyasingh's choreography matches Schiele's intensity and engages with his anxieties.

Intimate and formal, Staging Schiele captures the artist's self-conscious framing of himself and his work and throws light on his brief meteoric rise to fame before his untimely death at the age of 28.

Composer Orlando Gough's commissioned music channels Schiele's shifting personas and the empathy he had for women. For each of the work's four sections, poems by Rilke and Schiele himself are set to a compulsive and jazzy keyboard accompaniment and sung by Jonathan Baker.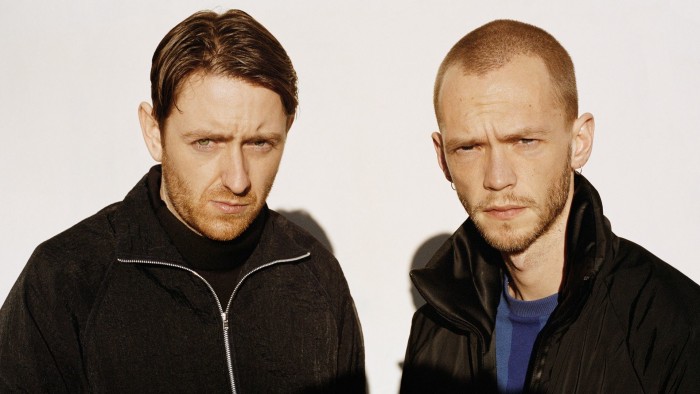 Ben Cottrell and Matthew Dainty, founders of Cottweiler menswear. Photo © Cottweiler

Concept-led menswear designers Cottweiler, Ben Cottrell and Matthew Dainty, are creating the costumes for Staging Schiele. They are known for an expansive design vision and an instinctive response to their social environment.

Visual artist Ben Cullen Williams' stage set takes its inspiration from the potential of a building site, a work in progress yet to be realised, adding to the atmosphere of anxiety and urgency.

The creative team is completed by lighting designer Adam Carree and video designer Nick Hillel.  

As part of its 30th anniversary celebrations, Shobana Jeyasingh Dance has released a podcast series, Surface Tension. An episode on Staging Schiele will be available at the end of October.

Staging Schiele is a Southbank Centre commission and supported by DanceEast, Ipswich.
---
The Dance Enthusiast Shares news from the dance world and creates conversation.
For more Dance News pieces, click here.
If you have important news to share, please send announcements or press release to info@dance-enthusiast.com!
---
The Dance Enthusiast - News, Reviews, Interviews and an Open Invitation for YOU to join the Dance Conversation.