The STREB Extreme Action Company Launches STREB Remote Programming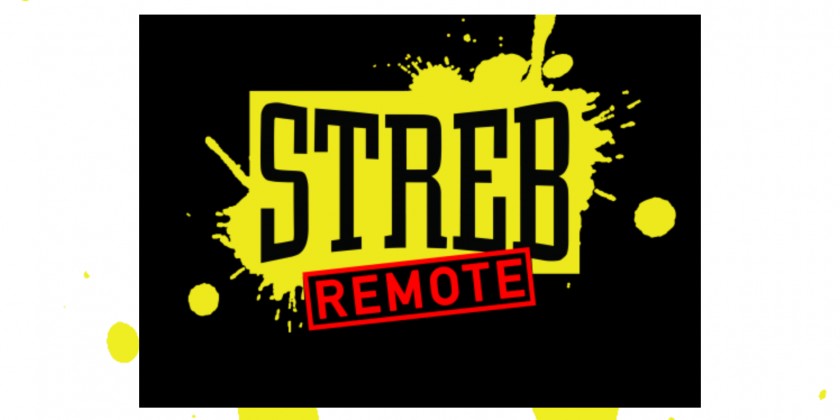 On March 12, STREB closed the doors to its home, the STREB Lab for Action Mechanics (SLAM), located in Williamsburg, Brooklyn, to support the effort to contain the spread of COVID-19. The converted warehouse typically sees 10,000 visitors annually in its capacity as a performance venue, rehearsal space, and educational facility. In order to keep its performing and teaching artists engaged, and to continue serving its community of students and fans, the company pivoted quickly to the digital space and launched STREB Remote on March 23, where they have brought their signature innovation and inquiry system into homes around the world. The programming, which has expanded each week currently includes:
· A special remote curriculum for K-12 students taught by the dancers (Action Heroes) and teaching artists of STREB, who have translated classes in PopAction and even lessons for flying trapeze and trampoline to the digital world;
· Free Zoom PopAction classes for adults taught by Cassandre Joseph, STREB's Associate Artistic Director, and Daniel Rysak, a ten-year veteran of the company;
· "Behind-the-vision" interviews with founder and artistic director Elizabeth Streb; 
· Sneak peeks into the lives of our Action Heroes through our social media channels; 
· Free Zoom flying trapeze workshops focused on stretching and conditioning for aerialists as well as flying trapeze theory and technique & trick viewing taught by España-Streb Trapeze Manager Ayal Prouser;
· A curated YouTube Playlist with footage of the STREB Extreme Action Company in performance and rehearsals; 
· And even a re-envisioning of the company's signature fundraising event, the Action Maverick Awards Benefit, which is scheduled for May 11, 2020 honoring world renowned architect, Joshua Ramus.
Photo © STREB Lab for Action Mechanics (SLAM).
Cassandre Joseph, STREB's Associate Artistic Director who has been teaching a wide slate of the digital classes for kids and adults says, "Each day our team is finding innovative and engaging ways to share the fundamentals and philosophy of PopAction through our digital platforms. The teachers are learning and iterating constantly, and our students are increasingly embracing this digital learning as well. In fact, we're learning a lot from them, and are seeing them find new pathways to creativity in increasingly sophisticated ways. With our older students, we are even creating dances made specifically for the architecture of Zoom that we will present as our end-of-year performance."
"It's clear that the virtual world unlocks spatial realms not directly accessible physically," says founder and artistic director, Elizabeth Streb. "It surprisingly requires an entirely new vocabulary of description and the discovery of these specificities of location would never be realized in the physical world. How would we have ever known this or made these discoveries without being forced there by this unforeseeable crisis?"
"We have seen our classes grow each day and have enjoyed meeting people from all over who would not normally have been able to come take our classes in Brooklyn," adds Executive Director Christine Chen. "We've re-connected with former dancers and students who have moved away from the area, are meeting parents who have been getting a closer look at what we've been doing with their kids and want to give it a try, and we've even welcomed some folks who feel more comfortable dipping their toes into PopAction from the safety of their own living rooms. We're learning a lot from the feedback, images and videos we've received from parents showing us how their children are engaging with the movement and their teachers – some are playing their videos over and over, and some kids even greet their teacher with a kiss to the screen!"
For more information about STREB Remote, including a full schedule of open classes, visit www.streb.org/strebremote.
---
The Dance Enthusiast Shares news from the dance world and creates conversation.
For more Dance News pieces, click here.
If you have important news to share, please send announcements or press release to info@dance-enthusiast.com!
---
The Dance Enthusiast - News, Reviews, Interviews and an Open Invitation for YOU to join the Dance Conversation.