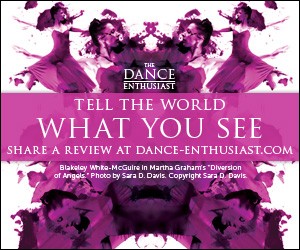 Related Features
The Making of A "West Side Story" for the 21st Century - Guggenheim Works and Process with Ivo van Hove and Anne Teresa De Keersmaeker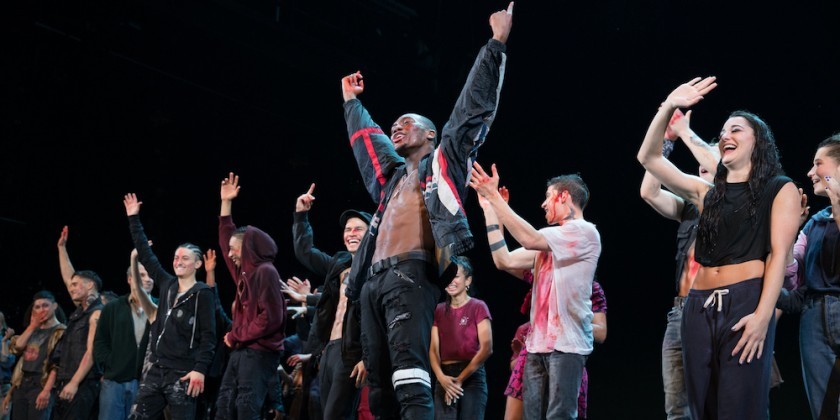 West Side Story Officially Opens on February 20, 2020, at Broadway Theatre in New York City
---
A Tale of Two Cities: 1957 and 2020
In 1957, a musical called West Side Story transported Shakespeare's Romeo and Juliet from Verona, Italy, to the gritty, volatile streets of New York City. The noble houses of the Montagues and Capulets became the troubled crews of the Jets and Sharks, two teenage gangs of different backgrounds and colors fighting for their piece of turf. Conceived, directed, and choreographed by Jerome Robbins, he also brought together the creative team — Arthur Laurents, who wrote the book, and Leonard Bernstein, composer of the score. A young Stephen Sondheim came on later as the lyricist.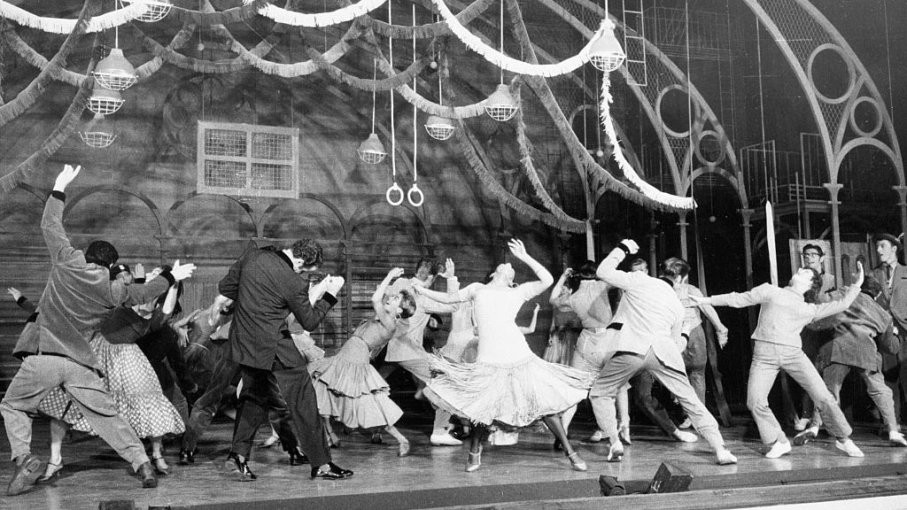 "Dance at the Gym "from the 1957 Broadway production of 'West Side Story,' directed by Jerome Robbins.
JOHN SPRINGER COLLECTION/CORBIS/CORBIS VIA GETTY IMAGES
 
Time Magazine, in a review written shortly after the play's September 27th opening, said:
"West Side Story (book by Arthur Laurents; music and lyrics by Leonard Bernstein and Stephen Sondheim) gave the new season what should prove a very popular retelling of Romeo and Juliet—in terms of youthful gang warfare. It also suggests that the salvation of the serious Broadway musical may lie in neither text nor music—which, trying to coalesce, all too often merely collide—but in dancing."
In 1961, the movie version debuted. The original creators were kept with the addition of Robert Wise as a director/producer. United Artists and Mirisch companies weren't comfortable with Robbins, who had no prior film experience, flying solo, so he became a co-director, responsible for all the dancing scenes.
Oscar winners for "The West Side Story," George Chakiris, left, Jerome Robbins, Robert Wise and Rita Moreno, pose at the Academy Awards in Santa Monica on April 9, 1962. Chakiris won best supporting actor; Robbins won best director; Wise won as co-director with Robbins and as producer of best picture; and Moreno won best supporting actress. (AP Photo)
Stunningly, the motion picture swept 1962's 34th Academy Awards. It garnered 10 Oscars (the most Academy Awards to be won by any American musical picture), including Best Motion Picture; Best Directors (the first time two directors won the award simultaneously); with Best Supporting Actor, George Chakiris (over the likes of heavy hitters George C. Scott and Montgomery Clift) and Best Supporting Actress: Rita Moreno (over the likes of Judy Garland and Lotte Lenya). Robbins also won a second Oscar that year for Brilliant Achievements in the Art of Choreography on Film.
The story's subject matter — ethnic and racial prejudice, violence, hormones, troublesome relations within the community and towards authority figures, with hopeful young love rebelling against imposed enmity — was and continues to be current, even timeless.
Original 1957 Cast in "The Rumble" West Side Story; Photo © Fred Fehl
So, does West Side Story, beloved magnum opus, widely considered one of the greatest musical theater pieces of the 20th Century, demand a radical rethink for fresh souls to "feel it?" 
Original book writer, Laurents, who in 2009 (in his 90s) directed a two-year Broadway run of a partially bilingual sung and spoken West Side Story (Spanish translations by Lin-Manuel Miranda) said, "I don't think there's any point in doing a revival unless you have a really fresh approach."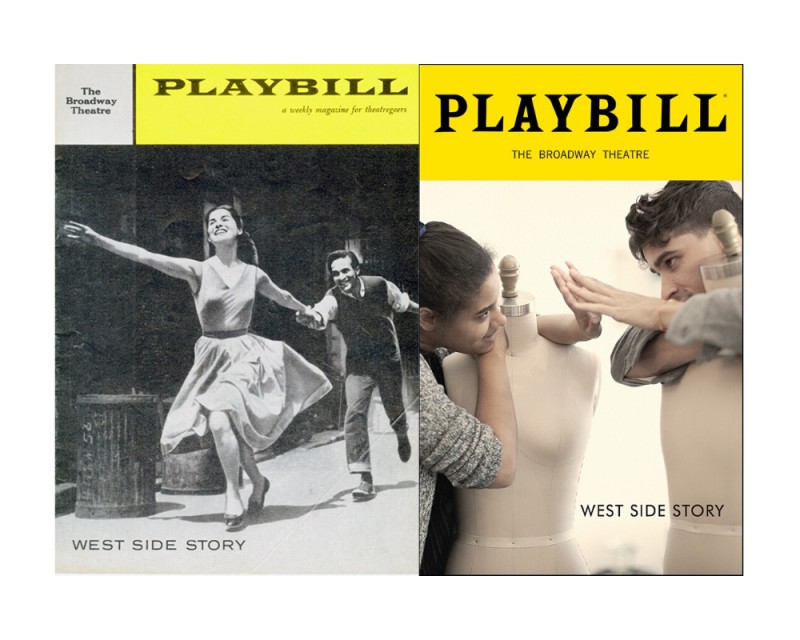 1957 Playbill with Carol Lawrence (Maria) and Larry Kert (Tony); 2020 Playbill with Shereen Pimentel (Maria) and Isaac Powell (Tony)
---
Getting Fresh
Just off of directing Broadway's immersive, video-rich, Network enters Ivo van Hove, a Belgian avant-garde theater director, with a previously unthinkable approach. Boldly, irreverently to purists — but with the blessing of the Robbins' estate — he's axed the original choreography from his West Side Story.
Considering Robbins' impact on the production (choreographer, director, originator) — it sounds a bit like removing the eggs from an omelet. Passionate appreciators of Robbins and Broadway's dance masterworks collectively groan.
Ivo van Hove, Director , Photo © Michiel Hendryckx   Anne Teresa De Keersmaeker, Choreographer  , Photo © Hugo Glendinning
Last Monday night at the Guggenheim Museum on Fifth Avenue, van Hove, and his collaborator, renowned minimalist choreographer Anne Teresa De Keersmaeker (also Belgian) addressed questions about their departures from tradition asked by Peter Marks of The Washington Post. Lead actors Isaac Cole Powell "Tony" and Dharon E. Jones "Riff"( making his Broadway debut) spoke of their experiences. Excerpts of dance were shown. And the audience, a few of whom had seen the show in previews, sat anxiously rapt.
van Hove and De  Keersmaekar, from the beginning, made clear their respect for the original play and its creators.
(At no time during this presentation was an artist on stage hurt by any ardent fans of the original play or movie. Although there was a moment…)
---
First, Some (20th Century) History
Because of West Side Story's iconic stature, some may not realize that the 63-year old-play, despite critical appreciation, was not an instant hit. 
Original Production Larry Kert (Tony), Carol Lawrence (Maria); Photo © Fred Fehl
Hal Prince, West Side Story's producer, recalled in a 2007 NPR interview :
"…reviews were good, not great. Walter Kerr referred to it as 'cold.' We drew audiences. We got no awards."
(Actually they won two Tonys for choreography and set design.) 
"The big hit that year was The Music Man… the show did not, by the way, sell out for the year or so it ran on Broadway. It also had maybe a hundred walk-outs every single night — people totally confused by what it was, and rejecting it."
Audiences were accustomed to light-hearted, witty, and romantic musical theater interpretations of Shakespeare. Broadway's first of The Bard's adaptations, 1938's The Boys from Syracuse,  was based on The Comedy of Errors, a farce about mistaken identity.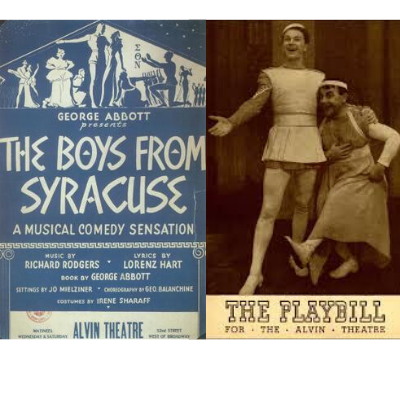 Original poster
The Boys From Syracuse
  (1938) and Playbill with Eddie Albert and Teddy Hart(?), a Richard Rodgers and Lorenz Hart collaboration, Choreography by
George Balanchine
, Direction by George Abbot
1948's  Kiss Me Kate, with clever music and lyrics by Cole Porter depicted the offstage life of a theatrical husband and ex-wife team that comically mirrored their production of The Taming of the Shrew.
Kiss Me Kate,
Music and lyrics by Cole Porter, choreography
Hanya Holm
, Direction by John C. Wilson
Suffice it to say, warring gangs and murder weren't featured in those offerings. And, even though everyone knows Romeo and Juliet is a tragedy, it was unusual to have three major characters of a musical play ready for a trip to the morgue by the time the curtain closed.
Bigotry too was an unconventional topic to lead a song and dance show. Though racial discrimination, specifically concerning interracial heritage and romance, had been addressed before in musicals like Showboat (1927 play, 1951 film) and South Pacific (1949 play, 1958 film), this was not the norm.
Wasn't musical theater supposed to be more escapist and entertaining than in-your-face socially relevant? West Side Story challenged that notion.
In September 1957, the same month and year that the play opened on Broadway, nine black students (The Little Rock Nine) needed the Arkansas National Guard, ordered by President Eisenhower, to take them safely to their newly integrated school. Meanwhile, In Manhattan, the large influx of Puerto Ricans looking for a better life after World War II inspired xenophobia. The tensions between "Americans" and Puerto Ricans — who by the way were annexed to the United States in1898, becoming citizens in 1917 (but who says bigotry is smart?) — were ripped from the headlines.
---
Everything Old is New Again
Back at the Guggenheim, van Hove remembers being in New York in 2016 while working on his productions of Arthur Miller's The Crucible, A View From the Bridge, and David Bowie's Lazarus. "I am deeply in love with American classics of the 20th Century," says the director. They always talk about community, and the battle between being yourself and part of that community," a notion he finds "extremely compelling."
In spare moments, watching the Republican Presidential Debates, he would notice Donald Trump, who started out at the end of the line of a huge group of candidates, move more center stage with each round. For van Hove, that shift signified the beginnings of a cultural transformation in the US. Changes he wanted to capture in his West Side Story.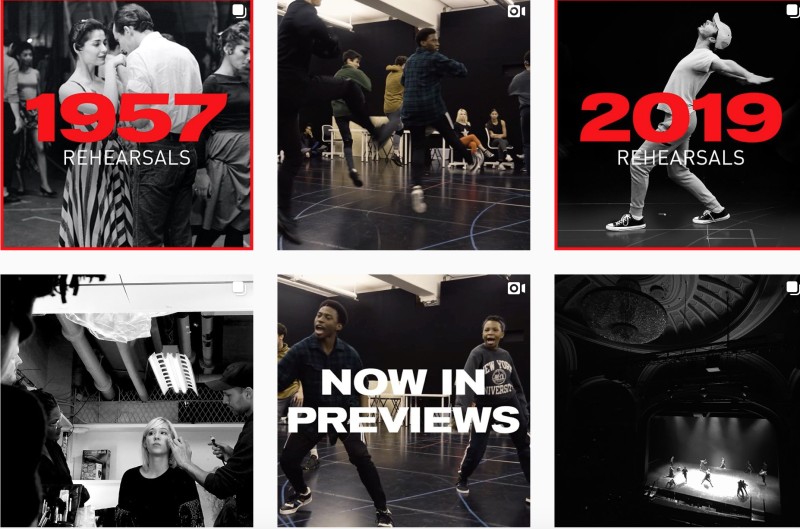 While the phrase "A West Side Story for the 21st Century" is fantastic for PR, van Hove emphasized that his course was not driven by marketing but a sincere hope the musical that would ring true to the reality of 21st Century life, and to the unfortunately relevant themes of bigotry and poverty.
He felt it important that all the Puerto Rican gang members be of Latin descent and that the cast of "American" Jets not be a monolithic group of "white" kids, but representative of today's US — multi-ethnic people, with diverse minds and looks.
Briefly, as van Hove described approaching Scott Rudin to produce, he was worried about what this project might do for his reputation.  "I am going to be the most hated person," he thought.
Then he went for it.
---
Becoming Post Modern, Forget Everything You Ever Knew
De Keersmaeker, who many know as the choreographer famously ripped off (or is that paid homage to?) in Beyonce's "Countdown," graduated from NYU's Tisch School of the Arts and is inspired by the revolutionary American post-modern artists Yvonne Rainer, Steve Paxton, Robert Wilson, and Trisha Brown. She could be considered the polar opposite of Robbins, whose background was steeped in classical ballet and Broadway. In fact, her genre of movement is known for its disdain for traditional narrative. Yet, like Robbins, her approach to West Side Story is clear, simple, and aware of everyday movement.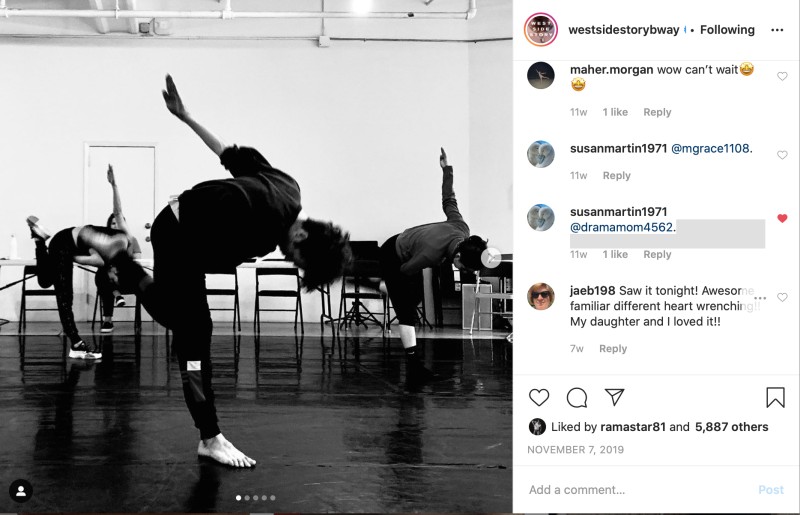 Dancers Rehearsing Anne Teresa De Keersmaekers choreography  #westsidestory  and @westsidestorybway via INSTAGRAM
When invited to participate in what is her first Broadway production (for sure a trial by fire), De Keersmaeker remembers thinking, "Don't ask me to do this," and then wondering, "How to follow God?" (that's Robbins, in case you didn't know by now.)
"Ivo helped me cross the bridge," she says
The process of sitting in the rehearsal room for long periods with van Hove; auditioning dancing, singing actors; talking daily about the story they wanted to tell, questioning the credibility of scenes, and developing tastes together, intrigued her. The ultimate inspiration, however, came from the cast. "The most golden material when we work are [sic] the people."
Powell, the lead "Tony," remembers how exhilarated he felt when van Hove took him aside at one rehearsal and said to forget everything he ever knew about West Side Story. Realizing he wasn't required to fit into "any antiquated archetype" (OK that was the comment that elicited some grumbling from an audience of West Side Story 20th century fans — the charming actor swiftly apologized) he knew he could, unencumbered, fully bring himself to "Tony."
---
Time and Dance Shifts
From the beginning van Hove wanted to work with video. Pre-recorded and live, real-time projections comprise the set, offering extra energy and glimpses into small spaces the audience might not otherwise see. "It should be a kinetic production. Video enables seamless transition and speed."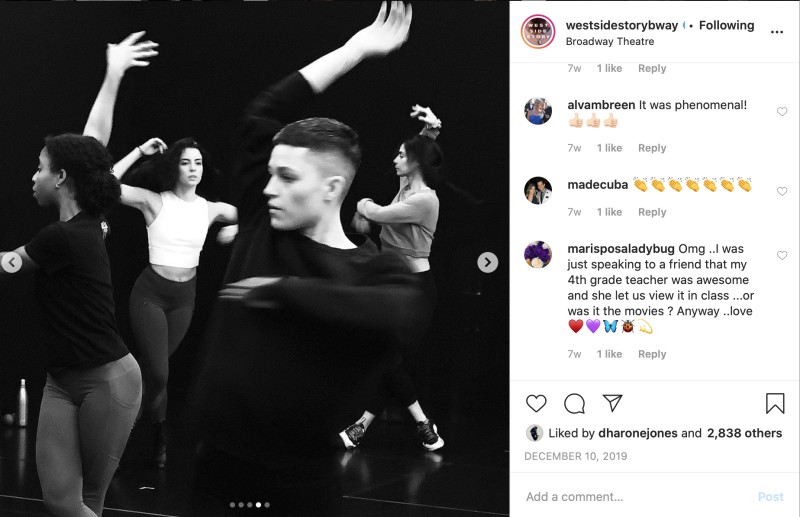 Dancers Rehearsing Anne Teresa De Keersmaekers choreography  #westsidestory  and @westsidestorybway via INSTAGRAM
The play now takes place in one act with no intermission, reminding us that the life-altering events of West Side Story occur over a mere two days. The emphasis is on the momentum of the teens' adrenaline-pumped behavior. "These guys never intended to kill," van Hove says of his characters, "They are young, without parents (of the four adult characters in the play, none are parents) and hurt, deep down. When there's no time to think or consider, the most terrible things can happen."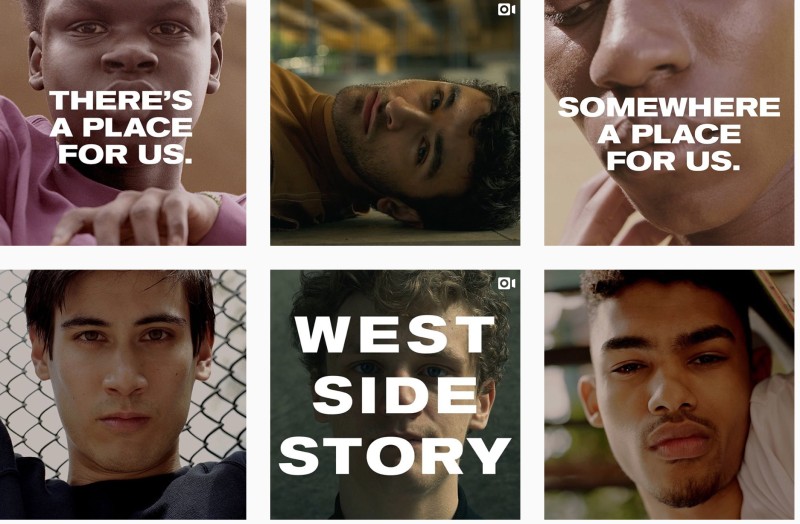 #westsidestory  and @westsidestorybway via INSTAGRAM
De Keersmaeker's choreography, some of which we see in breaks between conversation, reflects the explosive energy, realism, and velocity that van Hove's striving for. The dancers fearlessly challenge and surrender to gravity. Tumbling rolls, slides, and fierce thrusts to the floor contrast with twisting aerial spins and slicing ninja-like limbs. Cool, rippling upper body isolations and unexpected deep grand pliés surprise us.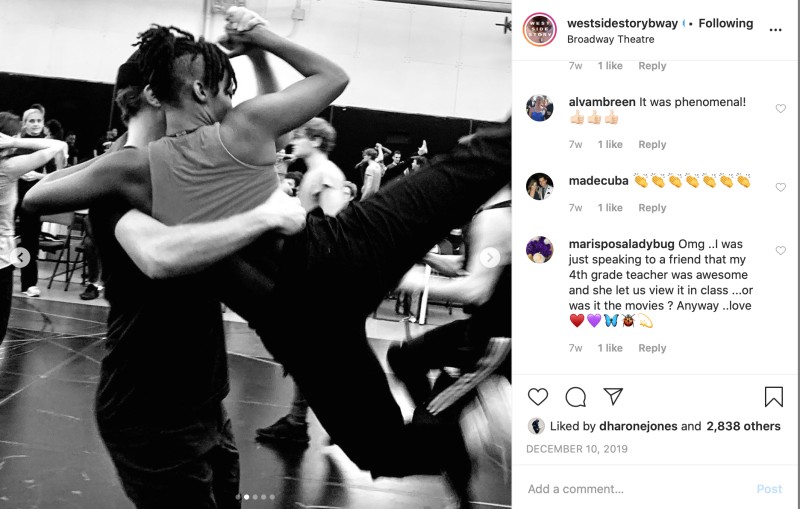 #westsidestory  and @westsidestorybway via INSTAGRAM
De Keersmaeker describes two of her goals as being able to make the Sharks and Jets move distinctly from one another (which she illustrates in a fight scene we get to see at the top of the evening) and reflecting the dances of today in "The Dance at the Gym."
(Many dance lovers might not know that in addition to attending NYC high school dances and visiting Puerto Rican neighborhoods for research, Robbins asked dancer Peter Gennaro to assist him (co-choreograph) with "Dance at the Gym" and "America." According to Gennaro's daughter, Liza, also a noted choreographer, the main attraction for Robbins was that her dad, an instinctual mover, had studied at the Katherine Dunham School under Syvilla Fort, and became fluent in the movement and rhythms of the African Diaspora particularly, Afro-Cuban movement.)
"When young people go out dancing today, they do house and hip hop," says De Keersmaeker.
She needed to figure out how to achieve what she calls a "strong fusion kitchen" to show that. Artists with expertise in Latin and House rhythms were brought to rehearsals to familiarize the cast with their musicality and moves for incorporation.
Jones, a native New Yorker, who plays Tony's best friend "Riff," met van Hove and De Keersmaeker when he took part in a dance lab as part of West Side Story's long development period. The second he began to learn the choreography, he felt the work was going to be revolutionary.
Told by van Hove and De Keersmaeker to be himself and bring his Brooklyn, Bed-Stuy life into his performance, he was elated. "We can experiment on stage!" The cast often talks about what scenes mean to them and are encouraged to bring their love, anger, the day's energy into their parts. Says Jones, "It's the most fun, most vulnerable, hardest work.
---
Footnote:
And Now for Something Completely Different (but related)
 In a parody of the musical by John Leguizamo from his 1990's TV show, "House of Buggin," a pompadour-coiffed, finger-snapping, jazz-dancing gang meets 1995's version of New York street crew for a rumble.
Besides being hilarious, Leguizamo's send-up reveals what we always knew — the play and Robbins' choreography (and that snapping) are immediately recognizable and iconic.The satire here pays respect. But, the skit also reminds us that the language, dress, music, manners, and the tempo of popular culture back in 1995 (and especially in 2020) are a far cry from what they were in the late '50s and early '60s.
You'd better believe it, "daddy-o"
---
The Dance Enthusiast's DAY IN THE LIFE covers the stories behind dance/performance and creates conversation. For more behind-the-scenes stories from NYC and beyond, click here.
---
The Dance Enthusiast - News, Reviews, Interviews and an Open Invitation for YOU to join the Dance Conversation.