A Day with May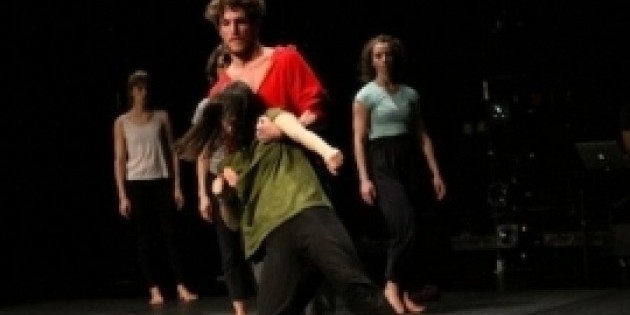 Juliana May on her newest work "Commentary = not thing"
Finding the "Thing" Of It with Juliana May
February 18th 2013
---
Tara Sheena for The Dance Enthusiast
"Any dancer in New York is the hardest working person you will meet," choreographer Juliana May offers. In the midst of winter storm "Nemo,"we are tucked away in a Dean
& Deluca close to City Center studios where her company, MAYDANCE, braved the snow to attend their Friday rehearsal. "I think we'll end a little early today," says May.
It's no secret that May values the dedication of her trio of dancers: Maggie Thom, Benjamin Asriel, and Kayvon Pourazar. In her newest evening-length work, Commentary = not thing, commissioned by New York Live Arts, they are the dramatic crux that brings her vision to life. It is a vision more defined by a series of questions than answers and, May reveals, "this was an exciting challenge."
Raised on Manhattan's Upper East Side, May was introduced to improvisation and composition at a very young age as a student at the Trevor Day School. She credits Laurie Roth and
Jodi Melnick
as early influences, encouraging her to explore her movement sensibility. Her parents, both architects, supported her blossoming love of dance—even as they hoped it was just a hobby— by buying her series tickets to the Joyce Theater and the Kitchen. Here May was exposed to luminaries such as
Neil Greenberg
and
Twyla Tharp
. These formative moments stuck with her all the way to Oberlin College where studies with
Ann Cooper Albright
and
Nusha Martynuk
saw her work with improvisation and composition grow. After graduating in 2002, May returned to New York City to continue making dance; "It just felt natural…" she says.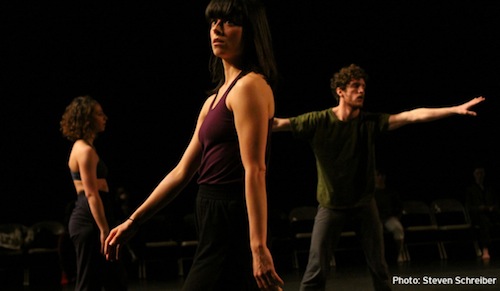 The Dancers of MAYDANCE: Eleanor Smith, Maggie Thom, Ben Asriel
A big shift came in 2009, with her fifth evening-length work, Discrete Body Dilemma, at the Chocolate Factory. The change had nothing to do with May or her performers, but with the arrangement of her audience, who were located on three sides of the intimate theater's space. "It was really difficult to go back to the proscenium after that point," May explains. Her performances at New York Live Arts will find audience members seated on stage the entire time.
May sees
Commentary = not thing
as her most collaborative work yet. Her dancers and set designer (Brad Kisicki), lighting designer (Chloe Z. Brown), composer (Chris Seeds), and, for the first time, a costume designer (Reid Bartelme), have been in close dialogue since the early stages. Another key collaborator is Rebecca Holderness, an Associate Professor of Acting at the University of Wisconsin, Milwaukee, where May completed her MFA in 2012. "Theater became an exciting, new, potent place to work from. I wanted to make work with an emotional impact and felt like my previous formal predilections were not enough anymore," she notes.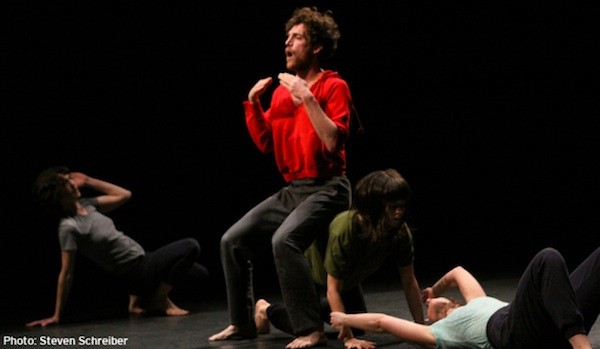 The Dancers of MAYDANCE: Anna Carapetyan, Benjamin Asriel, Maggie Thom, Madeline Best
Holderness and May spent many hours ruminating about the essence of her work. What is it that May was trying to expose through dance and text?Even her title was the result of a think tank session where Holderness incidentally scribbled "Commentary = not thing" onto a blackboard.
"How do I let the thing be the thing inside of the work and not (allow it to) overwhelm my choreographic values?" May wondered, "It's always felt really hard to locate 'the thing' in a work."
As a self-described "formal maker," May's dance pieces are structured and shaped using pure movement as guide for choreographic organization. But, with integrating text and other theatrical tools like stream of consciousness, gestures, and character development, she has introduced a new layer that opens up her work. Deeper layers of character and narrative float below the surface.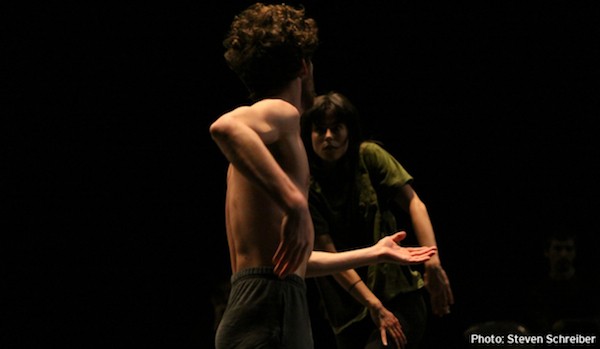 The Dancers of MAYDANCE: Benjamin Asriel and Maggie Thom
As May remembers, a catalyst for her creation was a dialogue between the dancers, Thom and Pourazar who were motivated dramatically by a fictional text she encouraged them to construct. "My choices are guided by form (so) even if we have text or a really emotional dialogue between two people, I am immediately thinking about how to shape that."

In Commentary = not thing, May uniquely marries formal movement and brute theatricality, melding systematic construction with absurdist staginess and a touch of operatic gesture.And, this is a "thing" not to be missed.
Footnotes
Juliana F. May/MAYDANCE Commentary = not thing- World Premiere at New York Live Arts
Feb 19 - 23 at 7:30pm, Feb 23 at 3pm 0
LIMITED AVAILABILITY All tickets for the Feb 23 show at 3pm are 5.
Tickets for this nearly sold-out show can be purchased at
newyorklivearts.org
and to find out more about Juliana May click
maydance.org
---
The Dance Enthusiast's DAY IN THE LIFE covers the stories behind dance/performance and creates conversation. For more behind-the-scenes stories from NYC and beyond, click here.
---
The Dance Enthusiast - News, Reviews, Interviews and an Open Invitation for YOU to join the Dance Conversation.