Wayne Cilento on Broadway and American Dance Machine for the 21st Century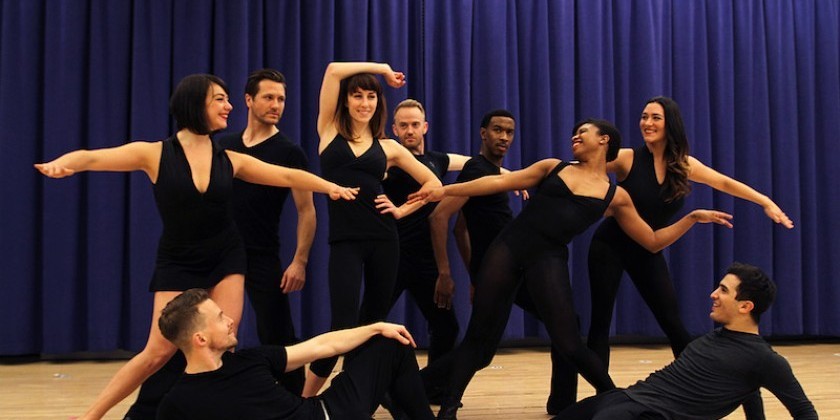 As ADM21 Prepares for its Run at The Joyce
American Dance Machine for the 21st Century is at The Joyce now through January. For tickets, go to The Joyce website.
---
Any overview that attempts to make sense of New York City implicitly begins with three words: location, location, location. Any overview that attempts to make sense of theatrical dancing also implicitly begins with three words: context, context, context. And context is the key word for the upcoming Joyce season (December 21 through January 3) of American Dance Machine for the 21st Century (ADM21) — the dance company that uniquely dedicates itself to a repertory of memorable numbers from Broadway shows (and, this year, Hollywood musicals) through time. Founded in 2012 by its producing artistic director, the former dancer and M.D. Nikki Feirt Atkins, ADM21 is fielding a dynamic, young, yet well-seasoned company in a program of brilliant dances, some in the company of songs. Among the choreographers represented will be Jerome Robbins, Bob Fosse, Jack Cole, Michael Bennett, Susan Stroman, Donald McKayle, Tommy Tune, and (familiar to watchers of the TV reality show "So You Think You Can Dance") Mia Michaels.
Wait, you may be thinking: "Wasn't there a 20th-century company named 'The American Dance Machine'?"
Yes, there was. It was founded in 1976 by the Broadway dancer and Tony Award-nominated choreographer Lee Becker Theodore (the "Anybodys" in the original production of West Side Story) as a "living archive," necessary, Theodore felt, because "many great choreographic works are lost with the musical they once embellished." Her  Dance Machine opened on Broadway in 1978, where it played 199 performances and showcased some outstanding dances and dancers; it also toured to Japan, where it enjoyed popular success. However, when  Theodore died, in 1987, her company lost its sustaining energy. ADM21, as Feirt Atkins's company is known, continues the mission that Theodore articulated, but with some extra gusto.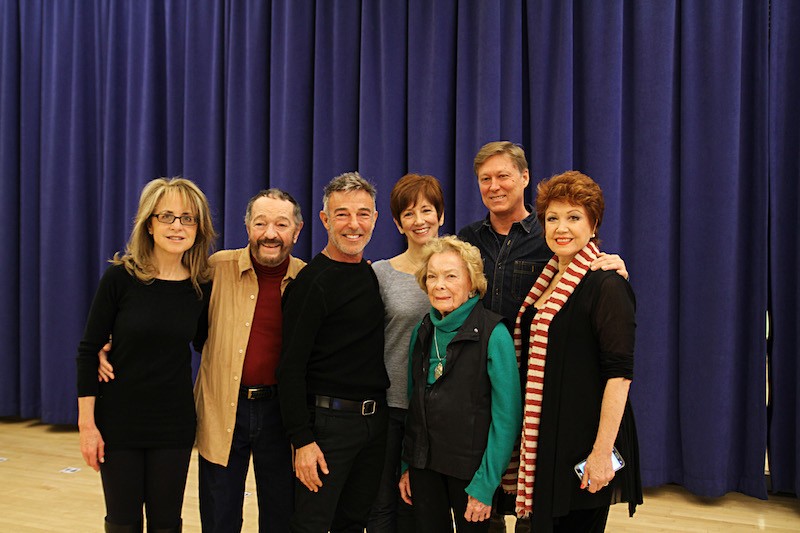 From left to right: Nikki Feirt Atkins, Ed Kresley, director Wayne Cilento, Gemze de Lappe, Pamela Sousa, Robert la Fosse, and Donna McKechnie; Photo by Mary John Frank
ADM21 can be thought of as Lee Theodore's company in a second life, and a robust second life it is. The director of this year's edition is Bronx-born, Westchester-reared, Broadway phenomenon Wayne Cilento, whose choreographic and directorial credits include the super-spectacular Broadway audience hit musical Wicked and The Who's Tommy, for which Cilento received Drama Desk and Astaire awards, not to speak of a Tony (the first of his seven Tony nominations).
His Broadway bona fides go — as they say of the space ranger hero Buzz Lightyear — to infinity. . .and beyond! An athlete in high school (track and gymnastics), he was enchanted by seeing a live performance of Cabaret. When he learned that a gym teacher at his school was going to choreograph the musical Oklahoma!, Cilento, age 18 with no training in dance, auditioned and won the lead role of Curly. He was, in that production, also required to dance the "Dream Ballet." (ADM21 will perform Agnes de Mille's original choreography for Oklahoma!'s "Dream Ballet" at the Joyce this month, staged by Gemze de Lappe with the assistance of New York Theatre Ballet's Elena Zahlmann.)
His fate was sealed. Although he began to take a few dance classes at night while attending Westchester Community College (expecting that he would become a pharmacist like his uncle) dance had caught him in its undertow. After researching nearby colleges for their dance departments, he transferred to SUNY Brockport, where he studied modern dance intensively with James and Susannah Payton and ballet with ABT's Bill Glassman, whom Cilento considers to have been his mentor in that outstanding dance department. "I danced all day," said MCilento. "Phys Ed and Dance. I studied Graham, Limón, Paul Taylor, Cunningham. When I graduated, I auditioned on Broadway, but I wanted to be Gene Kelly or Astaire, to go to Hollywood. And I never wanted to choreograph!"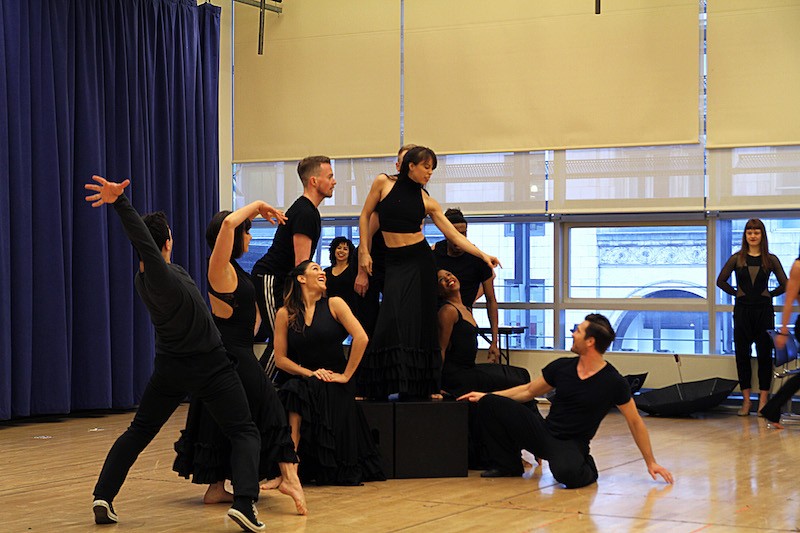 ADM21; Photo by Mary John Frank
He married his high school sweetheart (they're still married and the parents of three sons) and began to be hired for the choruses and, then, for increasingly larger parts in Broadway shows. In Michael Bennett's A Chorus Line, Cilento gained fame as the original Mikey, who introduced the song "I Can Do That." He also was featured in the original cast of Bob Fosse's Dancin'.
During his period as a Broadway performer, Cilento's career took an unexpected turn. "I hooked up with Bob Giraldi doing commercials," he said. ( Cilento has been featured in over 100 commercials nationally distributed). "After I danced in a couple, he asked me to choreograph them. In choreographing commercials, I learned how to make non-dancers dance and dancers look like pedestrian people having a great time. It's really interesting when you use actors, singers, movers, who aren't dancers, and you put dance moves on them. They're so full of who they are as characters that they're unique [in the course of dancing]."
This wisdom has proved quite valuable to Cilento on Broadway, as in, for instance, the "Coffee Break" number that ADM21 will perform, designed originally for a group of male actors who were not primarily dancers, in the 1995 revival of the besuited musical, How to Succeed in Business without Really Trying. As Vincent Canby wrote in his '95 New York Times review, "Under the classy, intelligent guidance of Des McAnuff, the director, and Wayne Cilento, whose choreography recalls Bob Fosse's original dances without imitating them, the show is a triumph of contemporary Broadway know-how."
"It's really interesting when you use actors, singers, movers, and you put dance moves on them," Cilento said. "They're so full of who they are as characters that their performance is unique, comes from another place."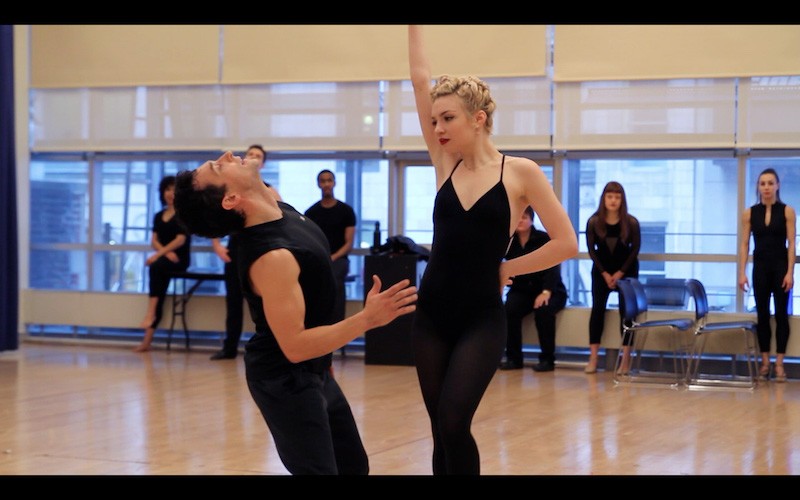 ADM21; Photo by Mary John Frank
For ADM21,  Cilento has asked others to stage individual works; he then coaches what has been staged and integrates the numbers into a flowing whole, as was demonstrated at a recent preview for radiantly enthusiastic theater professionals (including all the stagers) at The Duke on 42nd Street. What is the division of labor between staging and coaching for Cilento's own choreography — which will be represented at the Joyce by his "Pinball Wizard" from The Who's Tommy (staged by Adam Murray)?
"Half the stuff I've done I don't know what I did. I need someone to get it up there to see what I intended." (Other ADM21 stagers this year include former New York City Ballet and ABT principal Robert La Fosse, who staged two dances by Jerome Robbins, and Donna McKechnie, who staged "Opening Audition" and "One" from A Chorus Line, a show about not being a star — in which she starred.) And the difference between directing and choreographing? "[As a director] I have to get it physically up on its feet, and then the choreographer comes in to finesse it, to preserve how the dance was built. It's also important to make the dances work for the people in the room (who are performing them now), to give them an understanding of the choreography's original intensity."
It took Cilento, with input from Feirt Atkins, who wanted to open up the repertory to movie choreography, some three months of YouTubing and movie-watching to arrive on a final program. "I hope the show will be successful and have a future," he said.  "We want to take the idea of ADM to another level. It's a brilliant idea, and to reconstruct great choreography from movies, too. But to go from a show or movie into a recital format, it's hard to reconstruct numbers when there's no through line. My idea was an evening of entertainment not just an evening of education. I'm trying to trick it into an evening of entertainment, with projections taking you on the journey of where a number was in the show, with quotes from the choregraphers, and more. This is especially important for a younger generation of dancers who are not familiar with the vocabularies of Tommy Tune, Robbins, me, Mia Michaels, Gene Kelly. Billy Wilson, Warren Carlyle. The younger generation now is more about technique and tricks and big flashy moves. Competition dancing has got in the way. They don't have the style of my generation and others before me because they don't have the information about the differences among styles. Something like this gives them that knowledge."
Cilento danced with Theodore's American Dance Machine, including on its final tour to Japan; however, he wants the version he's directing to be different in a few key ways. "My whole deal with ADM21 was that I wanted to create a dance company. They would step out and do featured moments. When I danced for Lee, she'd bring in guest artists. In its last year, there were 18 guest artists! I wanted to make the company we already had to be the guest artists. As in Dancin'."
ADM21 still has a couple of guests — such as NYCB's Georgina Pazcoguin. However, it was clear from the preview at the Duke that the dancers on the Joyce stage have been treated as an ensemble filled with starlight.