Dance Up Close to Abraham.In.Motion "The Radio Show"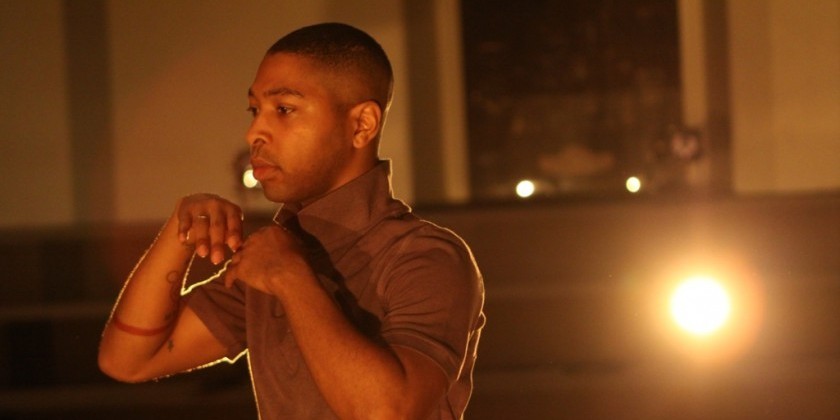 92nd Street Y Harkness Dance Festival
1395 Lexington Avenue, Manhattan
March 14 & 15 at 8pm, March 16 at 3pm
Choreography: Kyle Abraham
Dancers: Chalvar Monteiro, Beatrice Capote, Indigo Ciochetti, Catherine Kirk, Connie Shiau, Eric Williams and Matt Baker
---
While Kyle Abraham creates new work as the New York Live Arts Resident Commissioned Artist, he is also revisiting an older work. His company Abraham.In.Motion will remount The Radio Show, which premiered in 2010 at Danspace Project, for the 92nd Street Y Harkness Dance Festival.
On Kyle Abraham's Style
---
It has been quite a year for Abraham. He was named a 2013 MacArthur fellow, and amidst national and international tours with his company he has appeared on television, advocating for the SNAP (or food stamp) program on MSNBC and talking about his art with Katie Couric.

 

"It's pretty amazing," says Abraham. "I'm just a dancer from Pittsburgh!"
On The Benefits and Challenges of Being a MacArthur Fellow
---
Abraham's company has gradually built up a repertory over the past few years. They now tour three evening length works: The Radio Show, Live! The Realest MC, and Pavement. Abraham says one of his current goals is to further diversify the company's offerings. For example, he wants to add shorter works to the company's repertory to accommodate venues that may prefer them. Abraham also says that he is challenging himself to make each one of his works very different, an interesting endeavor as he restages The Radio Show, his first evening length work, while also generating new material. The work evolves naturally, Abraham says, because he is always seeking to push himself to explore new movement.
The Radio Show is heavily influenced by Abraham's family life growing up in Pittsburgh and the radio station he listened to there. The eclectic score, ranging from Beyonce to Bach, evokes feelings of nostalgia, but frequent changes and interruptions tell a story of loss.
On Creating A Premiere While Revisiting A New Work
---
Abraham's movement style is just as varied as the music, with influences from Graham to Cunningham to hip hop. Dancer Chalvar Monteiro, who has been with Abraham.In.Motion for nearly four years, credits Abraham's unique movement style to the fact that he started his dance training later in life, at age 17. In Monteiro's opinion, that gave Abraham a more broad and inclusive perspective on various styles. Abraham says he doesn't often think about specific movement influences until later in the process, when he is passing phrases on to his dancers. "When I'm moving, I'm just moving," he says.
A Dance Enthusiast Minute .In.Motion - A Minute with Beatrice
Follow Garnet Henderson on Twitter @GarnetHenderson
Full music credits:
Preshow
Shirley Brown, The Chi-Lites, The Dramatics, The Emotions, Al Green, Sharon Jones & The Dap-Kings, Al Wilson, Gladys Knight & The Pips, Laura Lee, Dorothy Moore, The Shirelles, Sylvia, Dionne Warwick, Bill Withers, Betty Wright, The Velvelettes           
AM 860
Alva Noto, Beyoncé, Mary J. Blige, The Brothers Johnson, Exile, Aretha Franklin, The Fugees, Ryoji Ikeda, Ann Peebles, Jonnie Taylor, The Velvelettes,
106.7 FM
Antony & The Johnsons, Alva Noto, J.S Bach, Michael Baysden, Beyoncé, Eiffel 65, Exile, Sophia Fresh (featuring Kanye West, HudMo, Ryoji Ikeda, Sharon Jones & The Dap-Kings, Klymaxx, Jena Knight, Lady Gaga, Mary Mary, Mtume, Eddie Murphy, Amber Lee Parker, Jay Sean, Slick Rick, Britney Spears, Jonnie Taylor, The Velvelettes, additional editing by Herman Soy Sos Pearl