Behind The Scenes with Marya Wethers & Daria Fain and Samita Sinha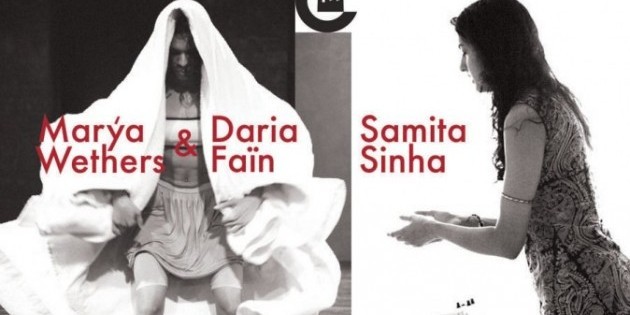 Christine Jowers in rehearsal with Marya Wethers & Daria Fain with Video
Behind the Scenes of : THE CHOCOLATE FACTORY PRESENTS
An evening with Marýa Wethers & Daria Faïn and Samita Sinha
---
video pieces by Christine Jowers for The Dance Enthusiast

It is such a pleasure to be invited into rehearsals. This is going to be a very special show.
---
The Beginning
---

A Minute of Moving Meditation
---

A Bit of Structure and Kinship



 
---
An evening with Marýa Wethers & Daria Faïn and Samita Sinha

November 2-5, 2011
Wednesday - Saturday @ 8pm
The Chocolate Factory
5-49 49th Avenue, Long Island City, NYC 11101
*7 train to Vernon/Jackson (1st stop in Queens - 5 minutes from Grand Central!)
Tickets: 5; (212) 352-3101 or www.chocolatefactorytheater.org
 
TARGET::furnace (premiere)
Commissioned and performed by Marýa Wethers
Choreography and Production design by Daria Faïn
Composed by Katherine Young, performed with musicians Christine Bard and Erin Benim
Costume styling by Lydia Rodrigues
 
Target objects by Robert Kocik
Lighting design by Carrie Wood in collaboration with Daria Faïn

Cipher
Conceived, composed & performed by Samita Sinha
www.samitasinha.com

 
---
The Dance Enthusiast's DAY IN THE LIFE covers the stories behind dance/performance and creates conversation. For more behind-the-scenes stories from NYC and beyond, click here.
---
The Dance Enthusiast - News, Reviews, Interviews and an Open Invitation for YOU to join the Dance Conversation.