Related Features
Contribute
Your support helps us cover dance in New York City and beyond! Donate now.
From Bill T. Jones to Ann Carlson: Jackson, Wyoming's Dancers' Workshop is an Unexpected Dance Hub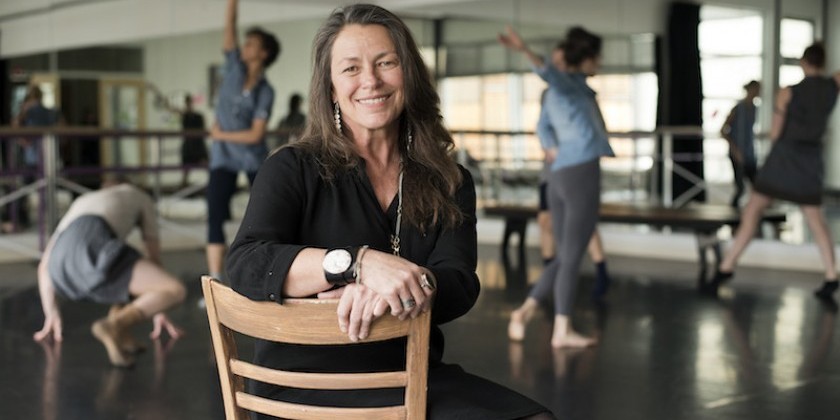 Dance may be the last thing that comes to mind when you think of Jackson, Wyoming. Skiing on a snow-covered mountain or meeting a shaggy bison grazing on rolling plains, sure. But encountering choreographer and performance artist Ann Carlson's controversial Doggie Hamlet? Well, not so much. Doggie Hamlet, by the way, features five actors, three herding dogs, and a flock of sheep. The site-specific work created a brouhaha among conservatives looking to cut federal funding to the NEA earlier this year. But Jackson's Dancers' Workshop, thanks to artistic director Babs Case, has added a new hue to the area's fly-fishing, cattle-ranching image. With Case's adventurous vision and a supportive, open-minded community, Jackson has become a dance hub.
A fearless educator and choreographer, Case found her way to Wyoming by way of Florida, New York, and Iowa. She has navigated her career with an "anything is possible" approach whether that was working with Richard Landry of the Philip Glass Ensemble; teaching through the Lincoln Center Institute; or studying art in India under a Fulbright fellowship. In 1998, while visiting for a temporary gig, she became smitten with Jackson.  Describing the brutal climate as not for the meek of heart, she says "the vastness is beautiful." 
That beauty didn't lose its luster for Case who is now celebrating eighteen years in Wyoming. She isn't the first artist to fall for the West's mystique. Donald Judd, Agnes Martin, and Georgia O'Keefe, to name a few, often left the hustle and bustle of New York City to take advantage of the region's serene landscape. Jackson's vastness beckons alluringly; the wide, open spaces portend endless possibility. 
Ann Carlson's Doggie Hamlet performed in Jackson, Wyoming; Photo: Christa Johnson
Things unlikely elsewhere are possible in Jackson. In fact, the Wyoming Territory was the first government in the world to grant women full voting rights in 1869. Today, Teton County, which includes Jackson, is one of the wealthiest counties in the country with a growing seasonal population. A liberal pocket within a conservative state, it's filled with people hungry for art.  
But it wasn't overnight that Wyomingites were flocking — no pun intended — to see farm animals and humans making art together. This took years of trial and error on Case's part and fostering relationships with the community, one in which she describes as tight-knit. 
Dancers' Workshop has come a long way from its founding in 1971. It initially operated out of a log cabin where hoofers partook in country western dancing. Today, the organization occupies five spacious studios and offices within The Center for the Arts' 78,000-square-foot campus. The school has youth and adult divisions with classes ranging from ballet to jazz to Latin dance enrolling 600 students out of a town of 10,000 — it still honors its country western roots with classes. Dancers' Workshop also boasts the state's only professional dance company. 
The school at Dancers' Workshop; Photo: Mei Ratz
Under Case's tenure, locals aren't the only ones that take advantage of its offerings. World-class artists and companies perform and work in residence at Dancers' Workshop, including Andrea Miller's Gallim Dance, French choreographer Manuel Vignoulle, BJM Danse Montreal, and David Dorfman. This summer, Case has already presented Carlson; hosted master classes led by tapper Savion Glover; and featured New York City Ballet principals Amar Ramasar and Sterling Hyltin in the Gala. "Inviting people in has always been a big part of my way of working. . . It builds an audience's awareness of really how much dance is out there in the world," says Case.
This week, Dancers' Workshop welcome backs the Bill T. Jones and Arnie Zane Company for the premiere Analogy/Ambros: The Emigrant — the third and final installment of Jones' Analogy. After years of fantasizing of bringing his company to Jackson, Case was introduced to Jones through a friend. She got her wish in 2014 when the company came to work on Analogy/Dora: Tramontane. And they've returned every summer since to develop the trilogy. 
 Bill T. Jones and Arnie Zane Company in Analogy/Dora: Tramontane; Photo: Paul B. Goode
BTJAZ associate artistic director Janet Wong writes of their time in Jackson in almost sacred terms. "Working in a concentrated fashion without the distraction of New York City is always great. No one has train problems or doctor appointments. Dancers' Workshop offers us technical residencies — onstage with crew and all — which has been immensely crucial to the work. When you emerge from the theatre you are under the immense sky and surrounded by glorious mountains. It does something to your mind, body and soul."
Dancers' Workshop's programming at first glance may appear all over the board. But upon looking deeper, we see it reflects Case's winsome outlook on art. "I think that if we live by 'what if, ' we uncover more," says Case. " Nothing is known to us so why not explore? When you pigeonhole yourself within a style or genre, I think you can miss out on a world of possibilities."
 Dancers' Workshop will present the World Premiere Bill T. Jones/Arnie Zane Company's Analogy/Ambros: The Emigrant on July 21 & 22; 8PM, Center for the Arts. For tickets, click here.
---
The Dance Enthusiast Hits The Streets to see what is happening in our dance world, and Create Conversation.
For more Dance Enthusiast Day in the Life pieces, which connect audiences to the behind-the-scenes of dance, click here.