Dance: Broadway Stage and Screen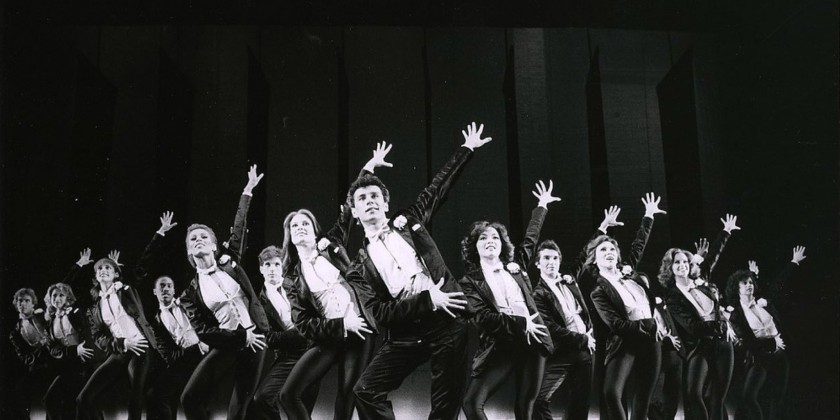 Exploring The Great White Way: Yesterday and Today
Bob Fosse, the choreographer known for so many Broadway hits -
Cabaret
,
Damn Yankees
,
Sweet Charity
,
Dancin
', attributed part of his uncanny way with women and movement to his youth tap dancing in stripper clubs. Phillipe Decouflé, who spent years choreographing
Crazy Horse Paris
, a cabaret starring naked dancers, is now directing the soon to open
Paramour
. But what separates the era in which Fosse ruled Broadway and today is Decouflé's early success creating a spectacle for the
opening of the Olympic Winter Games in 1992
. Decouflé also has his own internationally touring dance company, and won an international fan base with his witty dance films. His career suggests the cross-over appeal that producers and presenters look for these days.
Paramour, the first Cirque du Soleil show made for Broadway, centers its gymnastics around the story of a young poet forced to choose between love and art, to walk the "tightrope of the heart." Broadway has to have at least one Cirque Du Soleil show because Las Vegas now has seven! Musical theater as a genre keeps expanding as Broadway attempts to edge out Las Vegas as the top choice in the US for tourists: top for music, theatre, dance and entertainment.
Rehearsals of Paramour. Photo: Jenny Anderson
Is the prime responsibility for a Broadway choreographer to provide the spark, the "tits and ass," as coined by "Dance 10 Looks 3" in A Chorus Line; to advance the story; to bring in da noise and funk? All of that and more - depending on the production. The Great White Way (so called since 1880 when Brush arc lamps first lit the theatre district) has presented every kind of choreographer, ballet to ballroom, tap to slapstick, erotic to heroic over more than a century. Agnes de Mille, known for her ballet Rodeo still performed by American Ballet Theatre, set a new standard with her dream ballet created for Oklahoma in 1943. Jerome Robbins brought a street-wise tension and ethnic mix with his West Side Story in 1957. Julie Taymor's astounding costumes and sets for The Lion King, as choreographed by the Jamaican born Garth Fagan in 1997, has made this production the third longest running Broadway hit (Phantom of the Opera, Gillian Lyne, choreographer, and Chicago, Ann Reinking, choreographer, still lead). British born ballet choreographer Christopher Wheeldon won wide acclaim for his virtuosic choreography for American In Paris in 2015. Bill T. Jones won awards for his minimalist approach to Spring Awakening in 2006.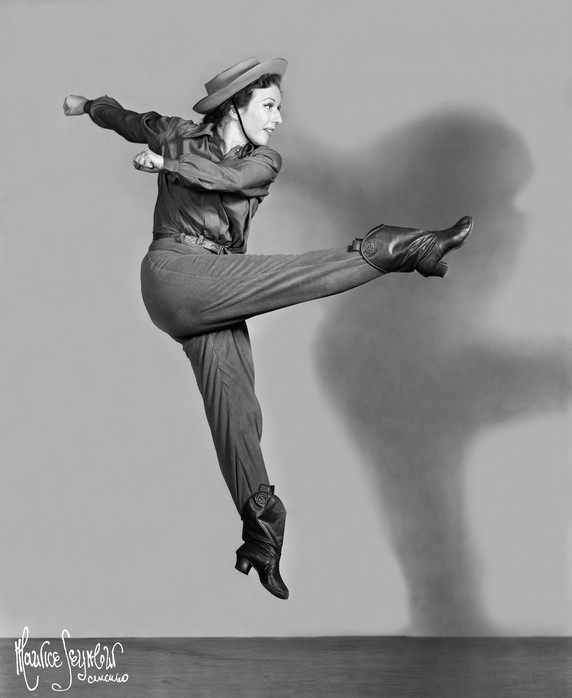 Agnes de Mille in Rodeo. Photo by Maurice Seymour.
Sometimes the least likely collaborators have made history. The Russian born classical ballet master George Balanchine co-directed Cabin in the Sky, starring the singer Ethel Waters in 1940 with the Chicago-born anthropologist Katherine Dunham whose playful, but scholarly choreographies inspired by her research on Caribbean culture were ground-breaking. Revived this February by City Center's Encores!, Cabin in the Sky roared in again with an all black cast, as directed this time by Ruben Santiago-Hudson and modern dance choreographer Camille A. Brown. 
City Center's Encores! Cabin in the Sky. Photo: Joan Marcus
And success in one arena can bring opportunities in another. Five time Tony award winner Susan Stroman (The Producers, Bullets Over Broadway, Crazy for You) had such a hot run that New York City Ballet director Peter Martins commissioned her to choreograph for his company: Blossom Got Kissed in 1999, a full length work Double Feature in 2004, and Frankie and Johnny and Rose in 2011.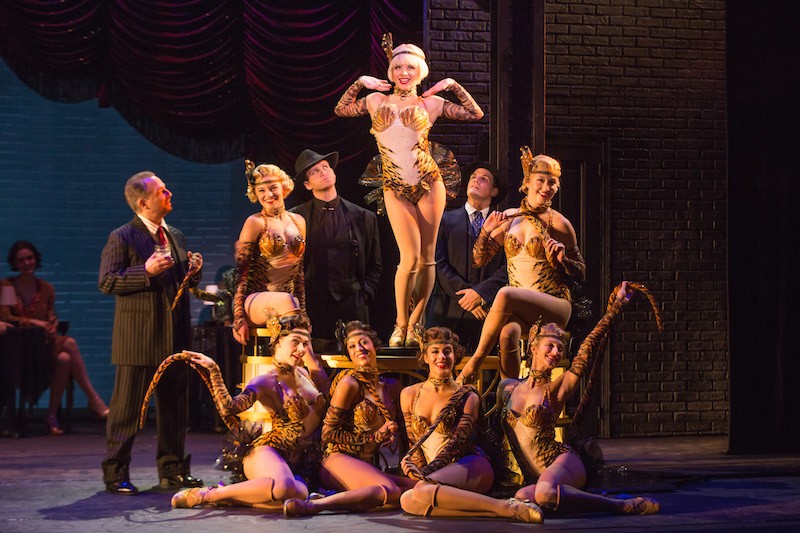 Jemma Jane (Olive Neal) and the cast of the North American tour of Bullets Over Broadway, written by Woody Allen featuring original direction and choreography by Susan Stroman. Photo by Matthew Murphy
Three productions that are driven by rhythm and emotions and should draw completely different audiences, coming this spring to NYC are:
Waitress
, the first all female production on Broadway choreographed by Lorin Latarro, who danced with Momix and Robert Wilson, opens on
April 24
.
Shuffle Along
, or the Making of the Musical Sensation of 1921, choreographed by tap genius Savion Glover, framed by producer George C. Wolfe to tell the story of the black creators of this  hit show, opens
April 28th
. This coming fall,
Gotta Dance
brings the hip hop story of seniors dancing at half-time in professional basketball.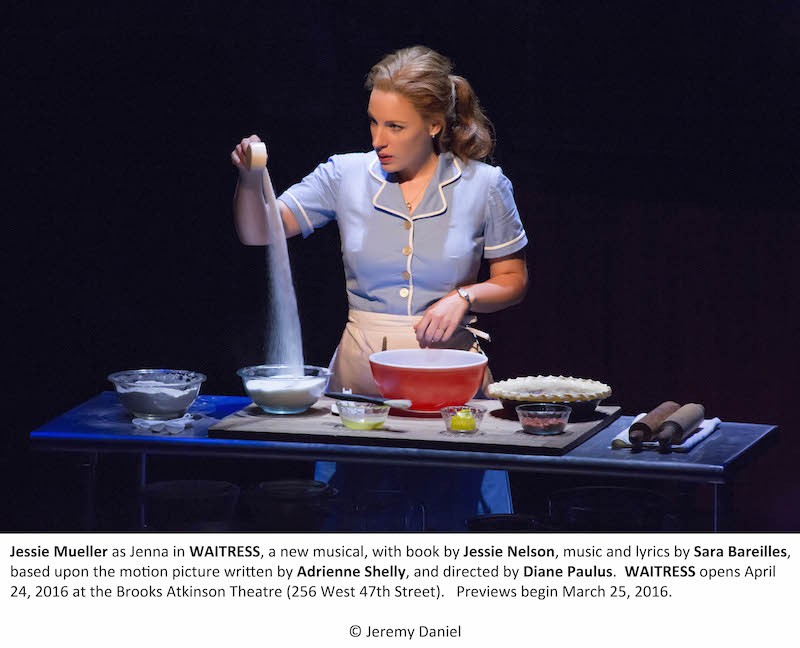 Revivals with foot-tapping songs and classic musical theatre styles: Motown, The Musical, Singin' in the Rain, Miss Saigon, Cats, Best Little Whorehouse in Texas and Smokey Joe's Cafe are all scheduled for re-opening in 2016. Seeing American Dance Machine (ADM21) For the 21st Century in their December 2015 season at The Joyce Theatre reminds us how musical theater dancers can nail every moment with a wink, a kick or a bump. The late Lee Theodore established American Dance Machine in 1976 to preserve the steps of the best of American musical theater, along with their original intent and style. Their productions make you feel proud to be an American. You leave the theater re-charged, focused, harnessed! Jazzed…
American Dance Machine for the 21st Century. Photo: Christopher Duggan.
Why do choreographers of Broadway shows choose one movement style over another? Peter Darling, who choreographed the screen and stage versions of
Billy Elliot
, 
said
, "I didn't want to convey the notion that only one form of movement is of value. I wanted to use as many different forms of movement as possible. We're celebrating dance; dance is worthy of celebration and all forms of dance can tell a narrative. Ballet can tell a narrative. Tap can tell a narrative." 
Other choreographers known for their concert as well as Broadway choreography:
Karole Armitage - Hair
George Balanchine - On Your Toes
Talley Beatty - Your Arms Too Short to Box With God
Michael Bennett - Company, A Chorus Line
Matthew Bourne - Swan Lake
Donald Byrd - The Color Purple
Gower Champion - Bye Bye Birdie, Carnival!, Hello, Dolly!, 42nd Street
Jack Cole -  A Funny Thing Happened on the Way to the Forum
George Faison - Don't Bother Me, I Can't Cope, The Wiz, Porgy and Bess
Hanya Holm - Kiss Me, Kate, Out of This World, My Fair Lady, Camelot
Donald McKayle - Golden Boy
Kathleen Marshall - Anything Goes, Nice Work if you can Get it
Margo Sappington - Oh! Calcutta!
Anna Sokolow - Red Roses for Me 
Helen Tamiris - Touch & Go
Twyla Tharp - Movin' Out 
Billy Wilson - Bubbling Brown Sugar