Related Features
Contribute
Your support helps us cover dance in New York City and beyond! Donate now.
Dance: Broadway Stage and Screen: Meet Clare Cook, Working on "Bullets Over Broadway" with Choreographer, Susan Stroman
Pictured above: The cast of the North American tour of the hit musical comedy Bullets Over Broadway, written by Woody Allen featuring original direction and choreography by Susan Stroman.
---
My first encounter with Clare Cook was in 2012 when I witnessed her perform with Brooklyn-based dance/ theater company ChristinaNoel and the Creature. Cook's spritely presence and charismatic energy captivated me. Her reach, though, extends beyond performing. Director, teacher, choreographer, and dancer, she is someone who has forged a colorful career in dance.
Cook aggressively seeks out new challenges to push the boundaries of her comfort zone. She has worked with Yin Yue Dance, ChristinaNoel and the Creature, Yoo & Dancers and Christopher Williams, among others. Her teaching credits include Brooklyn's Dancewave, the Metropolitan Opera Guild's education program, Louisiana State University, and a stint as the education director for Lar Lubovitch Dance Company. Her company, Clare Cook Dance Theater, created in 2011, produces multidisciplinary dance theater projects and offers educational workshops to nurture youth creativity.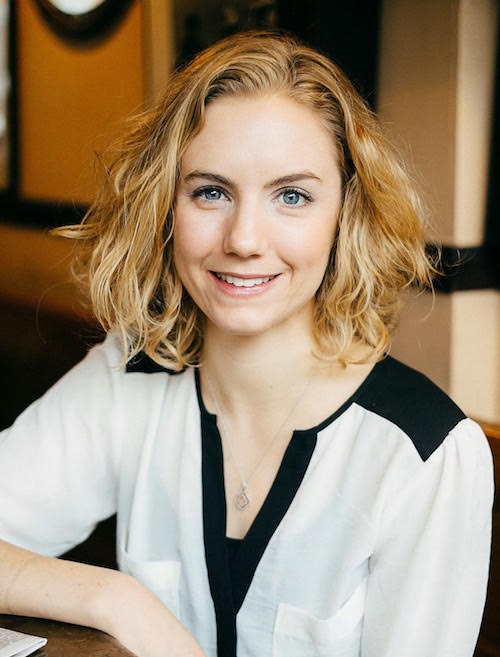 Clare Cook, Photo: Molly Torian 
---
I spoke with Cook about her latest adventure — restaging Susan Stroman's choreography for the tour of Woody Allen's Bullets Over Broadway — and the choices that led her to this opportunity.
Cook became interested in musical theater choreography while pursuing her MFA in Dance at New York University from 2006-2008. She made friends in the musical theater-writing program and was asked to choreograph for several thesis projects. Momentum gathered as Cook turned out to be well suited to the genre. She cites choreographer ChristinaNoel Reaves (of ChristinaNoel and the Creature) as an initial inspiration. "Where I grew up, there weren't many outlets for kids to do theater," says Cook. "I was always interested in the overlap between theater and dance."
Upon graduation, Cook took every gig she could get in theater choreography. Her first was choreographing a musical about cheerleaders who kill each other. "I grew up in the south and was part of a 'dance team,' so I pulled from that experience," she says, laughing. Cook describes choreographing for theater as "maintaining the nuance of contemporary choreography, but with more teamwork: You get feedback from your collaborators. It's fun, and sometimes over the top."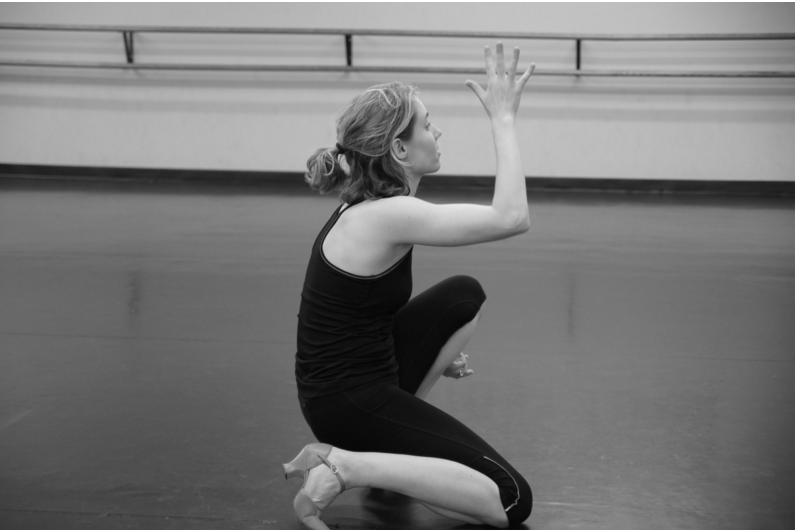 Clare Cook in the studio. Photo: Molly Torian
---
In 2013, Cook was introduced to the Stage Directors and Choreographers Society, a nonprofit leg of the Stage Directors and Choreographers Union. She was accepted into a pool of applicants that have access to opportunities posted by the organization. Through this, she found the Observership Program, which provides early to mid-career directors and choreographers paid opportunities to observe the work of master directors and choreographers, from first rehearsal through opening night.
Bullets Over Broadway, a new show based on the screenplay of the acclaimed 1994 film by Woody Allen and Douglas McGrath, was doing a lab presentation, and choreographer Susan Stroman was looking for an observer. Cook interviewed with Stroman and got the gig.
Generally the observer's job is to simply watch and digest the master's process, but in Cook's case, the Observership was very hands on. She found herself on her feet, working out a transition or blocking spacing. Bullets Over Broadway had yet to cast swings, so Cook became the unofficial swing for the show, particularly for the male dancers, who often missed rehearsals because they had Broadway matinees. Stroman's work combined tap, jazz, and ballet, which was familiar territory for Cook. "It was a style of dance I grew up learning," she explains. "It was in the thread of my existence."
"The Observership Program is an amazing experience: Being allowed into the room to watch Stroman's process was such an honor," says Cook. While indispensable to the work's conception, Cook never had any expectation of getting a job post-observership, as Stroman takes on a new observer for every process. "It was actually fortunate that was the case: I was getting married at the time, and had there been a subsequent opportunity, I would've had to tell my husband that I couldn't get married then because I couldn't turn down Stroman."
Clare Cook amongst Bullets Over Broadway set pieces during rehearsal
A year and two months after her Observership, Cook received an email out of the blue from the Bullets Over Broadway national tour, inviting her to work on the project. She exuberantly accepted. It was an exciting test to restage another's work. "It was challenging in a great way," she asserts. "If rehearsal was at ten, I would get up at six a.m.; it was like studying for a test."
While unable to change any of the original choreography, Cook did cope with adapting the movement for the new set pieces that were being used for the tour. She worked with tour director Jeff Whiting to manage this and sent videos to Stroman. "She is so efficient and smart," Cook says of Stroman. "From a video, she would look and say 'that's nice, but have them put up their left arm instead of their right,' and it would work so much better. Her eyes are so sharp, and she leaves no stone unturned."
Cook was consistently impressed by the dedication and precision of the Broadway dancers. She describes this as being a result of a system where Broadway is run like a business. "Broadway dancers are being paid to be in rehearsal from ten a.m. to six p.m., six days a week. In a world that moves so quickly, you have to always be 'on.' If you're having a bad day, you just have to work it out. There were so many things in place in the rehearsal process that allowed me to be the most professional version of myself," says Cook.
Cook made the move from New York City to her hometown of Lafayette, Louisiana last August. She has been making waves in her home community while still maintaining roots in NYC. Cook and tour director Whiting still travel together on occasion to see the show on the road and give notes. With Broadway under her belt, Cook looks to the future where she'll continue to have her finger in many artistic pots.
JOIN US ON APRIL 12TH, 2016 FOR THE DANCE ENTHUSIAST'S ENTHUSIASTIC EVENT!   DANCE: BROADWAY STAGE AND SCREEN
Tuesday, April 12, 2016 from 6:15 PM to 9:00 PM
FOR MORE INFO ABOUT OUR SPECIAL GUEST PERFORMERS, PANELISTS, AND THIS ENTHUSIASTIC EVENT!
CLICK HERE