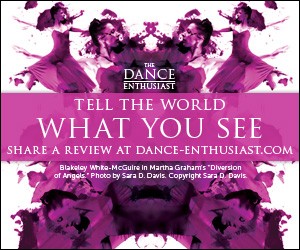 Related Features
Dance Up Close to Clare Cook Dance Theater appearing at DanceNOW 2013 Festival at Joe's Pub (DanceUpCloseVideo)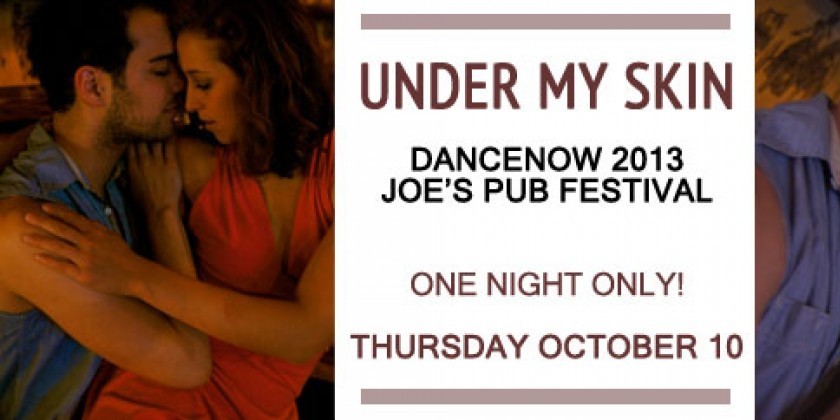 Don't Forget To Enjoy the Rest of The Fest That Runs From October 9th -12th with a Festival Encore on October 19th.
2013 DanceNOW Celebrates 10 Years of Joe's Pub.
Brittany Beyer is @Hypatiaarts on twitter.
---
New York City is full of unique spaces which reveal the unexpected and enrich our everyday experience. DanceNOWNYC has capitalized on this for 18 years, mining performance possibilities in galleries, firehouses, parks and even swimming pools.
For the past 10 years, DanceNOWNYC has partnered with Joe's Pub at the Public Theater. Legions of choreographers have taken to the Pub's minute stage to wow the audience. The work created is short, digestible, meant to enliven -- and it delivers. Viewers go wild for their favorite choreographer, or maybe, go wild to find their new, favorite choreographer. Finally, audiences have the opportunity to pick the winner of the Joe's Pub Festival Challenge. (Remember to get your tickets for the Encore Performance Saturday, October 19th!)
A Dance Enthusiast Quick Fix: Under Your Skin with Clare Cook Dance Theater*
---
This year, for the first time, choreographer Clare Cook contributes her own dance making style to the festival. Under My Skin, a duet for Liz Beres and Justin Henry, reveals the blush of a first meeting and the excitement of finding that "spark" in another person. At three -and- a- half minutes long, the dance  is a tight vehicle highlighting Cook's strength in narrative work.
Recently The Dance Enthusiast visited Cook's rehearsal at FAB (Fourth Arts Block) to discover more about blending theatrical and concert dance. Under My Skin's creation had its genesis in a storytelling for dance workshop led by Broadway choreographer, Wendy Seyb. Learning that there was room to create a second piece for the workshop, Cook turned to Amy Burgess and Joel Waggoner's (also known as Two Sheet to the Wind) infectious piece of music, Under My Skin. She then outlined her piece in a week of quick rehearsals and presented it as a counter to a more sober duet.
Clare Cook on Musical Theater*
---
Re-staging Under My Skin for Joe's Pub seemed natural since the dance's storyline takes the characters to a bar for a date.
Cook doesn't see the worlds of contemporary dance and theatrical dance as very different. She takes lessons from each sector, strengthening her work in the process. "We  look at very detailed movement.... how many ways you can use the body, all of the different angles, and shapes and movement qualities that in contemporary dance are so important. Pairing this with a writer, composer, or a designer elevates the work and it  keeps me striving... I really enjoy the challenge."
Clare Cook Describes Her "Perfect" Dancer* 
For More Information About DanceNOWNYC and Dance Now Festival 2013 at Joe's Pub at The Public Theater
*
Correction
Our video credits refer to DanceNOW celebrating 15 Years at Joe's Pub. Actually, Joe's Pub is celebrating 15 years at The Public Theater and DanceNow is celebrating 10 years at Joe's Pub. Sorry for the confusion.