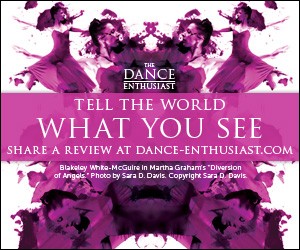 Related Features
Dance Up Close to Donna Uchizono Company at New York Live Arts
"State of Heads" and "Fire Underground"
Donna Uchizono Company at New York Live Arts
December 4-7, 2013 @ 7:30pm
for more information and tickets click New York Live Arts
---
Donna Uchizono has long been recognized as a socially conscious choreographer. Her newest work, Fire Underground, set to premiere at New York Live Arts on December 4-7, is inspired by her twelve-year international adoption process—an ordeal she can only describe as "harrowing".  The work powerfully dissects the unjust practices in place for international adoption. "Fire Underground is about ... crisis, [the fact that], people are still waiting. It's about the wait," she emphasized during a recent rehearsal.
The crux of the conflict with Uchizono's adoption process, similar to the cases of dozens of families she encountered, was that  while she could effectively adopt a child ( in this case from Nepal), she could not acquire a U.S. Visa to ensure her child entrance into our country . She remarks, "I made Fire Underground in a really formal way, but, I think it gets to the underbelly of the tension and the horror in the fact that we cannot bring our children home."
Donna Uchizono on her new work Fire Underground
---
Luckily, Uchizono's story has a happy ending. Her daughter, Tara, was eventually able to get a visa and currently lives with Uchizono in New York City. Still, the rigorous screening process and constant investigation by the U.S. State Department in Nepal is something that Uchizono chooses to emphasize in Fire Underground -a piece she cites as the last time she will perform in her own creation.
A Minute On The Wait with Donna Uchizono
---
Fire Underground shares the bill with Uchizono's 1999 work, State of Heads. Uchizono recalls making the piece as Y2K was looming. The notion of separating the heads of state from the country seemed a potent and intriguing idea to explore. "There are these very endearing, odd characters in a state of hiatus," she says. State of Heads, like Fire Underground, comes from a similar place of build up and anticipation for a big event. Though, she is quick to mention the durational and probing nature of both works comes from a different place. "The waiting in State of Heads is much lighter," Uchizono notes.
The two works not only reveal the scope of Uchizono's choreographic interests and focus, but also demonstrate how different socio-political issues dictate her movement. Uchizono grapples with big ideas and it is clear she wants to offer as many informed, embodied viewpoints as possible.
(The show includes a change of seating for all audience members, further allowing the spectators to find new ways to absorb Uchizono's multi-layered dances.)
More Information About Donna Uchizono Company
The Show at New York Live Arts
State of Heads (1999)
Choreographed by:  Donna Uchizono
Performed by:  Rebecca Serrell Cyr, Levi Gonzalez, Hristoula Harakas
Original Music by:  James Lo ,Lighting Design by: Stan Pressner
Costumes by:  Levi Gonzalez, Wendy Winters, Donna Uchizono
Fire Underground (2013)
Choreographed by: Donna Uchizono with Rebecca Serrell Cyr
Performed by: Rebecca Serrell Cyr and Donna Uchizono
Music and Sound Design by: David Shively, Lighting Design by: Joe Levasseur ,Set Design by:  Michael Grimaldi
Rehearsal Assistant:  Patrizia Tombezi