Dancing Up Close to Molissa Fenley Preparing to Replay at New York Live Arts (DanceUpCloseVideo)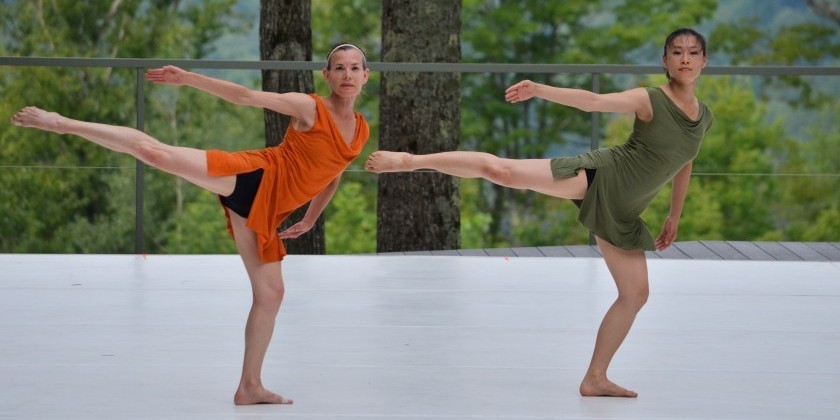 This fall, Molissa Fenley and Company are looking back to the choreographer's origins while continuing to forge ahead. As part of the Replay Series at New York Live Arts, the company will perform several works spanning Fenley's career and premiere a new dance called Found Object.
The Origins of Found Object: Instruction Following with Playwright John Guare, Poet Joy Harjo and Writer Rudy Wurlitzer Providing Written Instructions for Dancers
---
In rehearsal at the Mark Morris Dance Center, Fenley spoke to The Dance Enthusiast about the creation of Found Object and the restaging of her 1980 work Energizer. Fenley explained that it was Bill T. Jones who suggested that she revisit Energizer, which was one of her first major works.
"In 1980, Bill and I were on a tour together with The Kitchen, and Energizer was a piece that I was touring," said Fenley. "Bill was, at that time, working on a duet form with Arnie Zane. He said it would be really exciting to see that piece again, and actually, I had not thought of doing it. But as soon as he said it I thought, oh, that's great… I looked at it and I fell in love with it."
The Origins of Fenley's 1980's Energizer- Dancers Metalbolic Shifts, Shifting Space, Complex Patterns
---
Energizer lives up to its name, boasting exuberant, aerobically demanding movement. The choreography is playful and precise, with simple, clear steps wound into constantly evolving patterns. Fenley said that her dancers have been instrumental in staging a "true reconstruction" of the piece.
About Energizer -Working with Composer Mark Freedman, and Baking (yes) Baking Tapes
---
The newly created Found Object, on the other hand, is a more quiet and meditative work. Fenley was inspired to create piece as an extension of the ideas she worked with in her 2012 dance Cross Bridge. For that piece, Fenley generated movement from old notes she found in her archive at Mills College. She became interested in the idea of following instructions, and for Found Object continued to work with her old choreographic notes as well as text written by playwright John Guare, poet Joy Harjo and writer Rudy Wurlitzer. In one section of Found Object, the text is spoken aloud. Otherwise, the piece is performed in silence.
A Dance Enthusiast Minute: A Minute for Flowers and Prisoners of War
NEW YORK LIVE ARTS presents
Molissa Fenley and Company in the Replay Series
featuring the world premiere of Found Object and revivals of
Energizer (1980), The Floor Dances (1989) and Witches' Float (1993)
October 2 – 5 at 7:30pm; with a lecture demonstration October 5 at 3:00pm  For Tickets and More Information Go to New York Live Art's Website Here