Doug Varone Returns to the Stage in the Solo "The Fabulist"
Doug Varone and Dancers at The Joyce: Of Memory and Human Landscapes
Where: The Joyce Theater, 175 Eighth Avenue at 19th Street
When:
7:30 p.m.

on Tues., Wed. and Sun.; and

8 p.m.

, Thurs.-Sat.; with matinees at

2 p.m. on Sat

. and

Sun., December 2-7


Tickets are $10-$49. Call (212) 242-0800, or visit joyce.org
---
Doug Varone was behind the wheel of his car and cruising up the New York State Thruway, heading for Brockport, when he realized he had better pull over.

It's never a good idea to drive when you're intoxicated, and the choreographer suddenly found himself under the influence — not of alcohol, but of a musical score by contemporary American composer Christopher Rouse. Hurriedly taking the next exit, Varone sought a parking spot where he could listen to Rouse's prize-winning Trombone Concerto without distractions. "I found it a fascinating score in terms of its progression," the choreographer says. "I had never heard a score like it before."

The fateful car trip took place two years ago; and now Varone has achieved the goal he set for himself that day. He has choreographed a dance called Dome that responds to Rouse's music by "telling its story visually." A piece for his full company, Dome will receive its premiere on Tuesday, when Doug Varone and Dancers return to the Joyce Theater for a weeklong run. The season will also feature the local premiere of The Fabulist, a solo commissioned by the American Dance Festival as part of a series called "On Their Bodies," in which some of the living masters of American modern dance perform their own work. The Fabulist marks the 58-year-old Varone's return as a dancer after an absence of eight years. Castles, an audience favorite inspired by fairy-tale imagery, rounds out the mixed bill.

"What I love about Dome is that it's filled with surprises," Varone says, discussing his newest dance. "It feels like it's this very dry, quiet, abstract work in the beginning. It explodes in the center. And then there is an emotional pay-off in the end."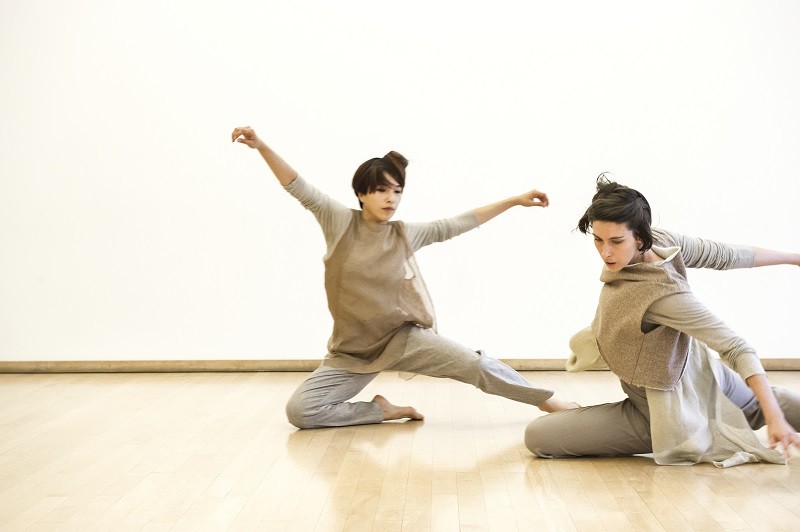 Doug Varone and Dancers; Photo: Paula Lobo.

That quiet opening signals a departure for Varone, who is better known for arranging dances where movement swirls and spills across the lines. When the curtain rises on Dome, the dance will have begun already, yet working against the flow will be unexplained stillnesses and gestures that appear stunted or curtailed: tentative hops and skids that seem to stop short before the dancers can travel far. Varone hints that at one point he thought of the characters in Dome as "guardians." "They potentially have been there forever," he says adding "The individuals in the dance create a community that builds, protects and experiences something vital. And when we leave them, we believe that is ongoing and will always be repeated."

Although the atmosphere may feel somber at times, or chaotic, these characters also group together to form supportive tableaux, finding shelter in the dance's architecture. "I feel like there's a sense of hope at the end," the choreographer says. Dome seems torn between extremes, with serene moments where everything fits together at one end of the range and with episodes of disorderly panic at the other.

Varone explains that his method is accretive. He starts from a small shape that suddenly catches his eye, and then he embroiders upon it working instinctively. "I look for a moment, and that can be a dancer's foot tenderly caressing the floor. All my energy goes there, and I figure out ways to build around that," he says. "There might be a dancer who is somehow disconnected from the group, and that means something to me intuitively."

He says he has always been attracted to tableaux, arranging bodies to create human landscapes. "That has always intrigued me — how the shapes of bodies in space can shift, and change and tell a story." The apparently chaotic bits of Dome, of course, are just as carefully designed. Yet in those places, Varone says he doesn't want audience members to be able to detect his handiwork. "The hardest thing," he reveals, "is getting those bodies moving through space in a way that denies the structure." This is a skill Varone says he tries to impart to his composition students at SUNY Purchase. He wants them to be able to portray, in a "realistic" way, how people move through society.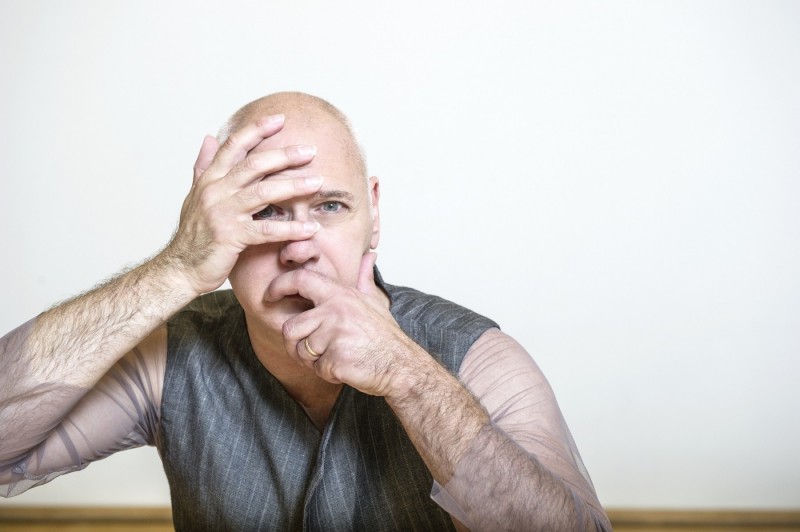 Doug Varone; Photo: Paula Lobo

In The Fabulist, Varone has only himself to work with, yet here he is overtly manipulative taking his own leg between his hands and moving it, stopping one hand with the other as it massages the air and grabbing big hunks of himself. He says the ADF commission allowed him to rediscover his body, and find himself as a dancer after being on the sidelines for several years. After undergoing a hip replacement, Varone says, "I had really stepped out of the work. I lost interest in performing. My body hurt too much." Giving himself six months to create The Fabulist, however, "I re-learned how to move through my body again in ways that feel natural, and in ways that feel large, in ways that feel as if they have a physical power to them."

Varone began choreographing the solo to cello pieces by Philip Glass, but then changed his plan mid-stream switching to a plaintive vocal score by David Lang called "Death Speaks." Death is not a character in the dance, however, and Varone says that while he occasionally connects with the words being sung, he does not try to illustrate the libretto.  Instead, the singer's voice supplies an "emotional texture."

"The dance is about memory," Varone declares, and it may refer to the many small deaths a person experiences during the course of his life, or simply to our changing perceptions of death and the awareness of mortality that grows in people as they age. While the solo is deeply personal, the choreographer also says he tried to make himself an Everyman, so each viewer could see his own experiences reflected in the dance.

Necessity helped him shape the work. Varone says he had to carve an intimate space for himself on the grand stage of the Durham Performing Arts Center, and he did so by confining his movement within a "corridor" running upstage-downstage. The choreographer also worked closely with his lighting designer, Ben Stanton, to define the space with lights that trail him as he moves. "There's a place where I look up and grab, and a light comes into my hand. Then I spill it out onto the floor," he says, "So it feels as if I'm telling a story with light as well."

At times during The Fabulist, Varone appears to guard his privacy, squinting at the audience through a frame he composes with his hands or peering at us over an arm held up like a barrier. At other moments, he sinks to his knees in surrender. The dance also concerns itself with "The way we allow ourselves to see each other," Varone says. He allows that he is most exposed when he isn't moving. Those flashes of self-revelation are "not couched in movement," he says. "They're couched in being."

While looking into the past, Varone says there is also a way in which creating The Fabulist has helped him map his future. He says, "Wherever I'm headed next choreographically will be about going back in time and figuring out what I used to know, and putting it together with what I know now."