Related Features
Contribute
Your support helps us cover dance in New York City and beyond! Donate now.
Harlem Stages E-MOVES presents New Works Inspired by James Baldwin and Billie Holiday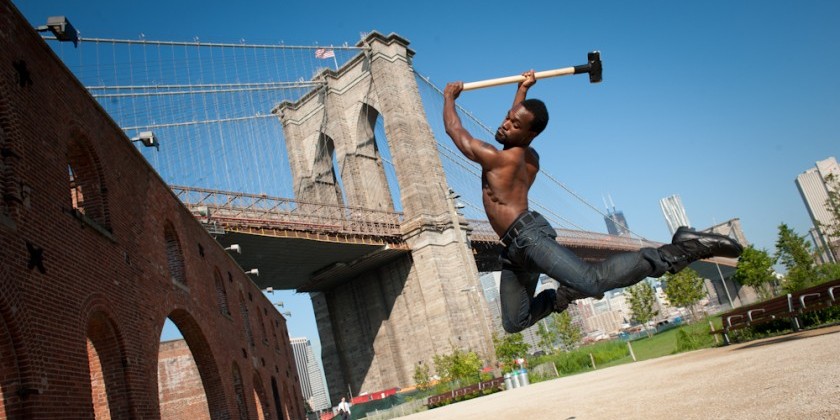 with André Zachery/Renegade Performance Group; Brinae Ali; Malcolm Low/Formal Structure; and LOVE| FORTÈ (Nia Love and Marjani Fortè-Saunders)
HARLEM STAGE PRESENTS SIXTEENTH EDITION OF E-MOVES, APRIL 10-18    
Four Choreographers Create New Works Inspired By James Baldwin and Billie Holiday
Harlem Stage Gatehouse (150 Convent Avenue, Manhattan)
E-Moves: April 10, 11 & 17 at 7.30pm
E-Moves Takeover: 18 at 7:30pm
Tickets $20 ($16 MyHarlemStage members)
harlemstage.org; 212.281.9240 ext. 19/20
---
Harlem Stage is presenting the 16th season of its dance series E-Moves from April 10th-18th.  For this year's performances, four E-Moves alumni were commissioned to create multidisciplinary works inspired by the lives and works of essayist, novelist, playwright and poet James Baldwin and jazz singer Billie Holiday.  The program coincides with the city-wide, 14 month-long celebration titled the "Year of Baldwin," in honor of Baldwin's 90th birthday, as well as Holiday's centennial.
The reasons for the programmatic focus on Baldwin and Holiday run deeper than birthday celebrations.  "We wanted to bring a new dimension to the word 'artist'," says Harlem Stage's Director of Programming Brad Learmonth.  "To some degree, [Baldwin and Holiday] were both activists and two of the most brilliant minds within the past 100 years.  We wanted to present a dance perspective, interpreting their legacies to expand how we view them. We hope the audience walks away enriched with that exploration."
Nia Love and Marjani Forte of Love/Forte
In speaking with the artists chosen for this program, it is apparent that their studies of the works of these legendary figures left strong impressions upon them. "What you'll see is a beginning look at the intersectionality of their lives in terms of power, pride, consciousness of gender, love, honor and respect," says Nia Love of Love/Forte, about the piece she created with her collaborative partner, Marjani Forte. "Their generation serves as a framework for our generation..."
Malcolm Low of Malcolm Low/Formal Structure says of Holiday and Baldwin,"They vomit up the anguish and speak about what's truly going on in the world in a way no one else can. This crime of what's happening to black bodies today has been going on and will continue. Black men are dying, and we're watching it.  What I concern myself with is the question, 'How do I speak to it as an artist?'  I am very convinced that my making dances makes the world a better place.  So I make better work to speak to the issues at hand."
Malcolm Low/Formal Structure
Low  has created a piece that showcases a female personification of Holiday through dancer Desiree Godsell, as well as words from Baldwin's essay "The Artist's Struggle For Integrity", in which Baldwin addresses the role of the artist in the world.
Tap artist Brinae Ali read Baldwin's personal essays, watched YouTube clips of the writer's speeches, and spoke to people who either knew him or lived during his time to create a piece that touches upon various stigmas in American culture today: such as, oversexualized women, prison culture, and the racist history of rodeo culture. Says Ali, "With racism in America and the climate of the country right now…I feel that we've gotten very comfortable and think we have grown past so much. But, we haven't.  Not when we have young boys constantly being shot for nothing, such as Trayvon Martin and Michael Brown. These artists didn't bite their tongues.  It is important to be reminded by our ancestors to use our art, to take the pain to turn it into something beautiful. The arts can be used to communicate and heal."
Brinae Ali; Photo Conrad Charles
Andre Zachery, Artistic Director of Renegade Performance Group, chose to adapt Baldwin's works and ideas through rock music. "Reading Baldwin's 'The Fire Next Time,'--that book is so urgent--it has immediacy on the constant condition of blackness in the United States. It doesn't allow much space for a 'We Shall Overcome' moment.  And I don't feel rock music allows for that space either."
In speaking on the significance of Baldwin's work to the present moment, Zachery says, "Baldwin represented the voice of the artist--specifically the black artist--as being the voice on social justice and human rights. Before him, the artist was not really considered a key player on social justice.  As artists, we already exist on the margins of society. Our artistic practice and placing our work anywhere is significant, because all art is political. Our decisions to do work and investigate and invest in the human condition is a necessary part of the black lineage in the Unites States."
André Zachary; Photo Rachel Neville
This year's E-Moves program was curated by Learmonth and his colleagues in the Programming Department at Harlem Stage, Simone Eccleston and Indira Goodwine, along with consultant Charmaine Warren.  Each artist was also given a mentor to guide them in their explorations and processes in creating their work for E-Moves.  "This is very much a collaborative effort," says Learmonth.  "The whole series has been an important collaboration for the past 16 years, and we hope that will continue."
E-moves culminates with The Harlem Stage Takeover--a series of site-specific performances by emerging choreographers in and around the Harlem Stage Gatehouse-as well as a dance party.  For more information, please visit www.harlemstage.org.
E- Moves (April 10, 11 & 17)
Featuring: André Zachery/Renegade Performance Group, Brinae Ali, Malcolm Low/Formal Structure and LOVE| FORTÈ (Nia Love and Marjani Fortè-Saunders)
April 11 - A Q&A moderated by dance writer and co-curator of E-Moves Charmaine Warren will follow the performance.
E- Moves Takeover (April 18) Featuring: Niv Acosta, Sita Frederick, Gentry Isaiah George, Audrey Hailes, Lisa Kusanagi, Sydnie Mosley, Omagbitse Omagbemi, Ni'Ja Whitson and Alrick Thomas