Related Features
Contribute
Your support helps us cover dance in New York City and beyond! Donate now.
A Day in the Life of Fadi J. Khoury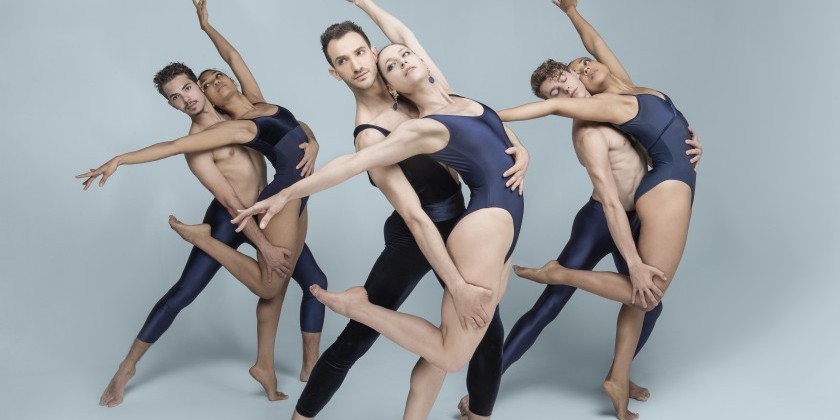 As FJK Dance Prepares for Performances at New York Live Arts
Artistic Director and Choreographer: Fadi J. Khoury
Wednesday, July 23 and Thursday, July 24 at 7:30
"Tango Unframed" and "Arabesque"
For tickets, visit New York Live Arts
---
Dancers' bodies can function as artifacts, portraying imprints of their various physical histories. Fadi J. Khoury has a unique physique due to explorations in forms as varied as classical ballet, competitive ballroom, modern, and Middle Eastern folk dance. Never fully at home in any style, Khoury has opted to weave these distinct influences together to create a new dance language. He formed FJK Dance this year to showcase his own movement and methodology, and the company will present two works — Tango Unframed and Arabesque at New York Live Arts in July.
Khoury grew up in Iraq, where his father, whom Khoury cites as a great artist, founded the National Iraqi Ballet. Inspired from an early age by art and music, he moved to Lebanon as a teenager and began to study codified dance forms such as ballet and folk dance. His professional career rocketed when he joined Caracalla Dance Theatre, a Beirut-based company that blends eastern and western approaches. Traveling around the world, he performed with the troupe at their critically acclaimed engagement at the Kennedy Center in Washington, D.C.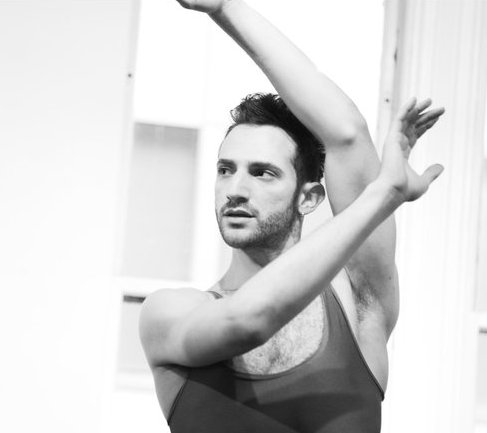 Fadi J. Khoury. Photo by Nir Arieli.
"My taste ran to the foreign," Khoury discloses; as a result, he moved to the United States in 2009 to study at Alvin Ailey American Dance Theater. Since his arrival in New York, he has danced professionally with Nejla Yatkin and Elisa Monte while embarking upon a career as a professional ballroom dance instructor. Teaching ballroom dance proved to be very inspirational in Khoury's journey. "I learned how to explain things to different people. If I made the dancing accessible, I could then allow my students to relax into the movement."
Attracted to the performer more than the style performed, he is curious about the commonalities in diverse dance types. Khoury seeks to identify universalities in techniques, identifying what he calls "actions and reactions" that transcend fixed labels. He elaborates, "I have always been able to see through the style." His overarching goal is to locate and exhibit the authenticity of any given dance form. For instance, he harnesses the underlying impetus of ballroom dance — the human relationship between two partners — to create the feeling that his dancers are always moving in pairs, even if the choreography is performed in a solo or group format.
Fadi J. Khoury and Sevin Seviker. Photo by Nir Arieli.
Coming from the Middle East positions Khoury uniquely. Growing up during many wars, he found solace in dance, music, and art. He states, "The Middle East is not just about conflict. There is beauty and passion, and it's my goal to show this through my work." He believes that dance and theater offer positive experiences that eclipse strife about religion, politics, and geography.
FJK Dance's performance at New York Live Arts is designed to acquaint audiences with the company's individual viewpoint by presenting two versions of Khoury's movement philosophy.Tango Unframed takes the idea of the dance frame (a structured hug of sorts that allows leaders to direct followers) and disrupts it, allowing dancers to break free into virtuosic maneuvers with balletic flair. In Arabesque, Khoury couples Middle Eastern motions with Latin ballroom, exploiting the isolation and rotation of the hips (a trademark in both styles) within a contemporary framework, which spotlights principal dancer Sevin Ceviker on pointe.
Optimistic about his place in the landscape of current dance, Khoury looks excitedly to the future. The company will be part of APAP's upcoming showcase, and he hopes to eventually produce two seasons in New York in tandem with a touring schedule.
Follow Erin Bomboy on Twitter @ErinBomboy