Related Features
Contribute
Your support helps us cover dance in New York City and beyond! Donate now.
Heather Kravas on her Premiere "play, thing" at the Chocolate Factory Theatre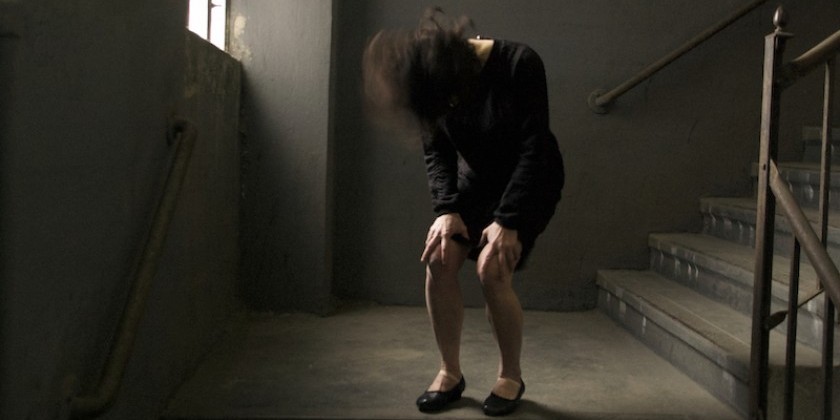 An Architecture of Desire
April 27-30, 2016
Performers: Anna Azrieli, Rebecca Brooks, Natalie Green, Heather Kravas, Heather Olson and Omagbitse Omagbemi with assistants Tuva Hildebrand and Maya Turner
Lighting design: Madeline Best
Chocolate Factory Theater 
---
Since 1995, choreographer and performing artist Heather Kravas has investigated form and the body as a means of expression. Kravas makes work that acts as more experiment than entertainment to incite audience curiosity. 
play, thing, Kravas's latest investigation, will premiere at The Chocolate Factory the last weekend of April. The work roughly continues the exploration she started in dead, disappears, a self-performed solo that premiered in January at The Abrons Arts Center. 
play, thing contains three duets that transpire within the same space and occasionally cross paths. The work rejects spectacle and embraces ritual; the dancers execute pedestrian tasks with dry precision.
Much of this ritual revolves around assembling and disassembling the space. Pillows, pieces of plywood, two rugs, and two large mattresses ("I call them materials, not props" says Kravas) are rearranged to create pockets of activity, like miniature worlds. "I almost feel like I'm making a video game," she says, laughing.
Repetition drives play, thing. A gesture such as the shifting of weight back and forth unfolds like a bass line, against which any contrasting moment registers as significant. For those seeking entertainment, the work might become monotonous. And yet, it is deeply calming, like watching a tide recede. Experiencing slow development over time can be fascinating.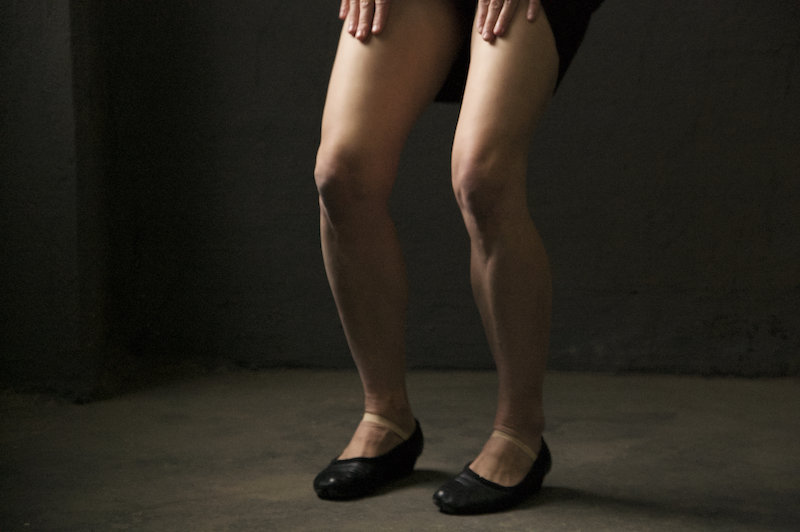 Photo: Jason Starkie
Moments of extreme expression function as a jarring contrast to the meditative lull of repetition. The cacophonous thud of mattresses hitting the floor jolts us to attention while repetitive gasping conjures up images of hysteria. Gesture from preconceived meaning is challenged.
"I want the work to be a kind of architecture of desire: a place where we move through power and play and erotica and boredom. And that these conditions can coexist," explains Kravas.
Context informs everything. A pair of women inches along the length of the stage, repeating the word "pain" with every step. While initially dramatic, the repetitive declaration loses meaning, but then takes on a new significance when the word "window" is added to the chant. 
Although the work may not be deliberately feminine, moments within conjure images of the female experience, an idea that is pushed forward by an all-women cast. A duo freezes, knees bent, legs spread wide and mouths wide open as if giving birth.
Kravas cites her dancers as incredible resources. "This dance is the work that it is because of the women I have been fortunate to practice with at this time . . . I learn from them every single day. Often when I am asked a question. I find that I don't have immediate answers, but the questions seem to lead me deeper into the work."
Kravas describes making art as all-encompassing and a bit out of her control. 
"I am most engaged in trying to discover what the work needs to be and then using everything at my disposal to express it … It feels more like sculpting I suppose, like there is a piece hidden that must emerge."
Kravas's work is a by-product of her own driving curiosity, and it presents an opportunity to spark audience curiosity as well.
" . . . the work could change the way people think about dance or it could make people change the way they think about music or architecture or women . . . It feels more about igniting my own and an audience's sense of curiosity, so that there may be something discovered simultaneously within the performance."
Kravas was the recipient of the Doris Duke impact award in 2015. She has received a Foundation for Contemporary Arts Award (2014), a MAP Fund (2013) grant, and multiple NEFA FUSED awards. Her work The Green Surround (2011) was named one of the top ten choreographic works of the year by Artforum.